Birmingham 2022: Sunset+Vine's Jeff Foulser on the importance of involving directors early in planning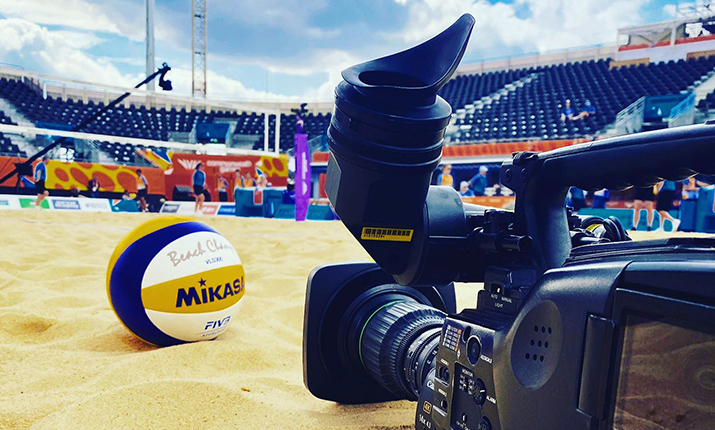 As the Birmingham 2022 Commonwealth Games prepares to close, the chairman of host broadcaster Sunset+Vine Jeff Foulser has spoken of how important it was to involve directors in the planning of the event coverage early as possible.
This is Sunset+Vine's third Commonwealth Games, having partnered with NEP on the 2014 and 2018 Commonwealth Games. As host broadcaster for Birmingham 2022, Sunset+Vine has been responsible for producing around 3,000 hours of coverage for rights holders.
"As soon as Sunset+Vine won the [host broadcast] contract they started talking with [the directors], which gave us the chance to arrive at the sand and not sink."
Sunset+Vine chairman Jeff Foulser said one of the most significant differences compared with previous Games has been the host's relationship with directors, some of whom are directing new sports for the first time during the Games.
He said: "It's important to get them involved much earlier in the process, so that when they sit down maybe the day before the event to go through the cameras, they're already familiar with it because they've been involved. And that surely must be a good model for these events.
"When we worked on the Commonwealth Games in Glasgow 2014 and the Gold Coast 2018, which we did jointly with NEP, there was a feeling that the planning team decides everything and then the operational team come in and delivers it. We feel the directors should have a view; they must cut the pictures, so they need to be engaged with.
Read more Birmingham 2022: Inside the host broadcast set-up for the Commonwealth Games with Sunset+Vine
"Directors love [being involved earlier] because they feel it's their project. In the past, and I think probably at the Olympics, they didn't feel that way. They just turned up and were told, 'this is how many cameras you've got, these are the positions, get in the truck and do it'. And that's not the way we work. We work in a very collaborative way with all our people and get their views and I think we end up with a better product."
Speaking with SVG Europe mid-way through the Games, Foulser said: "We've got some strong teams working on all the sports. There's no real secret to TV; if you get the right people, in the right positions, you end up with a decent product.
"I was at the beach volleyball yesterday and the 3×3 basketball. Grant Philips, who is one of the top football directors in the world, is directing the beach volleyball for the first time and it was great watching him. And Josh Turner was directing the 3×3 basketball, which is a new sport and a much faster version of basketball. It's full-on, fast, furious action. He's a young director, and he worked really hard on that, and did very well.
"There's been a super amount of planning go into it; Helen Kuttner, who's directing the athletics, has been across all the sports in terms of helping to plan camera positions and we've engaged with directors much more than would normally be done on a multi-sport event."
Sunset+Vine was awarded the host broadcaster contract in April 2020, and shortly afterwards began to contact its directors, including Philips.
Philips, who recently returned from Mexico where he led coverage of the 2022 CONCACAF W Championship, said: "As soon as Sunset+Vine won the contract they started talking with us, which allowed me to start watching previous events online and research the sport, which gave us the chance to arrive at the sand and not sink.
"Helen (Kuttner) has really led our team to Commonwealth glory; she has kept us all involved, along with Tippo (Sunset+Vine managing director David Tippet) and Jeff, from camera plans to planning meetings and site visits. All directors will think they are capable of whatever is put in front of them, but the truth is it can be a bit daunting."
Read more Live From CONCACAF W Championships: How a UK-based team is providing 'gold standard' coverage
Another director, Daniel Hudson, has turned his hand to a new sport during the Games. Says Foulser: "Daniel is directing the cycling track and road races, which he hasn't done before. He's experienced and has done a lot of rugby, and events like Crufts, but learned what he needed to and did a great job on the track cycling, and I'm sure he will on the on the road cycling.
"We've taken a little bit of a risk with some people, but if you don't take the odd calculated risk in this business, you never move forward and you keep doing things the same way. And that's not what we like doing."
Says Philips: "Heads of production might be anxious about giving people new opportunities, but Sunset+Vine do that and provide guidance if we need it. During our first engagement with the beach volleyball governing body and organisers, we all talked openly about how they like beach volleyball covered. They also stressed that they were in our hands; rather than it be a weakness that we haven't covered the sport before, they knew it was not our first rodeo, so we have been able to bring other things to the beach volleyball. The governing body said, come up with something new and make it exciting.
"They encouraged us to shoot it from behind. Historically, the main camera has been side-on, but when you shoot from behind like the tennis, it outweighs what you lose."
Foulser added that he had received a positive response from broadcasters for Sunset+Vine's coverage of the Games. "There's been a great reaction from the likes of the BBC and Network Seven in Australia. They have been full of praise, and it has gone as well as we could have hoped."
The 2022 Commonwealth Games took place 28 July to 8 August in Birmingham.
---