Broadcast Solutions stages Innovation Days in Hanoi and Jakarta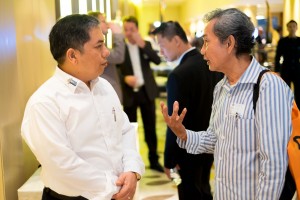 As part of an ongoing series of Broadcast Innovation Days, Broadcast Solutions GmbH from Germany, together with partner companies, has hosted two events in Asia. The events in Hanoi and Jakarta included the participation of partner companies Riedel, IHSE, Zenon Media and Jünger Audio. The events were designed as lectures with additional exhibition plus hands-on sessions on the innovative products and solutions presented. Broadcast Solutions, together with the partners, experienced a huge interest from the local broadcast community that proved the events to be a great success.
With the two inaugural events that were organised jointly by Broadcast Solutions GmbH together with the partner companies the goal is to inform local broadcast professionals about the latest trends in broadcast technology. The latest in a row of successful events, held by the German system integrator all over the world, the two sessions carry on the series of industry presentations and demonstrations to local markets.
In Jakarta and Hanoi Broadcast Solutions teamed up with partner companies Riedel, IHSE, Zenon Media and Jünger Audio to demonstrate a wide variety of products and solutions giving the events a broad scope. With the title 'Think Big, Start Small – The Power to Scale' the events focused on topics including options on streamlining the broadcast workflow and how broadcasters can implement future-proof solutions. They also discussed the requirements of local broadcast companies and solutions to meet ever-changing production demands.
One of the main concerns of the attendees was the need for future proof solutions and how they can migrate existing workflows as technology evolves. With the rise of IP-based solutions, should broadcasters stick to known and practised technology or develop a new path to IP?
Technological solutions are needed to cope with the industries demand for faster workflows and economic solution against widespread forms of competition. The events provided the attendees with new insights into the latest broadcast technology 'Made in Germany'.
Visitors had the chance to learn about Broadcast Solutions' Streamline OB Van family of pre-configured and nearly 'off-the-shelf' OB Vans, which can be delivered in a short time with significant cost-advantages. Also on display was the complete portfolio of multichannel recording and slow motion servers and video judging solutions from slomo.tv. Additionally innovative and cost effective Software based solutions such as broadcast Ultrasoft and Serenity, as well as Satcom antennas and Robycam stabilised rail and "flying" camera systems were interesting topics.