BT Sport rolling out IP core at Stratford studios in push for advancement of futureproofed remote production model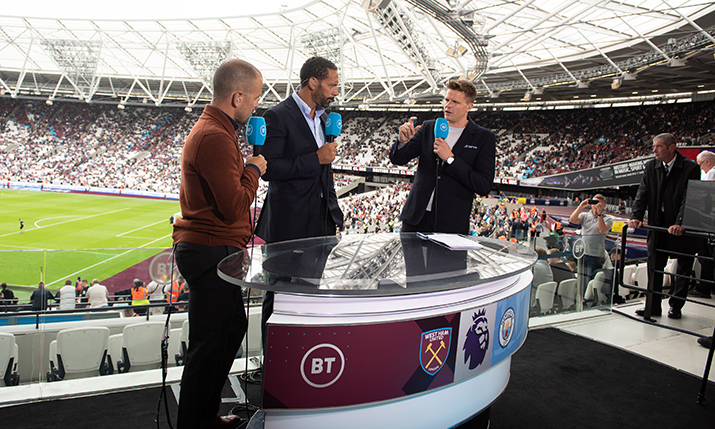 BT Sport is rolling out an IP core at its studios in Stratford, working with its technology partner Timeline TV to transition the broadcaster to a future-proof and continuing remote production model.
The move from SDI to IP will enable BT Sport to continue to improve and expand its decentralised remote production, which it has been moving towards for some time, but accelerated rapidly at the beginning of the pandemic.
It will also give fans more cutting edge viewing experiences, from 4K, HDR and Dolby Atmos, across more sports, according to Dan McDonnell, managing director at Timeline TV.
Jamie Hindhaugh, chief operating officer at BT Sport, told SVG Europe: "We're putting an IP core in at Stratford because of the flexibility and agility that we need, especially with co-locations; and that's not just people's homes, but that's also different buildings, people coming in and out, so many more lines coming in and out. I think… it's safe to say it's actually a good job we designed it because to really move forward [on this remote production model] we need it."
Hindhaugh added: "It's something we've wanted to do for a very long time but needing the number of lines in and out and the connectivity the way we need it for the work we're doing at the moment…it's taken us a long time to design. There's been a real partnership between Timeline and… my team in particular."
McDonnell agreed, adding: "We're moving from the model of where we would take a Premier League match and maybe get two feeds coming in – the main match and the reserve match – to a model where we're taking in 10 [to] 20 cameras and then making productions within Stratford. To do that you just need much more sources into the building, or more provisions in galleries etc, and the logical step to that was to move from the SDI platform to an IP platform, which Jamie commissioned us to do. We're slowly rolling that out over the next few months."
McDonnell commented on the timeline for the roll out: "Stratford's obviously a very big facility so we can't turn it off for 24 hours, so we're doing [the roll out] in stages, but we'll eventually transition to an IP workflow which will enable [BT Sport] to do 4K, HDR, and Dolby Atmos remote productions [easily], and we can roll it out to more events."
Listen to more from Jamie Hindhaugh and Dan McDonnell talking about the new BT Sport IP core and how they are moving forwards with remote production for football at SVG Europe's Football Summit 2021 on 21 April at 1pm (UK time). Find out more and register here
Hindhaugh went on: "The big thing for us is around connectivity; connectivity and UPS. It's a really boring subject but it's absolutely critical.
"We've got an initiative that I'm leading at the moment called Staying Smart, which is about actually how we operate whenever post-COVID-19 happens; we called it Staying Smart because we're already working smart. What we've found is by having proper UPS in place, by having proper connectivity, it shows you can change the model long term for how you work," stated Hindhaugh.
He added: "I think we will never go back to how we worked before. If you give people the right tools and the right set up, then allowing them to work as best for how they want to work has got to enhance your product. We were looking at that and as you know as well, looking at how we follow that model a bit more widely and decentralise Stratford physically, so we have hubs across the UK, which meets our inclusivity and diversity agenda but also our sustainability agenda, and all of this is learning off the back of what we've been doing for the last 12 months."
BT Sport and Timeline TV chose a pair of Arista 7508R high performance chassis-based switches as the core of the new live production workflow. These provide up to 75Tbps of ST2022-7 protected throughput, highly scalable PTP support, and up to 288x100Gbe per core, allowing for initial and future scalability. An upgrade path also allows for access to 400Gbe support in the future.
Commented McDonnell on the process behind the IP core roll out: "We've looked at everything we were doing, working from home and remotely, and tried to build on that to get a consistent remote production model with the aim to not necessarily make people work at home, but with the aim to reduce the number of people that have to be on site and in confined spaces.
"It's much, much easier to be able to socially distance and have protocols in place within our broadcast facilities than it is on site, so we've been working to put in robust solutions and we do now have much fewer people on our mainstream OBs at Premier League matches, FA Cup matches, national league, WSL, than we did used to have. So a lot of technology's been put in to enable that and there's big technology going in at the moment in Stratford to enable it to happen further," McDonnell continued.
---

Jamie Hindhaugh and Dan McDonnell will be speaking at SVG Europe's Football Summit, sponsored by EVS, which takes place on Wednesday 21 April 2021 from 1pm. To find out more and to register go to: Football Summit 2021.
---