DFL to provide real-time match analysis using Amazon Web Services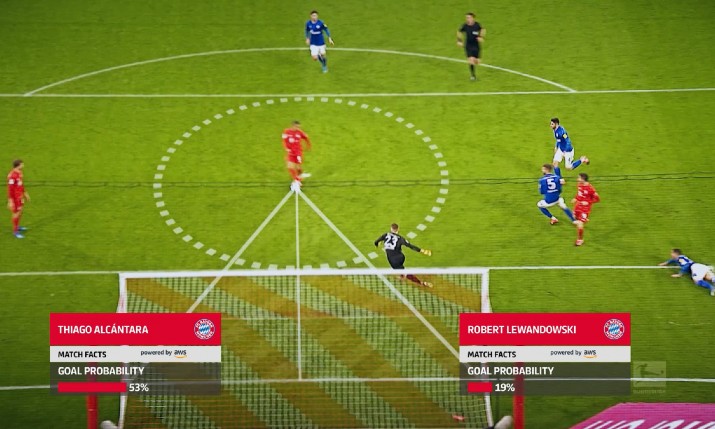 The technology partnership forged between the Deutsche Fußball Liga (DFL) and Amazon Web Services (AWS), first announced in January, will start to bear fruit from today (Tuesday 26 May) when a new range of match stats are rolled out for Bundesliga match coverage.
"Bundesliga Match Facts powered by AWS" will provide real-time statistics that provide insights into the action taking place on the pitch.
The statistics are generated live from the official match data and supplied to national and international broadcasts. They will be used on the Bundesliga's platforms and channels, including the Bundesliga app.
This additional match information kicks off with two specific applications: "Average Positions" and "Expected Goals" (xGoals):
Average Positions tracks players' average location on the pitch in real-time, helping fans to spot individual players and understand changes in play more easily. For instance, the related displays show whether a team is setting up in an attacking or defending style, pressing up the middle, or using the wings more. The data is calculated on the basis of around 3.6 million data points per match and will be supplied to all international Bundesliga live broadcasts.
The xGoals model is able to show the probability of a player scoring a goal in a specific situation. Goal probability is calculated in real-time after each shot on goal, giving viewers information on the difficulty of a shot and the likelihood of a goal. A high number of variables, derived from the tracking of positional data, are used in the calculation process, including distance to goal, angle to goal, player speed, number of defenders in line of shot, and goalkeeper coverage. The xGoals model is based on historical data from around 40,000 shots on goal, and will be used in all international highlight clips.
In January, the DFL announced that it had signed a deal that will see AWS provide additional stats and data for every live Bundesliga game and enable the creation of new personalised experiences for German football fans.
Bundesliga Matchday 28 starts tonight with the biggest games of the season so far, Borussia Dortmund vs Bayern Munich.