DiGiCo helps Norwest deliver high quality audio for Southeast Asian Games ceremonies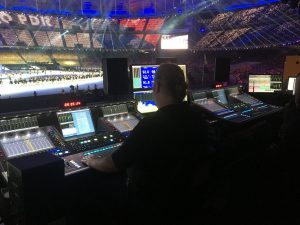 This year saw the Southeast Asian Games (SEA) Games 29th edition and the 9th edition of the ASEAN Para Games, held at the newly refurbished KL Sports City in Kuala Lumpur from 19th to 30th August. Australia-based Norwest Productions provided the audio for both the Opening and Closing Ceremonies, with DiGiCo SD5s positioned at front of house, and SD9s deployed for audio patch control, and SD8s at the Closing Ceremony's monitor position.
The history of the SEA Games dates back to 1959. Known then as the South East Asian Peninsular Games, it was designed to promote relations between the countries of the Southeast Asian region. Its success is undeniable, with each edition of the biannual event hosted in a different country and this year attracting some 4,900 athletes from 11 countries to compete against each other.
The two-hour Opening Ceremony played to an audience of around 85,000 and was also broadcast live across the region. Hosted by Malaysian entertainers Yasmin Yusof and Raymond Goh, the four-act display showcased Malaysia's history and culture, as well as celebrating ASEAN unity through song and dance, and culminated in a fireworks extravaganza. The Closing Ceremony featured the Malaysian Armed Forces performing Negaraku, the national anthem of Malaysia, followed by a parade of the athletes who had taken part in the Games.
Norwest was introduced to the project by Nick Eltis, technical director for entertainment production company Technick, who was consulting on the ceremonies for Memories Entertainment (Malaysia). Norwest was asked to provide a turnkey audio service, from audio design and supply, through to crew and operation of all audio requirements, which included six DiGiCo consoles and an L-Acoustics loudspeaker system, which included 100 Kudo and 48 KS28 cabinets.
"The two SD5s for FOH were position in the Level 1 seating bowl, with Ian Shapcott expertly mixing," says Andrew Marsh, special projects manager at Norwest. "We were utilising the consoles' MADI I/O ports as well as their Optocore fibre ports and they were mirrored, despite one being on our main network and one being on our backup network. They also provided some of the monitoring duties, like headline artist IEMs and VIP areas, plus they fed the broadcast unit with stems and replay, etc."
Audio patch control utilised two SD9s, operated by patch engineer Ian Cooper to mix programme and comms lines to feed Level 2 and Level 3 IEMs for the mass cast. Once again, these were mirrored and used both MADI and Optocore ports.
Because of its live nature, an additional two SD8s – again mirrored and on the main and backup networks – were supplied for monitor duties for the Closing Ceremony, which were operated by John Watterson, who handled all the stage wedge and headline artist IEM monitor duties.
"As usual for these high I/O and complex mixing jobs, DiGiCo consoles presented the greatest flexibility, I/O count and connectivity prowess when compared with all other live mixing consoles," says Andrew. "And their integration of Optocore technology is unique and extremely powerful. Their mixing functionality and usability over other brands is also a major feature.
"Having main and backup consoles mirroring one another, whilst not necessarily attached to the same I/O or network, is a unique scenario to these events, and one that DiGiCo consoles helps us achieve more elegantly, and the ability to send feeds to other consoles on the network is a huge advantage."
Andrew says the client was ecstatic with the results. "I believe their words were 'Norwest, the best!'," he concludes. "And we have had amazingly positive feedback from many other people, including the staff from the production and spectators who came to the ceremonies."