Discovery lines-up improved expert analysis and an updated Cube for Beijing Winter Olympics coverage
Additions planned despite 'distraction' of COVID-19 and back-to-back Olympics
Beijing 2022 viewers on Discovery+ and Eurosport will be treated to improved expert analysis, an updated version of The Cube mixed reality studio and even more athlete stories as part of Discovery's extensive plans for the winter games.
The broadcaster, speaking at an online launch event on Monday 24 January, revealed that it will show 1,200 live hours of coverage across its linear and digital platforms, including Discovery+, Eurosport and the Eurosport app, and will place a renewed focus on expert analysis, making use of 107 winter sports experts and presenters in order to make Discovery the "natural home for people who want to learn more [about winter sports]."
Discovery's The Cube presentation studio has also been remodelled to make it more immersive, with 26 different 'environments' available to use including a virtual bar area and ski lifts while 3D actors are also being added, rendered using Vizrt graphics technology. The use of Unreal Engine will allow environments to be changed quickly by the Discovery production team.
"It should feel like you're in a James Bond lair watching the Winter Games," said Scott Young, senior vice president of content and production for Discovery.
---
For more information about the updated Cube go to: https://www.svgeurope.org/blog/headlines/discovery-uncovers-its-rapid-technical-evolution-for-complete-decentralised-remote-production-and-the-augmented-cube-for-the-beijing-winter-olympics/
---
Expert analysis will also be increased and enhanced for Beijing 2022, added Young. "We get world-class pictures from [host broadcaster] Olympic Broadcasting Services [OBS] and we know the sport is covered brilliantly. Our role is to unlock the achievement of every athlete, their achievements, their successes, their failures and to understand what they went through to achieve their goals.
"It's about having the right athletes to explain [what is going on]. We need the competitors and the experts to help viewers understand what has taken place."
"We know fans at home can't travel to China as they couldn't in Japan so even more these days, it's important to bring every part of that story into living rooms and the devices in people's hands who want to enjoy the Games."
This will be done partly through 'teleporting' experts, coaches and competitors into The Cube.
"[We have] green screens all across Europe so we can teleport people in," continued Young. "We're going to do that from Beijing too if the COVID environment allows us just so we can give the viewers the best experience.
"We know fans at home can't travel to China as they couldn't in Japan so even more these days, it's important to bring every part of that story into living rooms and the devices in people's hands who want to enjoy the Games."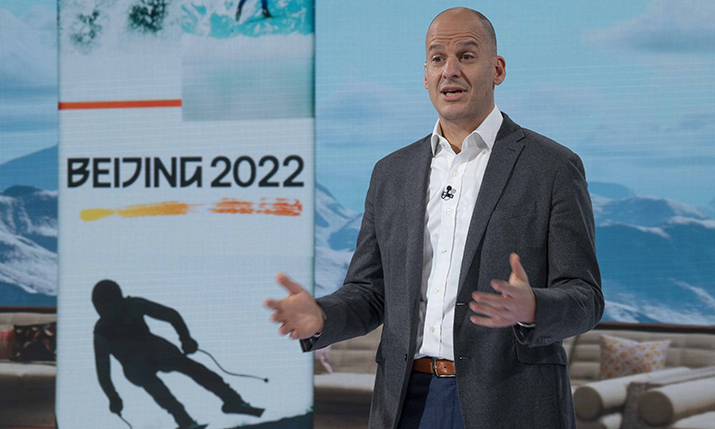 That 'best experience' will also be about providing a depth of information and coverage that national and public broadcasters are unlikely to be able to match.
"What differentiates us," said Andrew Georgiou, president of sport for Discovery (pictured above), "is that we are a dedicated sports platform. Free-to-air broadcaster coverage needs to appeal to a more general audience. We provide the real detail. We are the natural home for people who want to learn more [about winter sports]."
While the thorny subject of human rights issues in China will be covered, the focus for Discovery will be on the extraordinary feats of human achievement.
"There is no doubt that [human rights in China] is a massively important issue," said Georgiou. "Discovery is really focussed on social issues and we've made a big commitment to diversity and inclusion within our own organisation, it's not a topic that we want to shy away from, we're going to address it.
"But we're also a sports broadcaster and we will also be focussed on athlete performances and what's going on on the big stage and doing the best we can to show those stories. Hopefully, the Olympics should shine a light on that and bring all the Olympics back to a really interesting story for the consumer."
Discovery will look to not only connect fans to the action – but also connect athletes to their friends and family, who cannot be present in Beijing, and then relay that emotion on-screen to the viewer.
OBS' Athlete Moment – Family & Friends service will play a role in this, allowing Olympians, at selected venues, to interact live, straight after their competition, with loved ones back home through dedicated "Athlete Moment" stations.
"This was thought up pretty quickly [for Tokyo] when it was clear that spectators and friends and family couldn't attend," said Young (pictured below in conversation with Discovery presenter Radzi Chinyanganya inside The Cube).
"We can participate in that and included that [content] in our coverage. I think we will see that for many Olympics to come."
Original athlete-focused content has also been produced by Discovery Eurosport for the Winter Games. This includes One Last Push, which follows Summer Olympic gold medalist Greg Rutherford as he bids to represent Team GB in the four-man bob at Beijing 2022, and Leijonat kohti Pekingiä 2022 (Lions Road to Beijing 2022), a behind-the-scenes with the national ice hockey team of Finland as they step up their preparation for the Games.
In addition to the live-action, a daily digital show called Beijing Today will bring fans the latest reaction and analysis from the day's action.
Asked about the overall impact of COVID on production plans, Young acknowledged that it's not been easy for the Discovery teams to deliver two Olympics in a short amount of time.
"To do that under the COVID umbrella is a challenge," he said. "And a phenomenal add-on that [is a] distraction from the content plans.
"The crew have not had a lot of sleep over the last 12 months. But we took learnings from Tokyo and applied them to Beijing. We hit the ground running. There wasn't a lot of rest."
The output will be a hybrid of remote and location-based production, he said.
"We looked at the situation in Europe and the rise of COVID and we have always taken the view that we won't send vast amounts of people if we don't need to." He cited the example of commentary that can be done remotely 'off tube'.
Technical equipment went straight from Tokyo in shipping containers to Beijing, he added. And Eurosport is now in daily contact with broadcasters, OBS and the organisers about the COVID conditions in Beijing.
"Discovery's ambition for Beijing 2022 is a feat of live and remote production like no other," concluded Young. "With Discovery+ we are the only place to watch all of the Olympics, presenting all 109 events, the most ever at an Olympic Winter Games, from the city venues in Beijing to the mountain regions of Yanging and Zhangjiakou. Discovery has every region, every venue and event covered for viewers throughout Europe."
---
Discovery's Beijing 2022 operation in numbers
Broadcast and streaming to 50 countries and territories in 19 languages
1,200 live hours produced for viewers across Discovery's linear and digital platforms, including discovery+, Eurosport and the Eurosport app
107 winter sports experts and presenters with a combined tally of 95 Olympic medals
13,701 commentator sessions
3,254 km of fibre optic cable used in its broadcast operations, enough for a round trip between Beijing and Tokyo.
---
Discovery's Cube studio for its coverage of Olympic Winter Games Beijing 2022 was designed with the support of various partners including BK Design Projects, FRAY Studio and Girraphic.
Discovery will show coverage of Beijing 2022 across Europe excluding Russia. The output will be available to watch on Discovery+ in Denmark, Finland, Italy, Netherlands, Norway, Sweden and the United Kingdom. In all other European markets, except Russia, Beijing 2022 will be available on Eurosport's digital services. Eurosport's television coverage is available in all territories.
The 2022 Winter Olympics will begin in Beijing on Friday 4 February and continue until Sunday 20 February.
Pictures: Getty Images