Enhancing the remote fan experience via broadcast innovations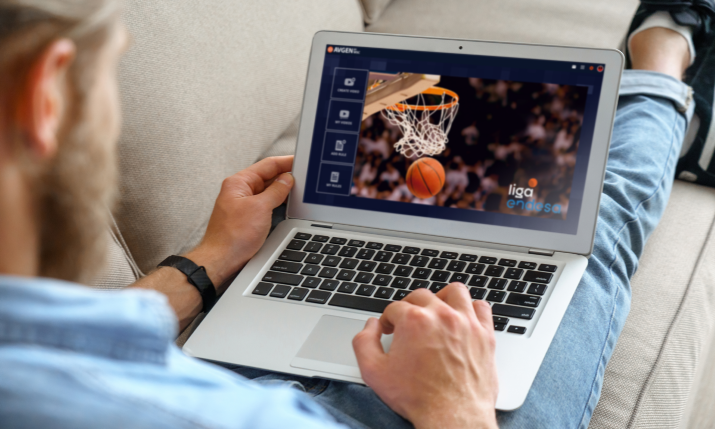 By Bryce Button, director of product marketing, AJA Video Systems
Innovations to overhaul traditional sports broadcasting, necessitated by the challenges of 2020, have bolstered streaming and remote production workflows while encouraging new forms of fan interaction and engagement. With restrictions on sporting events and hosting live games in front of stadium audiences, broadcasters have rolled out new virtual fan experiences and incorporated increased usage of metadata, unique camera positions and sophisticated audio setups for an immersive at-home viewing experience. In the realm of broadcast technology, powerful streaming, 12G-SDI, optical fibre and IP solutions have enabled sports broadcasts and live productions to seamlessly transition to remote workflows that connect teams and equipment from locations around the world.
In the face of a pandemic, sports leagues around the world have continued to safely host seasons from empty or sparsely populated venues and arenas, presenting broadcasters with the unique opportunity and challenge of effectively engaging fans from the comfort and safety of their homes. By deploying sophisticated technology setups that leverage a range of IP and real-time solutions, broadcasters have captured the attention of global audiences by incorporating virtual fans into live feeds on-screen and in-venue. For example, during the final eight NBA games hosted in the NBA Bubble, the virtual fan experience composited images of at-home audience members over stadium seats in real-time to appear as if fans were sitting courtside during live broadcasts. Real-time game engine technology is also being used to enhance the fan experience during live esports tournaments, by merging virtual sets and green screen environments with remote audience members.
Immersing fans from any location
Broadcasters have seized new opportunities to leverage the latest technologies to create an immersive viewing experience for audiences from any location. Data-driven, real-time statistics on team and player performance are being integrated into graphics and played during live broadcasts using services from providers including AWS and Intel, among others. For example, sports such as Formula 1 are incorporating data collection from cars and drivers to provide added race context for fans and heighten spectator involvement in live broadcasts.
Experimenting with video and audio also brings at-home viewers closer to the action than ever before. Audio teams are engineering sound environments to be played during game broadcasts, meshing pre-recorded audience noise and music with commentary into live feeds. During games in the NBA Bubble, an innovative microphone layout positioned underneath the court helped to emphasise the action, while unique camera angles spaced out – in locations not previously possible with an audience present – further enhanced the live action. Robotic cameras were also used during this year's Indianapolis 500 to help create a greater sense of excitement for remote fans.
Streaming services surge
To take sports broadcasting remote, streaming technologies have been critical for delivering live OTT content via CDNs, including YouTube Live and Facebook Live. In some cases, the public internet has also been utilised for back hauling video sources to and from locations with secure protocols like SRT. While streaming was already a growing form of media consumption pre-pandemic, the global shutdown witnessed a larger surge in streaming technologies and services that will continue to flourish even after the current crisis ends. From the highly anticipated 3TC Solidarity Cup cricket matches in South Africa, to Malaysia's high-octane four-wheel motorsports Merdeka Race, robust streaming workflows have proven critical for delivering reliable, high-quality live streams to spectators around the world.
As remote production continues to surge in 2020, 12G-SDI optical fibre workflow solutions have played an integral role in simplifying the transport of high-bandwidth video and audio content long distances (up to 10km) via a single cable. To enhance the at-home fan experience during this season's NBA and National Hockey League games, pre-recorded footage was played on massive in-venue screens using 12G-SDI technologies to drive single-cable 4K feeds. For production crews returning to stadium or arena venues with new safety protocols implemented, 12G-SDI optical fibre gear enables personnel to spread out on-site and keep protected by maintaining physical distancing.
The evolution of IP
The sports broadcast industry is also moving towards a greater utilisation of IP technologies for transporting video content within venues and from event venues and remote control centres to viewers at home. Though sporting venues are still restricted from hosting crowds, a hybrid combination of IP and standard baseband infrastructure has been used during games to bring in live feeds of remote viewers and play at-home fan reactions on large scale in-venue screens during broadcasts. As various methodologies for video and audio over IP evolve and gain traction in the broadcast industry, a hybrid mix of approaches and standards address key issues that include security, latency and compression challenges. This includes SMPTE 2110 and NDI broadcast IP standards, as well as using streaming protocols alongside SRT.
With many mobile production fleets grounded, more OB trucks have been available for overhauls in 2020. This has created new opportunities for manufacturers to work on OB truck buildouts to enhance production workflows when teams return to the road.
2021 – the year of 8K?
Looking forward to 2021, preparations for the Summer Olympics have ramped up with 8K/UltraHD2 buildout to support live broadcasts. Growing adoption of 8K workflows and content delivery is becoming industry standard in Asia, largely driven by broadcasters including NHK in Japan. Plans to broadcast the Olympic Games and opening and closing ceremonies in 8K have been outlined by NHK and are underway.
Although 2020 has been a difficult year, broadcasters and technology providers have innovated with new workflows and solutions to overcome the many challenges presented by the global pandemic. Expansion of new interactive technologies and remote workflows that foster collaboration have enriched sports broadcasts and encouraged new forms of fan engagement. Challenge drives innovation, and as we emerge from the pandemic and return to stadiums, arenas and in-person events, audiences around the world will benefit from an improved viewing experience enhanced by the industry strides and innovations put into motion this year.