FA Cup Final 2019: BBC Sport to use single production workflow for both SDR broadcast and UHD HDR stream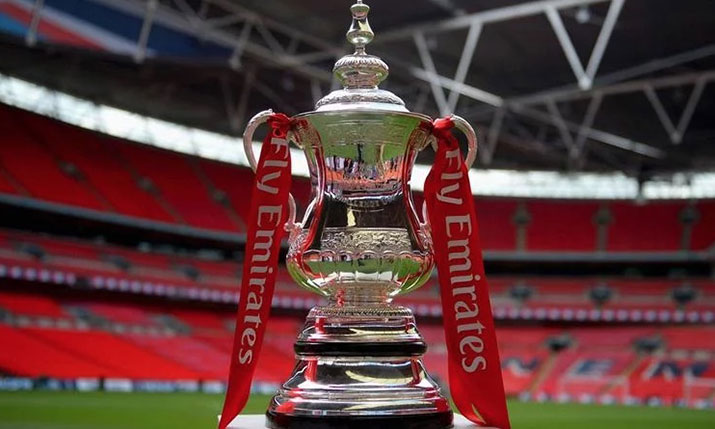 This weekend's FA Cup Final at Wembley between Manchester City and Watford is going to be a one-sided affair, if the bookies are to be believed. And if they're right (Watford are currently 14/1 to lift the trophy), the result of the match won't be the only thing that can only go one way on Saturday.
BBC Sport's coverage of the showpiece final will, for the first time, be produced for both HD standard dynamic range (SDR) broadcast on BBC1 and in UHD with high dynamic range (HDR) as a BBC iPlayer trial using a single production workflow.
Until recently, all of the BBC's live UHD trials – including Wimbledon 2018 and the 2018 World Cup in Russia – have required a separate, experimental production process that has seen a UHD with HDR production run parallel to the HD with SDR production.
But for the Cup Final, the UHD coverage with HDR will be the master feed from which both the BBC's UHD online test stream and its HD broadcast will be derived.  A UHD SDR feed will also be provided for BT Sport.
Devising this single workflow – and testing it – has been led by BBC R&D working closely with OB firm Arena Television.
"Part of what we are trying to do is make this an effective 'business as usual' process within the BBC for distribution and for production. And having a dual workflow is not sustainable."
Andrew Cotton (pictured below, second right), a principal technologist within BBC R&D's Broadcast & Connected Systems section, believes that HDR to SDR conversion has improved sufficiently well in the last year to allow the BBC to confidently make the programme in UHD-HDR and still "provide a great SDR signal to feed the main BBC1 transmission chain."
This will make a huge difference, he says, making it both cheaper and less complicated.
"We've got to protect the HD SDR viewers because there are the most eyeballs in front of those screens," he told SVG Europe on the eve of the Cup Final.
"But clearly we want to deliver a great UHD HDR experience for those watching that signal as well. Most UHD cameras have both an HDR and an SDR output and those two outputs have been effectively been passed through parallel production workflows. It has worked but it's an extremely complicated and costly workflow because you need twice as much equipment and timing up the different signals is more complicated. It's a complete nightmare.
"For this to take off at scale we need to have a single production workflow and we need to be able to generate an HD-SDR output from a primary UHD-HDR signal. We now feel that we've reached that stage."
Phil Layton, the head of broadcast and connected systems at BBC R&D, is of the opinion that the previously used dual workflow was not sustainable.
"Unless we can simplify the UHD production workflow, then it is very difficult for us to justify these trials," he says.
"Part of what we are trying to do is make this an effective 'business as usual' process within the BBC for distribution and for production. And having a dual workflow is not sustainable. We were having to fund both productions through different means."
Royal approval
Down-conversion work completed for coverage of the Royal Wedding in 2018, which saw UHD-HDR signals down-converted to UHD-SDR for the benefit of Sky News, helped to inform the workflow and proved that the single workflow would be possible, acknowledges Cotton.
For the Cup Final, most of the cameras will be Grass Valley LDX-86Ns running in HDR mode with additional LDX-C86N compact HDR cameras on Steadicam rigs and one housed in a Shotover F1 gyro stabilised system on a helicopter.
HDR up-mapping for non-HDR sources and mixer feed down-mapping will be handled by Grass Valley UHD-3901 processing cards and AJA FS-HDR units. Phabrix QXs will be used to monitor and analyse the signals.
All of the equipment will be housed in two of Arena's IP-based OB units – one dedicated to creating the match feed, the other being utilised for the BBC's domestic output.
Daf Rees, Arena Television's deputy director of operations (pictured, right), reveals that this single HDR to SDR production workflow has been in the works for a while.
"Our minds have been focused on developing and delivering a single HDR/SDR workflow since late 2015, alongside the development work for our IP OB fleet," he says.
"In the same way as we saw quad SDI as an unsatisfactory way of delivering UHD, we recognised that a parallel HDR/SDR workflow was a similarly unsatisfactory, and in many cases, unrealistic way of delivering an HDR master with SDR deliverables.
His company started testing different options back in 2016, initially with single cameras across sport and entertainment events, evaluating HDR camera and monitor performance.
"Step by step we introduced various up-map and down-map processes to evaluate their effect on the picture in the real world. It's been vitally important to us to create a format-agnostic platform for our clients so developed a very good rapport with R&D teams at several key vendors to improve the results iteration by iteration."
Mixing camera formats
Being format agnostic is a crucial part of this workflow, as Cotton explains.
"For football coverage, it is simply not possible today [to have everything in one format] because we rely on a number of specialist cameras that can only operate in SDR BT.709 such as the super slo-mo camera, the roving cameras and the cameras behind the goals. We need to be able to integrate those into the main production seamlessly so that there are no perceived colour or brightness differences. What we've been working very hard on for the Cup Final is matching BT.709 sources and HLG HDR sources. And that requires the 'scene light' conversions."
The industry is only just beginning to appreciate the importance of 'scene light' for live production HDR workflows, he adds. While Hollywood is dominated by 'display light' conversions, with live sport requiring so many different formats from so many different cameras, 'scene light' conversion is required.
"To be clear, we are not going to come out of the final with a finalised workflow either. This will not be the end of the journey."
"If you are going to mix the different sources, and you are going to cut between camera types, and don't want the viewer to notice the difference, you cannot base the conversion on what the signal looked like on the display," says Cotton.
"You base it on the light that was falling on the camera sensor. That light will always be the same. You work backwards towards the camera sensor rather than forward to the monitor.
"The greater understanding of when to use scene light and when to use display light has allowed us to use HDR in the more complex mix environments that are required for football."
All the format conversions will be carried out in 3D LUTs.
UHD trilogy
The Cup Final is the final part of a trilogy of trials that has also included an FA Cup tie at Millwall FC and an FA Cup semi-final at Wembley. But further work will need to be done beyond Saturday.
"To be clear, we are not going to come out of the final with a finalised workflow either," says Layton. "This will not be the end of the journey. There are still things we are learning about different camera characteristics and the type of workflow that the current OB vehicles can support with the amount of conversion technology that is needed."
There are still questions about getting the right type of HDR pictures, he adds.
"Football has a particular look that vision supervisors like to give it. And trying to make sure that technology is able to accommodate those craft requirements as well is an ongoing challenge."
The biggest OB challenge is preserving the integrity of all the deliverables, adds Rees.
"If people watching on BBC1 HD don't notice any differences, then we've done a great job."
"Although the production workflow is hugely simplified by a single workflow model, we need to ensure that every camera and mixer output has an SDR version of the HDR master format in UHD, 50p and 50i to offer to all rights holders, with a consistent look across all HDR and SDR sources. That's quite a complex undertaking on a job of this scale."
The BBC's Cup Final feeds will also be made available to other broadcasters, including BT Sport, in UHD-SDR.
The UHD with HDR output will only be shown on iPlayer where viewers watching on a compatible Ultra HD TV will be able to see the live high-resolution stream via the Red Button or via the BBC iPlayer app on Connected TVs.
Fingers are being crossed ahead of the big day but the overall ambition is simple: "If people watching on BBC1 HD don't notice any differences," concludes Cotton. Then we've done a great job,"
The FA Cup Final kicks off at 17:00 Saturday 18 May at Wembley Stadium. BBC Sport's live build-up starts with Football Focus at 13:00 on BBC1 with presentation and match coverage from 15:55.