Fletcher Group tracking system chosen for automated Wimbledon tennis coverage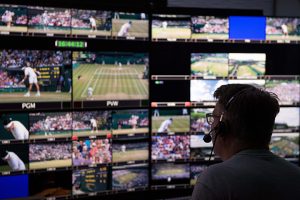 As first revealed at SVG Europe's Future Sport conference in November, NEP UK and Fletcher Group have won a three-year contract to install and operate a robotic camera system that will provide automated coverage of the outside courts during the Wimbledon tennis championships.
The deal will see Fletcher Group implement its Trace tracking system on seven outside courts meaning that coverage of all 18 championship courts will be available to broadcasters for the first time.
The Trace system uses Light Detection and Ranging (LiDAR) sensing to pick up fine details on each player, allowing the robotic cameras to then track the action. SimplyLive's ViBox system will be used for switching and replays.
In previous years, six of the outside courts at Wimbledon have been covered remotely using technology from Hawk-Eye.
Paul Davies, the head of broadcast and production at The All England Lawn Tennis Club (AELTC), said: "With the NEP/Fletcher remote camera system we have found an exciting and innovative solution to deliver robotic coverage of seven of our outside courts".
Speaking at Future Sport (29 November 2017), at the Oval cricket ground, Davies said of the deal: "We had some fantastic pitches [but] we were very taken with Fletcher's vision in this area of automated coverage, and they're doing some exciting work. Their passion and vision won the day for them."
NEP UK holds the contract with AELTC to provide technical services for the newly inaugurated in-house host broadcaster department Wimbledon Broadcast Services. The in-house division replaces the BBC as host broadcaster from the 2018 tournament onwards.
The BBC still retains exclusive broadcast rights to show the tournament live in the UK.