Game, set and match: Eurosport's Aurelia Mounier on the fascination and drama of producing live tennis
International Women's Day 2021 focus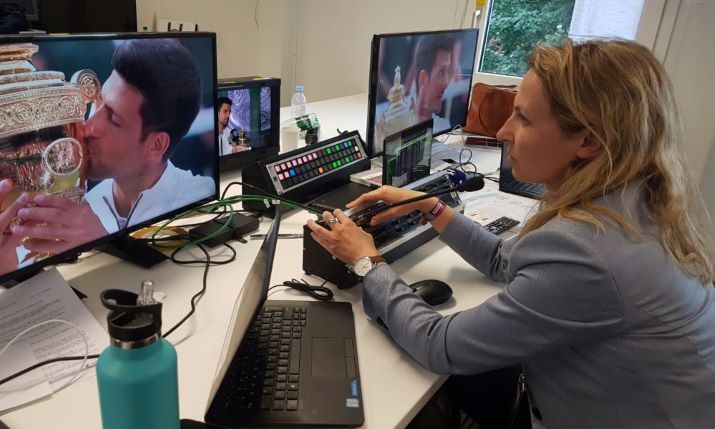 "Live tennis is fascinating as there are always new stories to tell. The unpredictability, the upsets, the newcomers," says Aurelia Mounier, editor-in-chief at Eurosport.
Mounier's career has been built around the tensions of the tennis court, which she thrives on. Storytelling from courtside involves a passion for the game, an understanding of the personalities involved, and an ability to move quickly to keep up with the twists and turns of the dramas playing out in front of the cameras.
Find out more about the enhanced Eurosport Cube with head of graphics and innovation, Alex Dinnin, at SVG Europe's Sports Graphics Spotlight on 5 March – register here
Mounier goes on: "The biggest drama we saw recently was Novak Djokovic at the US Open. He was sure to win and from absolutely nowhere, he got upset and lashed out. And no one could've predicted what happened then with him being disqualified."
"During a Slam, we are dealing with the event itself and after months of preparation it's exciting to actually be there doing it altogether. At events, people are usually exhausted after ten days but it's also so much fun"
Multitasking, spotting stories as they appear and managing her team is second nature to Mounier. She points to the Championships at Wimbledon as an example of how she has been able to not only make a great production work, but to be innovative and work on-the-fly.
"For Wimbledon, we have the rights in fewer markets compared to the Australian Open but in the past we have had a bit more freedom in [terms of] what we could do. When Coco Gauff beat Venus Williams in 2019, it was so cool as we were able to grab her and have her live on a mini show at the end of the day. For the final, we had Simona Halep and Djokovic.
"As we were the host broadcaster for Romania and Serbia it was so cool," she goes on. "We were doing the interviews in English, Romanian and Serbian. We were able to grab a lot of people and have a lot of different guests. I was talking, directing, producing, speaking to teams in Paris… I knew what to do and how to do it but also had to tell everyone to shut up at one point! They were watching a cricket match so I had to ask everyone to quiet down so we could get everything done.
"It was really fun as we didn't have a lot of [resources] – just one camera guy – but we made a great show. On the same day in Romania, we had the Tour de France and we had some completely unbelievable numbers. We had some Pimm's after as a reward following a long but extraordinary day, and it was amazing."
The big chair
Mounier has been in her current role of editor-in-chief for three years. "I co-ordinate everyone, working with Arnold Montgault on content, and push things like My Playlist [where tennis players choose their favourite music for Eurosport]."
She tends to have several irons in the fire. "I like to be involved in everything and that makes it very interesting; what's happening in Paris, on site, with editors, with content," she says. "I also love to work with our markets as there are so many different points of view. For France and Germany, for example, we have the same border but the difference in points of view and interests are huge.
"But the most difficult thing is to co-ordinate so many people, who often have different views. During a Slam, we are dealing with the event itself and after months of preparation it's exciting to actually be there doing it altogether. At events, people are usually exhausted after ten days but it's also so much fun."
The biggest challenge of recent times has got to have been the coronavirus. "The pandemic now makes it very different," she admits. "We'd love to be on site during Grand Slams but instead we've been working in London at the Eurosport Cube studio. This has been instrumental in helping us secure interviews with players that would otherwise not have been possible.
"It's definitely best having a player in front of you to interview but the green screen technology we use is really cool and helps us by teleporting players directly into the studio alongside our presenters," she continues. "It's something new for the players too. At the Australian Open we had Djokovic straight after the final in the Cube and he gave us some great answers that no-one else was able to get. We will definitely be using the Cube as a central part of our coverage in future, and there's much more to come from it too."
Another challenge in this digital age is the fight for eyeballs. "We have always championed world-class athletes and provided platforms for their voices to be heard. It's great that sportspeople continue to reach their fans through Eurosport, but there is also increased competition for the attention of fan with many athletes using their own platforms, such as YouTube, Instagram and TikTok to get their messages across.
"This can occasionally make it a little more challenging to secure as many interviews with players, because they can also tell their stories through their own channels," she adds. "For example, Stefanos Tsitsipas creates a lot of stories himself, as he can edit and produce. Gael Monfils also has his Twitch channel showing what's going on throughout the ATP Tour."
Competition has also increased from a more traditional direction, with many newcomers entering the sports broadcasting space in recent years.
"The rights are getting ever more expensive as everyone wants their slice of the cake, but at some point it will explode," Mounier predicts. "This is why we're taking the lead through the quality of our sports content, production and talent which helps to differentiate Eurosport in the market.
"Our new senior vice president of content and production, Scott Young, has brought great experience to Eurosport," she continues. "He's implemented some really good changes and it's great to have his support on our tennis production. He knows about broadcasting, he knows about production and he gives us the power to lead and to do our jobs really well."
Courting a career
Competition is also something Mounier knows personally from her career path. "When I started, there were not a lot of women in the sports industry. It was a very macho atmosphere and it was sometimes difficult as I thought I was seen as a shy, young girl," she recalls. "I perhaps didn't have a lot of self-confidence, but it wasn't because I was a woman that I couldn't handle things like being on site at a Grand Slam. Gradually with experience and by doing a good job I grew and grew and can say, 'look where I am now'."
One of the hardest things for her these days is, "to get up at 2am on occasions," but back when she was studying journalism in Paris, specialising in cinema and sport, the tennis-loving Mounier used to regularly get up at 3am to watch the finals of the WTA and other matches on Eurosport.
In her senior year, one of her internships led to a lucky break. A producer at L'Équipe TV recognised her talent and offered her a freelance position.
"Every day that I went to L'Équipe, I could see the Eurosport building at the end of the road and I told myself that one day I'd be there. Six months on, I saw an advert for live producers," she continues. "TV wasn't necessarily my first priority; I thought the atmosphere might be a little rough and I was leaning more towards writing."
After going for an interview, however, she was offered a freelance position at Eurosport. Now working between two channels, Mounier had a foot in the door.
"It was an interesting time to join the industry; smartphones were becoming popular and working for both L'Équipe and Eurosport, I soon became very busy as digital news was the big thing," she recalls. "After six months, I secured my first short-term contract at Eurosport and six months after that, my first full-time job there."
Working as a live producer in production control rooms and with a passion for tennis, her talent was again recognised, this time by Eurosport's head of production who assigned Mounier to an editing role, working on the Game, Schett and Mats show.
"After three or four Grand Slams they said I could report on site. I travelled to Istanbul for the WTA finals and then on to Roland-Garros for my first Slam. It was a dream being there, where I saw my first tennis matches with my tennis club."
She continues: "Apparently, I did a good job as I knew how to live produce, I knew how to edit, I knew what to report and I gradually progressed. I loved working with all our markets across Europe, and that's how I got to where I am now."
Mounier has a simple piece of advice for other women looking to move into a role in sports broadcasting: "Have self confidence. You just need to trust yourself and be patient," she says.
Outside of her career, she's also trying to influence others, such as neighbours and parents, to practice a more sustainable lifestyle. "It's not very easy but to try to reduce waste as much as I can is my goal," she says. If she shows as much passion in trying to live a zero-waste life as she obviously has for tennis, she will have no trouble leading by example.
---

Sports Graphics Spotlight, sponsored by Vizrt, takes place on Friday 5 March starting at 2pm UK time. It is free-to-attend for sponsors and senior professionals working in the business of European sports broadcasting and production. To find out more and to register go to: Sports Graphics Spotlight
---