Grass Valley cameras, mixers are front and center at Euro 2012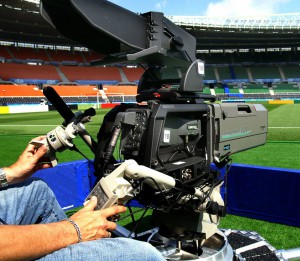 Live coverage of this year's UEFA football championships, Euro 2012 in Ukraine and Poland, was supported by outside-broadcast (OB) trucks from across Europe that used more multiformat high-definition (HD) and super-slow-motion cameras from Grass Valley than from any other manufacturer.
In total, at least 130 Grass Valley system cameras were used to cover the matches across eight cities; these included at least 95 LDK HD camera systems and 35 LDK 8300 Live Super SloMo camera systems. In addition, a majority of the vision mixers used in the OB trucks were Grass Valley switchers, and several Grass Valley video routers were used for the live productions.
Belgium-based Alfacam, an international TV-broadcasting services provider, deployed 50 LDK 8000 Elite multiformat cameras and 16 LDK 8300 Live Super SloMo cameras in tandem with four of its all-HD OB production units. These came from the huge pool of Grass Valley cameras that Alfacam regularly uses across all of its 21 OB trucks and 16 sound stages. Alfacam has also standardised on Grass Valley production and routing switchers, using Kayak and Kayenne Video Production Center switchers as well as Trinix NXT routers.
France-based Euromedia supplied four OB vans for the tournament, two of which were equipped with 20 LDK-series HD cameras and seven LDK 8300 Live Super SloMo camera systems. The four OB vans also used Grass Valley production switchers—two Kayenne switchers and two Kalypso switchers—all configured with a full 4.5 M/E chassis.
Germany's Studio Berlin Adlershof had four mobile units at Gdansk and Warsaw with 50 cameras (LDK 6000 and LDK 8000 Elite) and 16 LDK 8300 Live Super SloMo cameras on site, as well as the Kayenne and Kayak production switchers and Trinix NXT routing switchers.
MediaTec, in Sweden, sent one OB van with five Grass Valley LDK 8000 Elite cameras to cover one of the matches.
"Our crews and freelance operators all recognise Grass Valley cameras and production switchers, are instantly familiar with them, and know how to get the best out of them," says Sven Marinus, CEO of Alfacam Group. "We have worked with Grass Valley for a long time; they listen to and incorporate our suggestions, which makes using Grass Valley cameras very easy and predictable."
"The LDK 8000 Elite and LDK 8300 camera systems are widely seen as the standard for premium high-definition outside-broadcast production, not only because crews are familiar with their functionality but, most importantly, because they deliver a visibly better picture than any other camera on the market," says Alan Wright, senior vice president of Europe, Middle East, and Africa for Grass Valley. "When [the cameras are] combined with our switchers, producers get the benefit of the best possible pictures with the most creative on-screen production techniques to give viewers the entertainment experience they expect."