Grass Valley sees "clear advantage" as it pushes 6x ultra motion workflows into NAB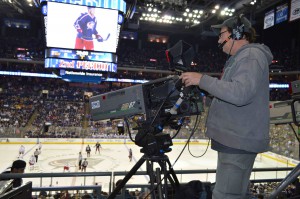 Grass Valley is pursuing a path of cooperation and competition with EVS as it attempts to challenge the Belgian company's supremacy in slow-motion production. Its strategy is spearheaded by pushing the LDX XtremeSpeed camera — which can produce 6x realtime speed — in combination with the K2 Dyno S/K2 Summit 3G replay controller and servers.
Having worked with EVS to integrate the LDX XS and Dyno into an EVS file-sharing environment, Grass Valley is also keen to highlight what it sees as clear advantages for operators in adopting a full suite of its systems for live studio or outdoors broadcasts.
"6x is the sweet spot for sports applications," said Olaf Bahr, GV's senior product marketing manager, in a webinar evangelising the systems ahead of NAB to an audience of potential buyers.
In comparing Dyno's specifications to the market leading competition, Grass Valley noted that its kit supports 2 6X Super Slow-motion channel in and 2 channel out, both capable of independent playlists with mix effects where others did not. While the input signals must be same format 1080i and 720p can be mixed on output.
"We can record three additional HD cameras on our server while recording one 6x Super Slow-motion: our competitors can only do one," he stated. "We write our own code for keyframes but this is not available with other servers. We use keyframes to build playlists and there is no playlist for use with clips in other systems. Our 0-200% variable speed playback is smoother than other replay systems and this includes smooth playback at 17% and below [the value at 6x speed]. No other T-Bar controller is built for that. What's more, this is all packed into 2RU, not 6RU."
A basic LDX XS camera chain lists at $160k and for this you get what Klaus Weber, senior product marketing manager for cameras, described as the "highest sensitivity and dynamic range on the market" and "the first ultra motion camera with a straight-forward workflow."
"The AnySpeed function of the Dyno function enables full use of this dynamic range at playback speeds," explained Bahr. "Other systems require the rendering of frames and playback at fixed speed. Therefore neither full real-time speed or super slo-motion speed can ever be exceeded. This is a major obstacle to telling a replay story in a timely manner.
"For every second or recorded content it requires six times as long to show the replay in 6x. With AnySpeed operators need only show the desired part in 6x and then ramp up to a higher speeds, including 100%."
He illustrated this with an example of a defensive football play that occurs at one of the field and leads to a scoring play at the other end. With Grass Valley's system this can be shown, he suggested, by replaying the defensive action at 6x (17%), the long passes and quick runs at 90%, and then slowing back down to 6x for the assist and score.
"Using any other means would require nearly 40 seconds to show the entire play at 17% and no producer would commit to that," stated Bahr. "With AnySpeed the same play can be shown in a matter of second from a single camera. Smooth T-bar control over the video provides a consistent delivery of frames without jumping or stuttering."
LDS XtremeSpeed camera
The LDX XS camera, announced last April, already has rental house customers in the US, UK, Ireland, Japan and Netherlands including VER in the US; Creative Video in the UK, Germany's Top Vision; and Broadcast Solutions of Singapore.
There were several technical nuts that Grass Valley engineering felt they had to crack to come up with the solution.
This included devising a new CMOS-based imager, the Xensium-FT technology which is common to the entire LDX series, including the LDX HiSpeed 3x super slow-motion cameras. Ultra motion capture necessitates reduced exposure time and light sensitivity has been a bugbear of previous systems.
"The imager offers the same high sensitivity and dynamic range in all progressive formats. That's important if you look to future 4K UKD applications (which are progressive only)," Weber said.
Another limiting factor of CMOS imagers is the rolling shutter which, under low light conditions and fast pans or action, "will not deliver good results." The LDX XS therefore sports a global shutter and records 360 frames a second.
This was achieved by adding two additional transistors to each pixel, making five in total per pixel. "We can separate the exposure period from the readout period so we can start and end exposure for all pixels at the same time and generate a global shutter," explained Weber.
Noise is further reduced by reading each pixel twice – one at the beginning and again at the end of each exposure.
Artifacts caused by flickering artificial light conditions, which are actually enhanced by cameras capturing 6x faster than the prevailing light frequency, have restricted ultra motion units to mainly daytime applications.
The LDX system employs AnyLightXtreme for claimed flicker-free Ultra Motion. An algorithm compares each pixel with that of two frames before and two frames afterwards, extracts information from the five different exposure times and adjusts the output accordingly. "It doesn't 100% eliminate flicker but it will be non-visible in most cases," said Weber.
Perhaps the most important advance to Grass Valley's cause is the immediate delivery of footage from the camera straight to output, without having to wait for the camera to transfer clips from an internal storage device. The LDX XS transfers acquired footage in real-time to an external server for instant on-air use. Recording and replay occurs simultaneously.
"Anytime an application requested faster than 3x then a double action workflow had to be used which is a very time consuming and expensive process," explained Weber.
GV's solution was to design a completely new transmission using 10GB fibre (XF Fiber TX) between the camera adapter and the camera base station (XCU). "It can send 6x images without any compression or additional latency over standard SMPTE fibre to a base station for output," explained Weber. "You can now choose images in Ultra Motion but keep the live workflow."
The camera is also designed for physical configuration into existing set-ups. The LDX range uses the same XCU cradle, which means users can swap camera position to Ultra Motion "in just a few seconds," said Weber. A compact version of the LDX XS can be mounted in specialist positions such as on gimbals. The cameras can be run at 3x or normal speed if desired.
EVS integration is facilitated via an XT Access unit which sits between the LDX camera feeds and/or Dyno and XT2/XT3 servers. Folders can be created on either the XT Access for pushing to EVS and a similar workflow can occur in reverse, where pages created on the EVS server will be seen on Dyno.
"There's a level of working with EVS and we continue to have conversations with them," explained Bahr. "We'd like to work with them more and I think they would like to work with us more."