Hamish Greig promoted to CEO of CTV Outside Broadcasts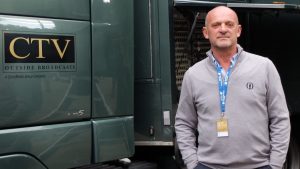 CTV Outside Broadcasts began the new year with a couple of management changes as Hamish Greig has been promoted from his previous role as Deputy Managing Director/CTO to CEO, and Paul Francis has been promoted to CTO. Barry Johnstone, long-time CEO of CTV Outside Broadcasts, has been named chairman of the company with day-to-day operations now overseen by Greig.
"I will relish the role of Chairman where I will still remain active with the company but I look forward to seeing Hamish and the management team continue to uphold the tradition of day-to-day excellence that has defined CTV," says Johnstone.
Greig and Francis have been long-term employees of CTV Outside Broadcasts and Johnstone says their understanding of how the company works, what CTV clients want, and the technologies and production philosophies that will define the future of the business make them ideal for all of their roles.
Adds Greig: "I have been a member of the CTV team for many years, and justifiably proud of our many achievements, thus I'm truly honoured to be chosen to lead CTV into the exciting future."
Greig joined CTV Facilities in 1986 as vision engineer and in 1996 was named director of engineering. He began his career in 1973 working at BBC Scotland.
CTV OB has been a force in the live entertainment and sports production marketplace for decades, starting out as a post-production facility that was most notable for its behind-the-scenes roll at some of the most influential music videos in the 1980s. And the sport of golf helped propel it to the next level, first as a facilities provider for U.S. coverage of the Open Championship. In 1997 it was awarded a five-year contract to be the facilities provider for European Tour Productions (ETP), a move that made it a lynchpin in the sports production marketplace.