HBS Broadcast Academy on-demand: Replay operations in the age of coronavirus
The HBS Broadcast Academy may not be able to bring together students and participants in person but the team is hard at work creating virtual panel discussions that can help industry professionals, both established and new to the business, understand how to make the most of remote replay operations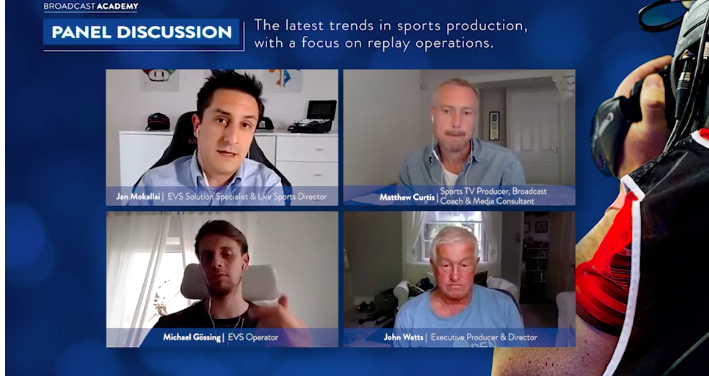 Broadcast Academy experts and leading sports producers John Watts and Matthew Curtis, along with EVS expert, Michael Gössing, are joined by moderator Jan Mokallai, to discuss the changes and challenges faced by the replay operations community in the current circumstances due to the coronavirus lockdown around the world.
To access the panel discussion please click here and enter password BASessions_2020
Bios of the participants are listed below:
Jan Mokallai: Mokallai is solution specialist at EVS. Apart from working as a highlights and replay operator and a vision mixer, he has live sports direction experience covering ice hockey, basketball, soccer, volleyball and handball. He has been involved in a multitude of events, like the 2015 Alpine World Ski Championship, Wings for Life World Run, UEFA Champions League, Detroit Motor Show (Daimler AG), and the Eurovision Song Contest. He has also worked with some of the world's biggest broadcasters, such as Eurosport, SKY, Sportcast, CNN, NBC, BT, ORF, NEP, StudioBerlin, etc.
John Watts, executive producer & director: Watts is one of the world's most experienced multi-camera live sports directors. His extensive football credits include six English FA Cup finals, five English League Cup Finals, over 20 years of UEFA Champions League coverage – including the Finals in 2002, 2003 and 4K coverage of the Final in 2016. He has directed the host broadcast coverage at the FIFA World Cup in 2002, 2006, 2010, 2014, 2018; and the European Championship in 1996, 2004, 2008, 2012 and 2016.
Matthew Curtis: Curtis is a sports TV producer, broadcast coach & media consultant and is a versatile media professional with vast experience of working on high profile sports events. His production credits include UEFA Champions League, including the all-English Champions League Final 2019, Tottenham vs Manchester City and Liverpool vs Barcelona. He has produced Premier League games and three FA Cup Finals. Being a VT Coordinator/Slomo Producer at the 2002, 2006, 2010 & 2014 FIFA World Cups, he has worked for some of the world's biggest broadcasters, such as BBC, Al Jazeera Sport, BT Sport, HBS, UEFA and Setanta Sports.
Michael Gössing, EVS operator: Gössing has been working mostly for Sportcast covering the Bundesliga, Second Bundesliga and German Cup. In 2018, he was a member of the German team for the host broadcasting coverage at the 2018 FIFA World Cup Russia, producing the Final match between France and Croatia.  Moreover, he was also part of the EVS team of Discovery/Eurosport in Munich during the Olympic Games in 2018. Since 2017, he has been involved in several productions of the UEFA Champions League and the UEFA EuroLeague.