IBC 2023 in Review, Halls 1-3: Appear, Evertz, Harmonic, Imagine Comms, MediaKind, and more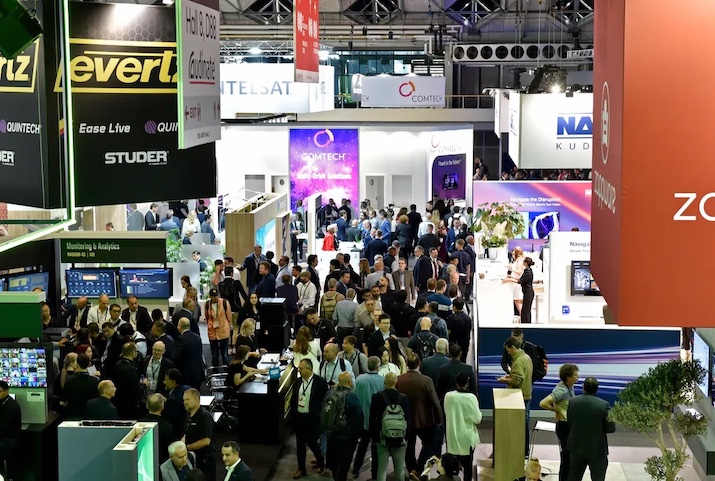 The SVG and SVGE editorial teams were out in full force at IBC 2023, covering the biggest sports-technology news and delivering daily live roundups. Here is a look at the news from exhibitors in Halls 1-3.
Featured in this roundup are Appear, Backlight, Caton Technology, Evertz, Haivision, Harmonic, Imagine Communications, Intelsat, LucidLink, Marshall Electronics, MediaKind, Media Links, Net Insight, Nextologies, NTT Group, Open Broadcast Systems, Seagate, Sencore, SSIMWAVE, Skyline Communications, Synamedia, TAG Video Systems, Vislink, White Light, and Xytech.
Appear (Stand 1.C61) is providing IBC attendees with updates on its initial trials of hardware-accelerated SRT (Secure Reliable Transport) with major broadcasters and media enterprises. According to Appear chief executive Thomas Bostrøm Jørgensen, SRT enables broadcasters to "revolutionise efficiency, ROI, and flexibility through transporting high-quality video over the internet." He said, "Traditionally, our customers have relied on expensive satellite links and dedicated fibre circuits; the high density of our new hardware-accelerated SRT provides an option to make game-changing reductions to video-transport OPEX costs." Appear's clients include NBCUniversal, Sky, Megacable, NEP, MLB and NHL.
Video interview Appear CEO Thomas Bostrøm Jørgensen on the latest in live sports contribution
The Backlight stand (1.D09) offers a chance to find out how Wildmoka, one of the companies in its portfolio, dovetails with Zyper Playout, another entity within the Backlight family. Wildmoka provides cloud-based video production, and Zype Playout adds drag-and-drop programming of live or on-demand videos into linear streams for distribution across broadcast and digital platforms. Wildmoka now includes Live Studio, a browser-based digital-first live-production platform that makes it easy to tailor an existing live stream or create a new one from multiple live sources, clips, graphics, and images, while preserving brand consistency with preconfigured production rooms and templated destinations. AI-assisted inventory creation within Zype Playout is another new feature, providing the ability to detect ad opportunities using machine learning, combined with low-latency ad routing, device targeting, and a custom approach to ad macros.
Caton Technology (Stand 1.F36) is highlighting its global IP connectivity solutions, with the Caton Media XStream service taking centre stage. Media XStrea can carry content at high quality from any location, via the Caton Cloud. AI-based technology is used to reroute signals across multiple paths, resulting in a reliability rating that consistently exceeds 99.9999%, Caton said. At IBC 2023, the company's demonstrations focus on three key applications: broadcast networks, live sports broadcasting, and delivery of live events to cinemas around the world.
SaaS (software-as-a-service) tools represent a major trend at IBC 2023, and Evertz (Stand 1.B79) is offering Reflektor, a SaaS media-transcoding and -distribution platform that can make remote contribution easier. It's designed to help users manage MPEG-TS, NDI, SMPTE ST 2110, HLS, MPEG DASH, and other digital-signal formats; SRT and RIST secure and reliable transport protocols; and H.264,HEVC or JPEG-XS high-quality codecs found in today's remote-contribution applications. For example, Reflektor will transcode incoming formats to handoff NDI and/or route SRT/RIST streams for cloud applications, and it uses licensed microservices and processing nodes on-premises or in the cloud to normalise signal types to suit the needs of the end user or final application.
Haivision (Stand 2.B32) is all about 5G at IBC. In addition to demonstrating its own 5G-enabled Pro460 mobile video transmitters for live video contribution over cellular networks, the company is participating in 5G connectivity collaborations and demonstrations with Neutral Wireless at the IBC Accelerator stand and B-com (Hall 2, Stand B.39). In addition, Haivision has been shortlisted for an IBC Innovation Award as a part of a team project in this year's content-creation category for "BBC: Building a pop-up 5G network for the coronation of King Charles II." Haivision VP, marketing, Marcus Schioler sees the use of private 5G networks for live sports production as a reality today and expects the use of such networks to escalate significantly in the next 12-24 months.
Harmonic (Stand 1.B20) has launched a targeted advertising ecosystem through strategic partnerships with Google Ad Manager and Equativ. Harmonic is now an Integrated Streaming Ecosystem partner with Google Ad Manager, which enables Harmonic's VOS360 Ad SaaS to foster a more open ecosystem for server-side ad insertion (SSAI) and allows publishers to seamlessly optimize ad delivery, fill rates, and demand to significantly increase revenue. Integration between Harmonic's SSAI solution and Google Ad Manager enables scalable access to Google Ad Manager's monetization suite, including flexible demand types, formats, AI-driven insights, and ad-quality controls, resulting in a higher-quality advertising and viewing experience.
Imagine Communications (Stand 2.A15) is encouraging IBC visitors with questions about the technical, operational, and business aspects of adopting SMPTE ST 2110 to visit its stand and speak with the company's IP experts. Imagine president Steve Reynolds said the company wants to share its "real-world experience and showcase our latest open-standard ST 2110 solutions that enable media companies to migrate from SDI to IP at the pace that works for their business." Recent deployments include Italian communications and broadcast-transmission specialist EI Towers, which aired the 2022-23 season of Italy's football Lega Serie A from a new broadcast centre built on ST 2110–compliant IP infrastructure produced by Imagine and implemented by Creative Technology, and Sky Italia, which used a planned technology refresh to migrate its Rome operations centre to ST 2110.
Imagine Communications also focussed on helping content creators produce UHD and HDR content. With the company providing tools and services for processing, routing, and interconnection, said Imagine Communications CTO of infrastructure John Mailhot, "We have been rolling out more and more sports-venue products that incorporate and are capable of doing UHD and HDR. Consumer delivery remains a challenge, but this will come, because the OTT platforms are already doing it." He added that, while demand for UHD/HDR first took off in Europe, it is now "robust" in North America. "People are equipping facilities to be HDR-capable even if they're not necessarily using it right now. There is a lot of interest in 1080p HDR as a production format because it offers the right combination of quality and cost-effectiveness; it's more straightforward to reach an audience with 1080p HDR, and the incremental value of HDR to the viewer is great."
Video interview InSync Technology's Nick Quattromini
Intelsat (Stand 1.C71) has unveiled the IntelsatOne IP content distribution system, which uses the internet to transport video content around the globe. According to Intelsat VP, media, Pascale Fromont, the interconnected, software-based platform uses Intelsat's hybrid terrestrial and satellite infrastructure to allow broadcasters to access the full Intelsat Global Media Network, offering connectivity that traditional IP providers are unable to provide. Other key features are full-network visibility; controlled, multi-destination routing management; and enhanced end-to-end video management and streaming protection. IntelsatOne IP is available today for customers to begin testing use cases and will be commercially available as an operational service later.
LucidLink (Stand 3.B67) is showcasing the new LucidLink panel for Adobe Premier Pro video-editing software. The integration of LucidLink Filespaces into Premier Pro, LucidLink's first integration within a creative tool, allows creative editors to preemptively cache just the media needed in their edit, directly within the Premiere Pro application. According to Alex Ferris, director, pre-sales engineering, global lead, LucidLink, creative editors can now either pin just the clips needed within their sequence or, if more precision is needed, cache the clip ranges found within their edit, giving editors a faster and more performant experience. The panel, which is available now in Premier Pro, brings intelligent, sequence-aware caching directly into the editing tool for the first time.
Marshall Electronics (Stand 2.A47) is IBC 2023 to showcase a new slate of POV cameras. Topping the list are the CV420Ne 4K60 camera, CV570/CV574 miniature cameras, and CV370/CV374 compact cameras. Offering NDI support, the CV420Ne is capable of 4K (UHD) video up to 60 fps for ultra-clean HD resolutions. It can be incorporated into various streaming and production workflows, including the new NDI|HX3 format. Developed with Sony sensor technology, the CV570/CV574 and CV370/CV375 models achieve next-level results: improved video performance with cleaner, crisper images, greater sensitivity, and better color reproduction. Besides cameras, Marshall Electronics is displaying the V-702W-12G professional broadcast monitor; multiple analysis functions — waveform monitor, vectorscope, audio phase, HDR modes, S-Log conversions, user LUTs (with split-screen comparison) — make the monitor a versatile QC platform.
MediaKind (Stand 1.D25) is showcasing its cloud-based services and tools. New this year is MK/IO, which uses Microsoft Azure to stream video assets both live and on demand (and with DRM support and a native video player). MediaKind president and chief revenue officer Steve Payne said that discussions around how cloud-based services create new advertising and monetization opportunities are top of mind this year. "We all know that turning the dials to maintain efficiency and quality, as well as total cost of ownership, is important, but that goes hand-in-hand with business needs. A huge part of what we're focusing on is innovation to provide a good foundation of reliability, scale, and uptime as well as business value, whether the customer is an MVPD, broadcaster, or programmer."
Media Links (Stand 1.A59.) is showcasing it new Xscend IP Media Platform for the first time in Europe. Introduced at NAB 2023, Xscend is a dense, versatile IP media platform designed for the network edge. It incorporates an adaptable, media-tuned architecture that can accommodate evolving network protocols, physical interfaces, codec algorithms, and video formats for a wide variety of applications. According to Media Links senior product manager, software solutions, Mark Podesla, it provides broadcasters and service providers with the technological solution to transport up to 128 contribution-quality services across both fully managed and unmanaged IP networks, including 4K video and 25-Gbps hitless video and data. Xscend addresses the migration from SDI-to-IP as well as IP-to-IP environments.
Net Insight's (Stand 1.B41) Trust Boundary appliance is making a splash at IBC 2023. It gathers all needed IP media-address translation, monitoring, traffic control, and security functions into one product and allows clients to ensure that IP media can move across network boundaries without outages and security risks. The system works by terminating a media flow at the network boundary and re-establishes it at the destination network without disrupting other active IP media flows. According to NetInsight head of sales, Americas, Per Johansson, it digs into the stream to ensure that it has the right bits, audio, and everything else. "It's about content protection but also meeting the desired needs. If you're expecting an HD feed and getting a 4K feed, that could impact the transmission for a whole company." Net Insight also has a new product that oversees signal-clock timing across 5G networks, providing synchronization all the way to the edge without having a complete PTP network.
Nextologies (Stand 1.D07) is launching its NXT-MCR remote–master-control solution. The hybrid product is designed to provide a unified remote master-control interface for live event production and to orchestrate incoming satellite and/or IP signals, video routers, video switchers, audio comms, video monitoring, scheduling systems, and prerecorded files. Among its benefits are increased flexibility, greater visibility, lower operator costs, and no capex investment.
At the NTT Group stand (1.A03), NTT Innovative Devices (formerly NTT Electronics) is showcasing three product categories: an HEVC contribution encoder/decoder for remote production and IP transmission, a media converter supporting ST 2110 for long-haul fibre transmission, and an AI chip for edge solutions. For the first of those, the HC Series high-end UHD HEVC encoder/decoder suitable for live sports events offers 4K support, high image quality, and very low latency (33 ms for HD, 100 ms for UHD). Also on display, the MV7000 compact HEVC HD IP encoder/decoder for IP transmission includes SRT support.
Open Broadcast Systems (Stand 1.A40C) is offering a demo of the OneWeb Low Earth Orbit (LEO) video-contribution system. Working with Network Innovations, OneWeb, and Zixi, the company is delivering a live broadcast-quality video feed from the Network Innovations facility in Essel, Netherlands, to the IBC 2023 exhibit floor. The demo follows the company's world-first use of OneWeb to deliver a UEFA Champions League match from the Faroe Islands in July. Although it's still one to three years from becoming a standard option, working this way could be an effective option for Tier 2 sports that require more than bonded cellular but won't (or can't) go as far as a satellite truck, said Open Broadcast Systems managing director Kieran Kunhya. The company is particularly keen to talk to broadcast-services providers working closely with sports broadcasters.
Video interview Seagate VP Melyssa Banda breaks down the growth in the cloud and high-density storage
Sencore (Stand 1.F72) is highlighting the latest innovations in internet delivery, monitoring and analysis, and commercial AV solutions. Four main products — Centra Gateway, Quad-Port RF Monitoring Blade VB258, OmniHub 6-16 Modular Video Processing Platform, and the Impulse 400D 4K UHD Receiver Decoder — are on display. Centra Gateway is redefining content delivery and distribution. The Quad-Port RF Monitoring Blade VB258 is a solution for real-time monitoring of RF signals with twice the density of its predecessor. OmniHub 6-16 is an efficient solution for video processing and content management. The Impulse 400D offers decoding capabilities for heightened UHD-content delivery.
SSIMWAVE, an IMAX (Stand 3.C67) company, is on hand with its Stream Smart technology, which applies neuroscience to signal-quality analysis via test and measurement equipment, creating an algorithm that allows operators to determine the difference between an error or artifact that viewers will notice and one that may be measurable but won't impact the viewing experience. "The strength is knowing how low you can go before something gets degraded to the point where the viewer is distracted," said Saj Jamal, VP, marketing, SSIMWAVE. "The key spot for it is pre- or post-encoder, because that is where most things can go wrong. And you can dig deep because it ties in with other systems to see if something is a loudness issue or a picture-quality issue."
Skyline Communications (Stand 1.A63) is emphasizing its DataMiner Integration Studio (DIS), a comprehensive extension of Microsoft Visual Studio. Offered to all users at no cost, it is designed for DataMiner DevOps Professionals to facilitate the creation and continuous evolution of a broad variety of plug-in components across the DataMiner platform. In addition, the company has partnered with Appear to integrate its technology into DataMiner for increased management and monitoring of primary and linear/OTT distribution projects. Demos of the partnership can be seen at Appear's booth (Stand 1.C61).
Synamedia (Stand 1.BS22) is focusing on its advertising and anti-piracy efforts. On the advertising front, the company has unveiled major updates to its Synamedia Iris advertising platform, expanding campaign formats and increasing monetization options. With the addition of programmatic support to the platform's direct sold capability, customers will benefit from a single, unified ad platform that reaches consumers on any screen. Furthermore, a partnership with supply-side platform Index Exchange, one of the largest independent ad marketplaces, now connects Synamedia Iris customers with global advertisers. On the anti-piracy side, the company's ContentArmor forensic watermarking solution is quicker and easier to deploy to minimize integration and reduce cost of ownership. ContentArmor's watermarking technology detects and disrupts leakage of broadcast and streaming content to both consumers and businesses. Like most at this year's IBC Show, one of the company's main concerns is helping their client's migration to cloud-based work. "With our video networks services, we're helping our clients' transition into the cloud," said Simon Brydon, head of sport, video network, Synamedia. "This decision comes with many benefits, including being more agile, being on top of all of the latest developments, easier [tech] integration, a lot less time and work for staff, and being much more environmentally sustainable." As for shifting operations after efforts in Amsterdam, according to senior director, product marketing, Simon James, artificial intelligence will not only be considered in solutions but could play a major role: "We're looking at AI within all of our portfolios, and it obviously has gained a lot of interest. For example, if you want to build a system on the day of any live sporting event, AI is helping our customers do that by sending queries in and suggesting what kinds of content would work best for that particular game."
TAG Video Systems (Stand 1.C15) is showcasing its Content Matching technology, which ensures that content is delivered in real time to its intended destination without errors or discrepancies. Created to identify potential issues and confirm signal integrity for increased broadcaster confidence and a high-quality viewer experience, the technology creates a unique fingerprint for video stream to match them across the entire media distribution path. In addition, TAG Video Systems is partnering with Techex to deliver a cloud video-control, -monitoring, and -visualization solution to major broadcasting and media companies. This combination of two companies' solutions can be integrated into existing environments and is capable of transporting video and monitoring streams at every point in the delivery chain.
Vislink (Stand 1.C51) chief executive Mickey Miller highlighted three new Vislink products for the sports-production industry, starting with Live Link, a bonded-cellular transmitter that made its debut this week. Describing it as Vislink's most compact and advanced transmitter, he said it will be particularly useful for "the story within the story. If you want to get a shot of players getting off the team bus or a shot of the locker room but you don't have a wireless COFDM network, this gives you the flexibility to do that on the public networks.
The other area that we find customers are challenged with is how to cover lower-monetisation events more cost-effectively? Leveraging public networks lets you do that, and this Live Link product lets you do a couple of things: it's double the battery power we had before, and multiple inputs can carry up to six SIM cards, so it's very cost*effective for Tier 2 events." Miller also highlighted Cliq, an ultracompact mobile transmitter used by MotoGP for helmet and shoulder cams and noted AI-automated live-sports and in-studio systems, including IQ vPilot and IQ SportsProducer, that leverage AI technology to analyse live sports events in real time.
Video interview Vislink CEO and president Mickey Miller on next-generation bonded cellular
Consultancy skills in studio installations are a big part of White Light's (Stand 3.B24) exhibit. The company played an important role in development of a new flexible-use mixed-reality presentation studio that Sky Sports has built in the UK for its flagship Monday Night Football show and other sports output. And it is this kind of work that White Light business development director Neil Coles wants to accentuate: "No two studios are the same. We provide the building blocks." The company is also involved in three IBC Accelerator projects, including Real-Time XR Sport Edge. The PoC and its findings will be shared on Monday 18 September at 12:15-13:15 on the Innovation Stage.
Xytech (Stand 1.C50) has unveiled a prototype of a mobile native version of its media-operations platform with a focus on remote-production workflows. Xytech CEO Keith Buckley explained that, as workflows have become more dispersed, the company was keen to enable production teams to have access to scheduling via mobile devices. "The first phase is focusing on people, because the biggest demand we have is from production companies or sports producers that have hundreds to thousands of freelancers and their own personnel that need access to where they are supposed to be on a given day. We want to satisfy that requirement first, and then we will add the rest of the functionality we offer. The second phase will be facilities booking." The progressive web application is in beta testing with some organisations, with a fourth-quarter release expected.
Video interview Matt Waldock, Xytech