Live from IBC 2023: Friday's latest from Amsterdam
The SVG Europe and SVG Americas teams are onsite in Amsterdam for IBC 2023. As the production and broadcast industry gathers to launch new products and reconnect, the SVG team is out in force in the exhibition halls of the RAI to gather and share the latest news with the SVG community. You'll find all the key announcements and news here with daily updates through Monday.
Today's issue features Amagi, Appear, arkona technologies, AWS, Broadcast Solutions, Calrec, Canon Europe, EVS, Grass Valley, Genelec, Marshall Electronics, Matrox Video, NTT Group, Planetcast, Ross Video, Teradek, TeraVolt, TSL, Vivaro Media, Wasabi Technologies.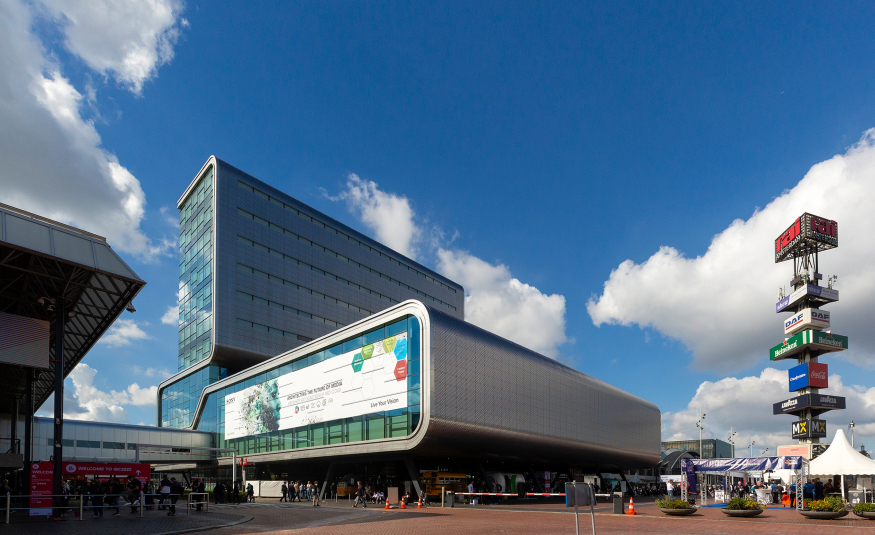 Amagi (Stand 4.A06) is unveiling the DYNAMIC live-production and playout system, demonstrating how it can be used to launch pop-up channels for single live sports events. With Amagi DYNAMIC, content owners spin up the cloud system for the duration of the event and retire it when the event ends. It is said to be ideal for rights owners and holders who want to maximise their content library to create multiple, parallel live events, distribute them to D2C apps and other platforms, add new viewers, and generate additional ad revenues.
Appear (Stand 1.C61) is providing IBC attendees with updates on its initial trials of hardware-accelerated SRT (Secure Reliable Transport) with major broadcasters and media enterprises. According to Appear chief executive Thomas Bostrøm Jørgensen, SRT enables broadcasters to "revolutionise efficiency, ROI, and flexibility through transporting high-quality video over the internet." He said, "Traditionally, our customers have relied on expensive satellite links and dedicated fibre circuits; the high density of our new hardware-accelerated SRT provides an option to make game-changing reductions to video-transport OPEX costs." Appear's clients include NBCUniversal, Sky, Megacable, NEP, MLB and NHL.
arkona technologies (Stand 9.C01) is introducing Blade//runner Flows. Flows is a built-in tool that simplifies configuration of Blade//runner systems. Designed for Tier 1 live broadcast productions where agility and scalability are essential, the Blade//runner core infrastructure solution provides a wide variety of tools for professional productions, including audio/video routing, compression, and processing. "One of the most common requests we get from our customers is to simplify configuration so that they can quickly make changes during a production," said Erling Hedkvist, sales and business development, arkona. "Flows gives them the time they could never get back by making easy work of configuring workflows. It is a true point, click, drag, and drop tool. No fuss, just spot-on results. We're so excited to present it at IBC for the very first time."
Big news from AWS (Stands 5.C90, 4.C13): Its Elemental Link UHD now supports AWS Elemental MediaConnect. Combining Link UHD with MediaConnect is a simple and cost-effective way to create live-video workflows in the cloud, saving time and resources compared with traditional on-premises, satellite, or fiber infrastructure. Customers have more flexibility in processing live video and can add broadcast-grade monitoring or integrate ISV or AWS Partner applications into live-video applications. Previously, Link could connect only to AWS Elemental MediaLive as a channel input.
Broadcast Solutions (Stand 10.D41) has brought two of its recently completed outside-broadcast trucks to Amsterdam: a large articulated truck custom-built for SuperSport and a recent fixed-chassis 12-camera unit based on the Broadcast Solutions Streamline family to be delivered to Remotion. It is also providing demonstrations of the meshLINK wireless transmission system. SuperSport IP2 is the second unit supplied to the South African broadcaster, following IP1 in June. Intelligent design packs as many as 19 workplaces into the single-expanding trailer. It is fitted out with Sony cameras and production switcher, Calrec audio, Vizrt graphics, and EVS replays. Internally, IP2 is all IP, with Imagine Communications SNP processors for SDI/IP conversion. Like the SuperSport vehicle, the Remotion S8L is fully UHD-capable. "We are showing two outside-broadcast trucks at IBC this year, because we continue to see strong business in sport and entertainment," said Broadcast Solutions CEO Stefan Breder. "Through our Streamline products and our bespoke designs, we meet any requirement, from a simple SNG van to the biggest truck in the world."
Calrec (Stand 8.D60) is here in Amsterdam with its full range of broadcast-audio solutions to help users focus on distributed production, remote production, remote working, virtualization, and IP. The company's latest products, including the ImPulse1 IP engine and Argo Q and Argo S consoles, are on its stand along with the Remote Production Unit (RP1,) now with an extended DSP licence. ImPulse1 is designed for smaller, single-mixer applications and is offered with a DSP licence of 128 input channels without compromising its ST 2110 capability. With a small overall form factor of 2 x 1RU, it's useful for compact installation sites, such as outside broadcast and flypack applications, where space is at a premium. Argo comes in two sizes; the larger Argo Q model has two mid-level rows of interchangeable panels; the compact Argo S has one mid-level row. Both feature a simple, intuitive, flexible IP-native surface with supercharged DSP, interchangeable panels, and configurable layouts.
Canon Europe (Stand 11.C41) has expanded its PTZ lineup with the CR-N100 indoor 4K pan-tilt-zoom camera. The camera features a 1/2.3-type 4K CMOS sensor, DIGIC DV6 processor, and a 20X optical zoom lens, delivering 4K UHD-resolution footage, and oversampled HD video. It offers four scene modes — Portrait, Sports, Low-light, and Spotlight — and a Hybrid Auto Focus system for precise focusing in low light. The camera supports Canon's Auto Tracking App and Multi-Camera Management App for efficient operation of up to 200 cameras. Also being introduced, the RC-IP1000 professional PTZ controller with a 7-in. LCD screen and ergonomic joystick targets broadcast and live-event needs, including IP-video monitoring for up to 200 cameras.
EVS (Stand 10.A25) highlights AI and the cloud today, hosting two panel discussions featuring speakers from Proximus Media House, Google Cloud, Warner Bros. Discovery, EMG, and Qvest Group. In the first session, titled "AI & Storytelling — You're Not Alone," speakers will delve into the ways AI can enhance efficiency and foster creativity at various stages of the production lifecycle. Shifting the spotlight to cloud technology, the second session, titled "Cloud — Green or Grey?," explores the excitement surrounding the cloud revolution. Both panel sessions will take place on in Room G105 of the RAI at 3 p.m. Register via EVS.com.
Genelec (Stand 8.A61) is unveiling the 9320A reference controller as a bridge to its new UNIO audio-monitoring-service platform. UNIO brings together all the benefits of Genelec Smart Active Monitors, GLM 5.0 calibration software, and Aural ID 2.0 technology to create seamless integration of professional in-room loudspeaker and headphone monitoring services. With flexible connectivity, a reference-grade headphone output, and tactile hardware control of Smart Active Monitors, GLM and Aural ID, the 9320A provides a compact hub for both static and mobile professional audio-monitoring applications. Said Genelec managing director Siamäk Naghian, "Audio professionals in music, broadcast, postproduction, and game audio are increasingly wanting the flexibility to work wherever and whenever they want, even if that sometimes involves unpredictable and challenging acoustic environments. To be able to switch instantly between well-calibrated in-room and headphone monitoring without any interruption in workflow is crucial to this way of working, and so we see UNIO and the 9320A as powerful tools in creating a truly next-generation reference-quality monitoring system."
Grass Valley (Stands 9.A01, 9.C05) unveiled the LDX C150 compact version of its NextGen LDX 150 studio-camera platform during the GV Forum on Thursday evening. The latest next-generation LDX broadcast camera system features UHD/4K, 1080p HDR, and wide color gamut (WCG) modes with SDI, native IP, SMPTE ST 2110, or JPEG-XS compression.
Marshall Electronics (Stand 2.A47) is IBC 2023 to showcase a new slate of POV cameras. Topping the list are the CV420Ne 4K60 camera, CV570/CV574 miniature cameras, and CV370/CV374 compact cameras. Offering NDI support, the CV420Ne is capable of 4K (UHD) video up to 60 fps for ultra-clean HD resolutions. It can be incorporated into various streaming and production workflows, including the new NDI|HX3 format. Developed with Sony sensor technology, the CV570/CV574 and CV370/CV375 models achieve next-level results: improved video performance with cleaner, crisper images, greater sensitivity, and better color reproduction. Besides cameras, Marshall Electronics is displaying the V-702W-12G professional broadcast monitor; multiple analysis functions — waveform monitor, vectorscope, audio phase, HDR modes, S-Log conversions, user LUTs (with split-screen comparison) — make the monitor a versatile QC platform.
Matrox Video (Stand 7.B15) is involved on multiple fronts at IBC 2023. On the live-production side, Matrox ORIGIN offers a native, IT-based approach to television production with scalable, low-latency, and frame-accurate broadcast operations for Tier 1 live television production. As for video conversion, Matrox ConvertIP is allowing users to see how they can reduce the cost of ownership, ease switching requirements, and gain baseband-monitoring flexibility and redundancy. The company is also deeply into remote production, including the Monarch EDGE 4K/multiHD encoder and genlockable decoders. These solutions permit workers to send as many as four synchronized SDI broadcast-quality camera feeds from any location over the open internet and/or public/private cloud.
At the NTT Group stand (1.A03), NTT Innovative Devices (formerly NTT Electronics) is showcasing three product categories: an HEVC contribution encoder/decoder for remote production and IP transmission, a media converter supporting ST 2110 for long-haul fibre transmission, and an AI chip for edge solutions. For the first of those, the HC Series high-end UHD HEVC encoder/decoder suitable for live sports events offers 4K support, high image quality, and very low latency (33 ms for HD, 100 ms for UHD). Also on display, the MV7000 compact HEVC HD IP encoder/decoder for IP transmission includes SRT support.
Planetcast (Stand 5.H78) is prioritizing solutions in the cloud to handle content processing, distribution, and monetization. To promote this strategy, the company is showcasing two platforms: CLOUD.X and Contido. Enabling FAST workflows and rapid ad insertion, the CLOUD.X playout platform is achieving this through a partnership with Wurl. A cloud-native content-supply-chain-management solution, Contido powers video processing and publishing across multiple platforms. Other services displayed at Planetcast's stand include Recaster for IP transport, Managed Post-Production Services for process automation with AI-enabled capabilities, Playout Disaster Recovery to avoid broadcast-service disruption, and various OTT partnerships.
Ross Video (Stand 9.A05) promises a new look, a new booth, and a "huge" line-up of technology to share with visitors at IBC 2023. Its stand will offer demonstrations of the next generation of Spidercam and an end-to-end XR solution featuring LED displays, robotic cameras, camera tracking, and rendering. Live XR demos will showcase how to flexibly use studio space, reduce set costs, and produce content faster. Control and configuration standard Catena — an open suite for integration of multiple systems, workflows, and enhanced orchestration that aims to ease the shift to cloud computing for live production – will also be demonstrated. On show are Ross's range of integrated LED displays and power solutions, Voyager 5.1, Carbonite Ultra 60 switcher, and the latest TouchDrive control surfaces TD3 and TD4 for larger, intricate live productions.
Teradek (Stand 7.C10) is showing off the Prism Mobile Backpack, a 5G solution for 4K HDR video contribution from the field. Featuring Teradek's Prism Mobile 4K bonded-cellular encoder for high-speed connectivity, it makes streaming on location easier and more reliable than ever. Effective scenarios where this solution would be appropriate include sports events where traditional Wi-Fi isn't available. Broadcasters are provided access to multiple capabilities: the feeding of live video to headquarters or directly to a designated destination over 6X 5G/LTE modems; swapping modems, encoders, and batteries to meet the demands of any event; uploading recordings from the field directly to camera-to-cloud platforms; distributing live feeds from Teradek's Core Cloud platform.
Among the OTT offerings from TeraVolt (Stand 5.F45) at IBC, the TVXRAY personalised live-sports–viewing experience provides real-time auto-highlights and interactive live data. TVXRAY powers the Bundesliga's "DFL Interactive Feed," removing the need for viewers to rely on a second screen while keeping track of live top-flight German football. Features include AI-based interactive timeline, auto-highlight technology, video alerts of concurrent matches, interactive sports data on demand, and gamified player KPI. It can be incorporated into apps for TV, set-top boxes, mobile, and the web. TeraVolt was this week acquired by the Qvest Group.
TSL (Stand 10.B41) is showcasing its new control solutions, audio-monitoring range, power-management systems, latest developments in 12G, and Universal Intelligent Infrastructure Management applications (UIIM). The company's flexible offerings are vendor-agnostic, enabling customers to augment existing infrastructure or build entirely new operations with best-in-class technology that also supports a seamless transition to IP, cloud, virtualized, and redundant workflows. Said TSL CEO Matthew Quade, "Our wide range of solutions — from entry-level to advanced — makes TSL the ideal go-to partner for reliability, quality, and affordability. We help design and facilitate a transition that reduces engineering-resource costs and optimises sustainability, all while de-risking and future-proofing facilities in a way that maximises the lifetime ROI."
Ahead of IBC 2023, Vivaro Media (Stand 5.A40) launched an on-demand procurement platform designed to simplify and speed the way content providers and broadcasters connect with one another and deliver live video content. Showcased at IBC 2023, FLOW allows the booking of live sports events with an automated online "click-to-content" experience. This enables content providers to sell content to a global customer base of broadcasters, while also enabling the broadcasters to move quickly when procuring and managing live-video transmissions. It works over both fibre and the public internet and has multiple layers of redundancy to ensure maximum uptime. 24/7/365 monitoring is possible via Vivaro's global Network Management Centre. FLOW is being.
Wasabi Technologies (Stand 7.D34) is previewing a new integration with GrayMeta Curio that will harness the power of AI to create more-personalized sports-fan experiences with hyper-specific detail. The solution transforms cumbersome media archives into highly indexed and searchable Smart Buckets, allowing digital teams to easily find and deliver customized content to audiences exactly when needed. Liverpool Football Club will look to deploy the new integration in an effort to more easily access its archive and better engage with fans.