Locking it down: Telstra's Anna Lockwood on wildlife to women in broadcast
Anna Lockwood started her career as a journalist and documentary film producer with a focus on natural history and wildlife programming, before moving into media technology as a consultant. Her career has taken her all over the world, from her birthplace in India, to the UK, Asia, US and most recently Australia.
Lockwood has recently been appointed to head of global sales at Telstra Broadcast Services, and in the new role is relocating from Sydney to London. She is also on the Board of the Society of Motion Picture and Television Engineers (SMPTE) Australia Section, represents Telstra as a director on the International Association of Broadcast Manufacturers (IABM) Board, and is a board member of the eSports Games Association of Australia (EGAA).
From wildlife to sports
At university Lockwood's major passions were environmental science and natural history, as well as journalism and media. While at university she worked in as many campus-based media roles as she could to gain experience in the area, and when she graduated she moved into working on wildlife productions for TV. Over 10 years, during which she was mostly based in India, she produced documentary films for the likes of National Geographic, Discovery, NHK and NHNZ.
After a decade literally working in the wild, she changed direction and moved into media consulting. In her mid 30's, Lockwood decided to leave wildlife production. She explains why: "I loved my wildlife filmmaking career, working in remote areas and with indigenous peoples and amazing natural history, but I felt that if I wanted to make a career change, this was the time to do it, when I still had other exciting opportunities in front of me."
Lockwood decided to give media technology a try. She explains: "I've always been technical and very hands on; as a producer of wildlife programmes I was involved in the entire production from pitching to filming to post-production. We had used audio and video editing tools from Avid Technology through the years on our films, and I had become an Avid Certified Instructor (ACI) and worked with Avid as a freelancer in between film projects, so I knew the company well. An opportunity came up with Avid to join their professional services team as a consultant so I did a three-month assignment for them on a news transformation project at Grampian TV in Scotland, and I loved it, so I then joined Avid full time."
During her tenure at Avid, Lockwood worked in professional services, pre-sales and sales roles, in an international career that took her from London to Singapore to Boston. Starting out as a media consultant in the UK, she then moved to a leadership role for the company in Singapore. "I was given the opportunity to join the new professional services team in Asia, to help grow the business and the team there," she says. "After three years of rapid growth in Asia, I then moved to Avid's headquarters in Boston with a remit to grow the professional services and consulting business in the Americas. My last role with Avid was leading the solutions design and consulting team in the sales organisation.
"Sports was always a big theme for us at Avid," she notes. "When I joined Avid my first manager Jason Plews encouraged me to become an expert on sports production workflows, and I was lucky to work as a consultant for so many innovative sports customers and to work on high profile regional and international sporting events. Live sports requires a strong partnership between broadcasters and technology and services providers, and we were always pushed by our customers to come up with new and innovative sports workflows and sports-specific enhancements to our products."
After 10 years at Avid, Lockwood then got the opportunity to move to Australia at the end of 2013 to join a new media team at Telstra, which kick-started the business that would become Telstra Broadcast Services.
Growing with Telstra
Telstra Broadcast Services provides broadcasters, rights holders, content creators and sporting bodies with content and technology services. A key development has been the Telstra Global Media Network (GMN) used to deliver live sports to audiences globally. At IBC the company announced it was expanding the Telstra GMN into Europe through its own network investments and partners in the region, including TDF Group, MTI Teleport Munchen, GlobalConnect, NEP and SIS Live. The company also uses the Telstra Distributed Production Network (DPN) to enable remote production over distances of 3,500km in Australia and globally.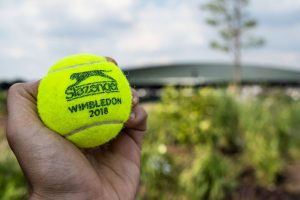 Lockwood says: "Over the last five years at Telstra I have been doing a combination of consulting, strategy and business development roles, and thanks to our continued global growth I am now moving into an expanded role as head of global sales for Telstra Broadcast Services, based in London."
Sports is also a key vertical for Telstra, states Lockwood. "At Telstra, early on we decided we would prioritise live, high-value sports content. It's an area where we knew we could add value and make a difference for our customers, specifically in and out of the Asia-Pacific region where we've always been very strong, and now we've expanded our network and services further into Europe. We are helping our European customers get their sports content to Asia and expand their Asian audiences, as well as bringing live sports content out of Asia back to Europe for home audiences. In the Asia-Pacific region there's a run of world-class sporting events taking place over the next few years, and that's providing real momentum and focus to our sports offerings."
Telstra Broadcast Services has also developed exciting technology in-house, including Globecam, a live, point-of-view miniature camera solution for live sport, further cementing its focus on sports. Telstra's NetCam device is the result of several years of research in Telstra's Globecam facility in Melbourne working closely with tennis authorities including Tennis Australia and the AELTC to ensure viability. Telstra's NetCam technology was deployed at all four of the Tennis Grand Slams, the Laver Cup, and the WTA Finals in Singapore this year, providing audiences with a new view of the tournament and garnering rave reviews from tennis fans.
Supporting women in broadcast
Lockwood has enjoyed her career so far, and she wants to make sure other women get the same kind of opportunities and support that she has received throughout her working life. To that end, she works within Telstra and the wider industry to help promote women in media and sports. "I have had amazing experiences working in both entertainment and sports media; it's really been a wonderful career. That's why I feel passionate about attracting young women to this industry, where women have traditionally have been underrepresented.
"For women in sports media there are so many opportunities and interesting roles. There is so much growth in media as a whole today, and I feel strongly that we should be doing more to recruit, train and retain women in the business. I've had wonderful male and female mentors and supporters throughout my career, and I'm trying to pay that forward to women coming through now," she says.
Continuing, she points to the growing new market of eSports as one where there needs to be more female representation across the industry. "Three years ago Telstra Broadcast Services did our first esports event in Australia, and we called it out as a market to watch. Since then it has proven to be an exploding industry sector, and one that I have become very involved with, both through my work at Telstra and as a Board Member of the EGAA. Our goal at EGAA is to make the eSports scene in Australia one where women professionals are actively recruited and welcomed across all roles, and where women can contribute fully and grow and thrive in their careers. I help facilitate the EGAA Diversity and Inclusion Panel and work on cross-industry initiatives with the wider games and esports community in Australia. With my move to London, I hope to continue this activity with the European eSports community as well."
One industry initiative that Lockwood supports is the Panel Pledge, where conference organisers and participants pledge to say no to all-male panels, and where sponsors say no to sponsoring events that lack diversity. "It's such a simple pledge, but it's a great lens to bring to industry activities and conferences. The Panel Pledge triggers a conversation about diversity that can be very helpful in identifying women speakers and industry contributors," says Lockwood. "At Telstra, execs who have taken the Panel Pledge will specifically ask about the panel participants and speaker line up for events, and if it's an all-male panel they will ask to have a women added to the speaker or panel line-up, or give up their place for another women leader in their team to be included. If all sports broadcasters and vendors take the Panel Pledge, we will definitely see more women speaking at events and contributing to our industry conversation."
On why she believes diversity is important, Lockwood comments: "I am lucky to work at a company that believes diverse teams can help people bring their authentic selves to work and thrive at work. All Telstra leaders are encouraged to be active champions of equality and inclusion, and as a result, I feel empowered to speak about our company culture and commitments. Our focus on diversity and inclusion spans all the ways in which people differ, both visible and invisible. This includes gender, age, ethnicity, race, cultural background, disability, religion and sexual orientation. We believe diversity fosters greater innovation, stronger problem-solving capability, higher morale, better customer connection, and stronger financial results," Lockwood concludes.
Looking forward, Lockwood will be moving to London in January and is excited to be starting a new phase of her career back in Europe, working with Telstra's global customers and partners on innovative projects and offerings for the sports content market, actively participating in industry activities, and continuing to champion women in sports and broadcast media.