Mountain Attack goes for Mediahaus to track the strongest athletes in skiing
Every January the world's best cross-country skiers head to Saalbach Hinterglemm to tackle Austria's biggest and toughest touring race. This year, on 17 January, 1,200 competitors from 24 countries took on the Mountain Attack challenge, a series of tough events including a marathon 'vertical race', with a course up and over three mountain summits across the Austrian Alps.
Keeping spectators up to date with the competitors as they race, on a live stream as well as a giant screen at the race finish area, is the responsibility of live production specialist Mediahaus.
Speaking to SVG Europe, Mediahaus' CEO, Wolfgang Angermüller, said: "We produced the video content for the whole event, [with a particular focus on] the live broadcast of the race itself."
Keeping spectators on the day entertained, Mediahaus used a variety of kit to keep the on-site screens and the live stream updated.
Said Angermüller: "We mount two URSA Broadcast Ultra HD broadcast camera, paired with Fujinon B4 broadcast lenses, on skidoos, which escort the race leaders up the mountains, right up to the summit," Angermüller explained. "The compact format of the cameras is a huge advantage. It helps to keep things lightweight, which in turn ensures we are fully mobile and can keep up with the pace."
As well as the skidoo, a further nine cameras are deployed across the course, including four mountain top/checkpoint positions and two unmanned units at the finish line. A mixture of IP and Mobile Viewpoint 4G connections plus mobile encoders, and Intenor encoders and decoders as well as SMPTE 311M hybrid fibre, transmit signals to an OB van at the bottom of the final downhill. The programme mix is cut live on a Blackmagic Design ATEM 4 M/E Broadcast Studio 4K and ATEM 2 M/E Broadcast Panel."
Meanwhile, the live stream was used in real-time over the top (OTT) by 3 (Hutchinson Mobile), Facebook and YouTube. Highlight cuts were used by ORF, ServusTV, RTS-Salzburg and several internet platforms.
Angermüller noted: "The race lasts for several hours from daytime into the night, so you're not only working to track competitors across tricky terrain, but you can also have to adjust to changing lighting and weather conditions constantly."
The team faced a series of challenges in broadcasting this one day, extreme event. Angermüller said they included, "unexpected weather conditions that cause unexpected fast changes in the technical set up, getting live signals from the race checkpoints and Skidoos that go with the race leaders, and low light conditions".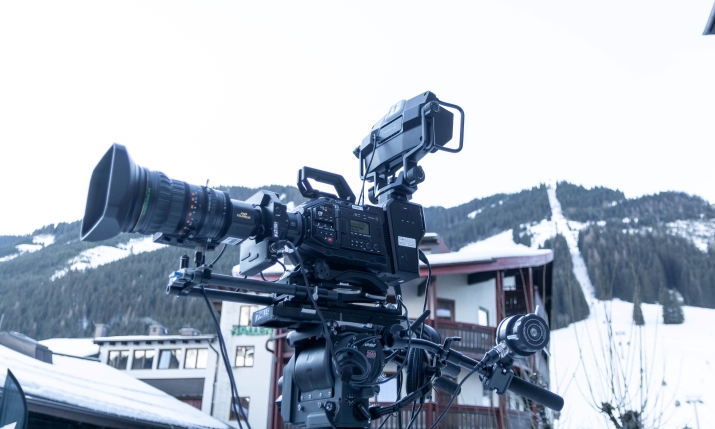 "Our main challenge is keeping the delay to a minimum, even when we're cutting to signals being transmitted from altitudes of more than 2,000 metres. We need to be able to show spectators every twist, and turn of the race, with as little delay as possible," continued Angermüller. "Employing a Blackmagic solution means for acquisition and control means we have a delay of less than ten frames from glass to screen.
A further challenge came in the form of the temperature in the mountains. Angermüller stated: "The low temperatures affect batteries and cabling. The signal transmission is done via IP and fibre connections that go with the cablecars to the top of the mountains. This year we had good weather conditions but snow and heavy wind is a critical factor for camera operators and the equipment."
These issues were solved, however, by the experienced crew used by Mediahaus to cover the event. Angermüller added: "The team consists almost of the same people since years, who know the special needs and conditions [of this environment] and love the challenge as we do."
Mediahaus began working on Mountain Attack events several years ago, concluded Angermüller: "We started eight years ago with the first small production for Mountain Attack through the organiser, NMC in Salzburg. [They were looking for] reliable transmissions of the whole race over three mountains, with a self-reliant production so NMC had no further workload with broadcast and TV."