NAB Show announces winners of 2022 Product of the Year Award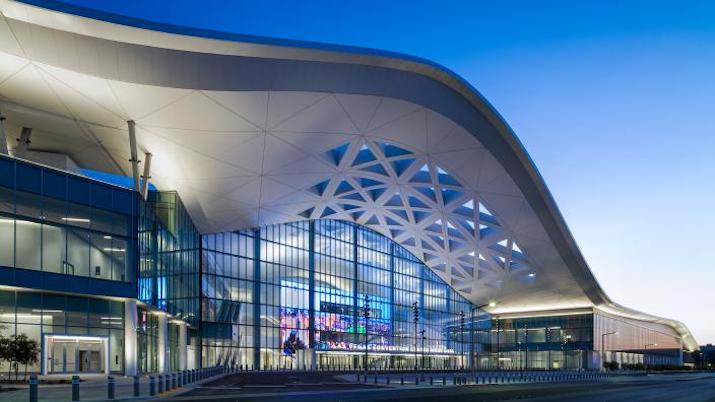 NAB Show has announced the winners of the fourth annual Product of the Year Awards during a live awards ceremony on 26 April in Las Vegas. The awards recognise the most significant and promising new products and technologies exhibited for the first time at the 2022 NAB Show.
Winners were selected by a panel of industry experts in 15 categories. To be eligible for an award, nominated products had to come from companies exhibiting at the 2022 NAB Show and are delivered within the 2022 calendar year.
"The 2022 NAB Show Product of the Year Awards honour innovative breakthroughs that will change the way the media and entertainment industry creates, connects and capitalises content," said NAB executive vice president of global connections and events, Chris Brown. "This year's winners can help storytellers at all stages of the content lifecycle meet the challenges of today and tomorrow and revolutionise the content industry."
This year's winners are:
CREATE
Audio Production, Processing and Networking
Spalk: Virtual Commentary Studio
Audio Design Desk: Audio Design Desk
Cameras
Sony Electronics: Venice 2
IO Industries: 8KSDI
IO Industries: Volucam 245D60
Canon: Canon EOS R5 C
BZBGEAR: ADAMO
Emergent Vision Technologies: Zenith HZ-10000G 100GigE 10MP 1000fps Camera
Insta360: Insta360 ONE RS
Arri: Arri Amira Live
AVer: AVer MD330U Series Medical Grade PTZ Camera
Camera Support, Control and Accessories
Canon: UHD-Digisuper 122 AF
Atomos: Atomos Connect (for Ninja V and Ninja V+)
Canon: Flex Zoom Lenses (CN-E20-50mm T2.4 L F/FP and CN-E45-135mm T2.4 L F/FP)
Emergent Vision Technologies: eCapture Pro Volumetric Capture and 3D Reconstruction Software
ARRI: ARRI Hi-5
Blueshape: GO7 Green Power Generator
Atomos: Shogun Connect
Cyanview: Rio Live
Zeiss: ZEISS Supreme Prime Radiance Lenses
Graphics, Editing, VXF, Switchers
Noitom International: NoitomVPS
Zero Density: TRAXIS talentS
Stype: RedSpy 3.0 – ultra-high precision camera tracking
Brompton Technology: Brompton Tessera Software v 3.3
Location/Studio Lighting
Creamsource: Vortex4
Sumolight: Sumomax
Aputure: Light Storm 600c Pro
LiteGear, Inc.: Auroris
Aputure: amaran T2c
Aputure: amaran F22c
Aputure: amaran F21c
BB&S Lighting: BB&S Compact Fresnel (CFL) Light
Radio
Radio.Cloud: Radio.Cloud
WorldCast Systems: APTmpX
Xperi: Rapid
Remote Production
Vizrt Group NDI: NDI5
Net on Live: LiveOS
Cobalt Digital: Synchronized Multi-Stream Decoding with RIST
Studio Network Solutions: The EVO Suite
Bridge Technologies: VB440's SR Live Metadata integration
TV Pro Gear: Digital Cinema Flypack
LiveU: Air Control
Advanced Image Robotics: AIR One
Chyron: Chyron LIVE
ftrack: ftrack Review
Panasonic Connect Visual Systems: AW-UE40/50 PTZ Camera Line
Nextologies: NexToMeet
CONNECT
Cloud Computing and Storage
LucidLink: LucidLink FileSpaces
Spectra Logic: Spectra Vail Distributed Multi-Cloud Data Management Software
M2A Media: M2A Connect Cloud Frame Rate Converter
OpenDrives: OpenDrives Atlas Core
DigitalGlue: creative.space
Cinegy: Channel-in-the-Cloud
Studio Network Solutions: The EVO Suite
Hardware Infrastructure
Seagate Technology: Exos Corvault
ABonAir: AB4000 – 4K Professional Wireless Link
Riedel Communications Inc.: MicroN UHD High-Density Media Distribution Network Device
Nextologies: DaVinci/HITC
IT Networking/Infrastructure & Security
Cobalt Digital: Reliable Internet Stream Transport (RIST) Main Profile Security Option for Cobalt Compression Line
Netgear: M4250 AV Line Switches
Storage Made Easy: SMBStream
Monitoring and Measuring Tools
VoiceInteraction: Media Monitoring System
Enensys: Stream Probe
Covatic: A-Type
Vela Research LP: Constellation OTT Turnkey & SaaS Solution
Tag Video Sytems: Media Control System (MCS)
Vela Research LP: Infinity
Atomos Limited: Atomos Connect (for Ninja V and Ninja V+)
Atomos Limited: Shogun Connect
Gaian Solutions: AI based ATSC 3.0 Spectrum Planning Tool
Mediaedge Corporation: QDCAM
Triveni Digital: StreamScope XM Monitor
CAPITALISE
AI/Machine Learning
DeepBrain AI: AI Studios
Eon Extract Corp.: Eon Extract
iSIZE: BitClear
Veritone: Veritone Avatar
Supermicro: Supermicro server certified with NVIDIA Omniverse Enterprise software
Comcast Technology Solutions: VideoAI
Streaming
AJA: AJA Helo Plus
Synamedia and 3SS: Data-driven Ultimate Android TV UX
SSIMWAVE: SSIMPLUS Live Monitor
Kalture and 3SS: Kaltura Advertising Suite
Atomos Limited: Atomos Cloud Studio
Amazon Web Services: AWS Elemental MediaTailor Channel Assembly
Unified Streaming: Unified Remix
Teradex: Prism Flex
Broadpeak: broadpeak.io
Viaccess-Orca: VO Secure Player with Advanced Features
Asset Management, Automation, Playout
AnyClip: AnyClip
Eluvio: Broadcast TV's First Major NFT Endeavor: The Masked Singer on Fox
Enensys TeamCast Inc: IPGuardX
Nextologies: Auto Commercial Detection (ACD) Technology
Radio.cloud: Radio.cloud
Titan TV: MediaStar 4
Digital Signage and Display Systems
StageConnect: StageConnect Pro
Sony Electronics Inc: Sony Spatial Reality Display
Planar: Planar CarbonLight CLI VX Series
Best Overall – Create
Sony Electronics: Venice 2
Best Overall – Connect
Voice Interaction: Media Monitoring System
Best Overall – Capitalise
AnyClip: AnyClip