NEP Broadcast Service Italia: Taking its place in the new NEP Europe line-up
Founded in May 2018, NEP Broadcast Service Italia benefits in large part from the technical and operational structures of the acquired Florentine company Telerecord, led by Fabio Bertini.
Sergio Cecchini, general manager of the NEP Italia division, explained to SVG Europe: "The Italian structure depends directly on NEP Broadcast Europe which, in addition to NEP Italy, has other 11 national entities spread over most of the European territory, from Norway to England to Spain.
"These are national companies that have their own management autonomy, controlled by the NEP Group, managed — obviously — in a sharing of intentions and perspectives, with a European management team headed by Paul Henriksen, president of NEP Europe & Media Solutions.
"Evidently one of the missions is cooperation between the companies of the group itself. So, often, an associate asks for support to the group to meet the needs of the international market," said Cecchini.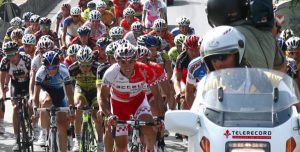 "Each member can use the resources of the other associated and, for example, NEP Italia has recently used means of production from Sweden, England and Switzerland to perform some specific activities in Italy as well. This happens, for example, during the overbooking of the vehicles that NEP owns in Italy. And the opposite also happens, i.e. that NEP Italy in turn is supportive of initiatives and orders acquired by the group's other companies.
"This is due to convenience or because the market has become increasingly competitive: we need to be more cost-conscious and put in place economies of scale, in addition to creating a team spirit that is one of the primary objectives of NEP," he said.
"The creative team belongs — almost always — to the client nation, while it is preferred to make use of associated facilities, but located in the country where the event takes place, precisely to optimise costs."
Media activities with AS Roma
"The core business of NEP Group worldwide covers a series of coplanar activities in the media, where live filming of events is central and NEP Italia is, specifically, part of this section," said Cecchini.
"Then in the group there are also other operating entities specialised in various sectors, entities dedicated to graphics, post production projection on LED screens, and still linked to high technology, virtual reality, remote production and management of signal flows on databases. In other words there are many specialisations under one roof or even under 'different but intercommunicating roofs'.
"The international group covers events that are certainly not only sporting, while for the Italian affiliate the area that brings very positive results is certainly the sporting field and — obviously – -continuity is generated above all by football.
"NEP Italia currently has two operative offices according to a territorial logic of the engagements: one in Rome and one in Florence. For Serie A we have a significant role already this year because we directly follow four of the 20 football teams (the maximum number of teams that is awarded per company). One of these is the AS Roma Calcio with which we have a direct and specific contract to follow all media activities, technical/production management of their radio and TV channels, including issuance," he said.
"At the moment all the vehicles operate in HD but a project in the direction of 4K is being finalised, which we have slowed down so far to keep market developments under control"
"Roma Calcio has different and engaging activities and has a very advanced vision of media management. We are at the forefront with them to meet any need, including a large presence on social media. From Rome Napoli Calcio is also managed, for which we produce all the host signal and the airing to the rights holders.
"In Florence, on the other hand, we manage the filming of Fiorentina and Empoli, following a specific contract with Sky Italia and Infront."
"From the point of view of technical structures, NEP Italia currently has and manages a discreet fleet of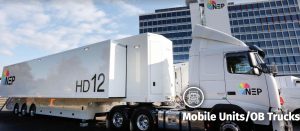 OB vans joined by Telerecord and also by a Roman company, Top Tech Services. Six mobile vehichles are large, from 16 to 26 cameras, then another four units are smaller and lighter, from four to six cameras. Two of these are also complete with SNG transmission equipment," said Cecchini.
"At the moment all the vehicles operate in HD but a project in the direction of 4K is being finalised, which we have slowed down so far to keep market developments under control. In fact the major broadcasters are carrying out other tests in Italy, since they have not yet indicated a definitive path between SDR and HDR signals.
"The projects in this format are still few and we are still managing them with the support of the NEP Europe group — and dedicated 4K media arrive from Sweden and England.
"NEP Italia has already made many events, such as the HandBall World Cup in France on behalf of NEP Sweden, filming in Italy for RedBull for NEP Spain, and the Bob World Championship with 10 events — just to mention a few," he said.