NEP Sweden builds new control room for large productions in record time
NEP Sweden runs a large studio facility on the outskirts of Stockholm that houses three studios, of which Studio 1 is the largest in the country. To handle the many productions more efficiently, NEP Sweden decided to integrate fixed control rooms in the facility and assigned Broadcast Solutions GmbH to the project.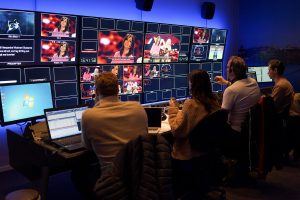 Previously all productions were realised with OB vans added to the building. In a close cooperation German system integrator Broadcast Solutions joined forces with NEP Sweden for planning and implementation of the HD/UHD control rooms.
The Stockholm studio facility is Sweden's top location for productions of large programmes with up to 1,600 spectators, including nationwide hits such as 'Idol' and 'Stjärnornas stjärna'. Within just two months, from the start of detailed planning to commissioning, Broadcast Solutions implemented the ambitious project with a total of 200 m2 of space with two large production desks and 8×55″ multiviewers, one 5.1 audio room, one engineering room and CAR. The first show broadcast with the new rooms was production of the show 'Stjärnornas stjärna' on 17 March, which went off without a hitch.
Jens Envall, Technical Director at NEP Sweden, comments: "We decided to integrate fixed installed control rooms in our large studios to be more flexible and to work more efficiently at large productions. The time schedule to implement the whole system was very demanding. But the Broadcast Solutions team delivered on time, and the result is just perfect. The new approach allows many different opportunities our customers demand from NEP Sweden."
In the field of video, NEP Sweden relies on cameras, video mixers, video routers and multiviewer systems from Grass Valley. The audio management, with 5.1 setup, is equipped with a Lawo mc256 audio console, including audio router. The intercom system is a Riedel Artist, and a VSM system is used as the overall control software. Video servers are from EVS XT4 K (two) plus Grass Valley K2 Solo.