NEP UK's Keith Lane and Simon Moorhead discuss the future of live VR and remote production
Taking stock of the latest technological changes as 2017 draws to a close, SVG Europe found NEP UK's Keith Lane (VP Client Services) and Simon Moorhead (MD) to be in expansive mood as they considered the present and future potential of VR, the outlook for the OB business as a whole, and its own current progress with regards to IP workflow implementation.
Live VR has yet to take off as some predicted it might. What will it take for it to really go commercial? 
Keith Lane: We have been involved in productions where live VR has been used to bring an immersive view point to the consumer, it does have an audience but can have a limiting feel due to the restriction in the number of angles and content that can be captured.
The technology of capture and delivery has improved and continues to do so, as a result VR is being considered more by rights holders and production teams. It needs to be complementary to the main broadcast but also add an enhancement to the coverage, an insight that allows the consumer to really experience the event from a different perspective and with additional content.
The momentum is picking up but it will still take time to hit the masses. The funding for this experience is often led by consumer tech businesses. The next big step is to establish a financial case by a broadcaster or rights holder that makes VR a live regular product, along with what the consumer wants and values and is prepared to pay for.
We are now constructing two IP-based trucks available in Spring 2018 based around SAM infrastructure, Arista routers, Calrec sound desks and SAM visions mixers. Our IP-based trucks will also be capable of 2110 operation.
We are also in the process of constructing a fully redundant IP-based fly pack system capable of supporting 15 galleries plus and providing feeds to other rights holding broadcasters.
Simon Moorhead: VR is undoubtedly a broadcast concept that has piqued audience interest; for gamers, being immersed in a virtual setting is surely the ultimate in participation and experience. The ability to harness live VR in a broadcast context is one of the most transformational advances for the audience – being fully immersed, virtually, into a live event, be it sport, music or entertainment brings the viewer directly into the venue and feeling closer to the performance.
To achieve this augmentation of the live event requires a robust video delivery connection that can cope with the bandwidth requirement, ensuring minimal latency and consistency of video relay, and this is where the broadcaster is at the mercy of the viewers' data connectivity or, more specifically, the ability of the internet service provider to super-serve this new broadcast medium.
For these reasons, I see that the broadcasters need to feel confident in the delivery platform, the potential for mass consumption by the potential available audience, and their willingness to either pay for this enhanced experience or have their experience impinged with hard-coded advertising.
Is the OB business becoming increasingly polarised between major sports events requiring large trucks and sizeable crew at venue and a more slimmed down and remote style of production over IP? 
Lane: The type and scale of production will dictate to a degree the choice of equipment and manpower on site; as we see more flexible connectivity being made available the opportunity to do 'remote/at home' productions will increase.
Costs are increasing and budgets are getting tighter but the need to keep or even improve production output against those constraints see us adapting what we provide.  Remote productions aren't new, the decisions are often based on what and how much you 'remote' your operation away from the event. Now that the bandwidth and low latency networks are becoming more attainable this will be the key to unlock this workflow more.
The opportunity for broadcasters to decentralise their operation, where different parts of the production can be in different regions, will be high on the agenda of many of them. We need to be flexible in our offering. The OB business needs to keep agile and look to provide different production environments to clients, whether that be large trucks and fly packs for large events or small quickly deployable units that can reduce time and increase efficiency and provide discreet sources if required and on pass to that IP network.
Moorhead: In my personal experience, I don't think so. At NEP in the UK, we very much cater for our client's specific requirements and delivering their technical/operational workflow. We work with our clients to tailor a bespoke solution, which meets both their editorial and budgetary objectives. What continues to be a theme is that clients like to have an OB truck and/or flypack broadcast solution coupled with the full complement of crew required to deliver their sporting event.
Where possible, programme makers tend to prefer being as close to the action as possible, ensuring that they faithfully translate and broadcast every facet of the event, maximising on the peripheral benefits of location production to give the audience an in-depth experience which is both immersive and editorially superior to that of a ticket holder in the crowd.
There is no doubt that location production affords the programme maker and their production teams to cast the net wide and deep, enabling the almost seamless capture and dissemination of the build-up to the event, breaking news and behind the scenes developments.
Whilst there has been investigation and discussion with some clients around the concept of remote production workflows, this is always balanced against the potential loss of the qualitative benefits associated with location production, as discussed above. In some circumstances where geography and the associated costs of logistics impact significantly the quantitative/budgetary objective – remote is certainly becoming a workflow that is being closely examined and considered. However, where this relates to domestic event coverage, clients don't (currently) seem to be sufficiently swayed by any potential economies over the qualitative benefits of location production.
What impact is the delay in standardising IP and HDR having on your equipment purchasing decisions?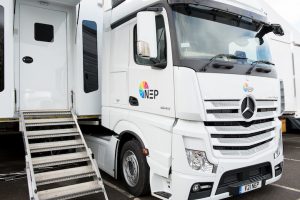 Keith Lane: When we approached the rebuild of our trucks and fly packs after the fire, we didn't feel IP was mature enough for us to commit to. We needed to keep the flexibility and functionality that SDI has given us. Admittedly the number of sources required for UHD did make the sheer scale of the infrastructure challenging but doable.
Now that the first few standards in SMPTE ST2110 have been agreed, we can see the adoption being much easier. The ability to carry audio, video and data and to separate them out now allows us to provide a workflow that isn't restricted and far more scalable, particularly when we move to HDR and HFR.
The next step for the UHD productions we do will probably be HDR. There is still a limited amount of equipment out on the market, although this has improved over the last 12 months. Our decisions on equipment to support HDR and SDR was difficult to make then, monitoring, conversion as an example. There is a better understanding of the requirement to support HDR and to produce an acceptable SDR image as well, that workflow and equipment choice will still be a challenge in 2018.
Finally, how has the appetite for UHD developed during 2017 and how do you anticipate this will change looking ahead? 
Lane: UHD has continued to be a big part of our operations. We continue to provide facilities for Sky Sports EPL coverage which is 124 games a season. The appetite for UHD is increasing, we have had a few additional events we covered this year. We took the trucks down to the Allianz stadium in Turin to cover Juventus v AC Milan in March this year; this was a joint production between Sky Italia, Juventus and Serie A.
The demand at the moment is really driven through the broadcasters who have a means to transmit UHD. That said, we are seeing more rights holders and requests from production companies who need to consider UHD for their broadcast partners who do have a requirement for UHD.