Player Zone, the 'Lord's Hum' and Buggy Cam: Innovations abound as COVID-safe Test cricket returns to Sky Sports
International cricket returned this week with the start of the first Test between England and West Indies, a game that was made possible thanks to the teams, match officials and TV crew staying in bio-secure bubbles.
But the health and safety regulations and social distancing that have been put in place because of the coronavirus pandemic didn't just impact on how and where players could train and play.
They also prompted the host broadcaster and UK rights holder for the series, Sky Sports, and its facilities suppliers, to come up with new and innovative COVID-safe ways of providing the TV coverage for viewers at home: something that has taken an awful lot of planning and preparation and not a little ingenuity.
Crowd Sound
One of the issues Sky has had to deal with, of course, is the lack of crowd, and therefore natural atmosphere, inside the grounds.
To compensate, a sound bed is being added to the live output that features background chatter, general atmosphere and the odd champagne cork being popped. That bed is actually taken from a Lord's Test match, and is dubbed the "Lord's hum".
"A cricket crowd is difficult to emulate, especially the appropriate reactions to things like a dropped catch [for example]," explains Sky director of cricket Bryan Henderson speaking to SVG Europe on Day 2  (9 July) of the match which is taking place at the Ageas Bowl in Southampton.
"But I've gone 180-degrees on this. At first, I wanted to be totally authentic [and add no sound] but I actually feel the hum makes it more authentic [for the viewer]. We use it at a very low level."
Henderson admits that he would have loved a more expansive augmented audio crowd system, like the one used on Premier League football, which adds sounds that were originally captured for use by EA Sports on the FIFA video game. But that facility isn't available for cricket.
"I've watched the football with and without the augmented sound and I much prefer it with the crowd noise," he adds.
'Little Wardy'
Also in use is a Buggy Cam or as the Sky team have christened it, 'Little Wardy' in honour of presenter Ian Ward who is famous for his diminutive stature.
The remote-controlled trackless dolly system originally developed by Motion Impossible is operated by Batcam (who call it Batcam Drive).
For this series, it has been adapted to include a full foldback speaker system and onboard monitor and is providing shots and capturing sound on the outfield where handheld cameras, reporters and presenters are not allowed as part of the health and safety regulations.
On Day 1 it was used to cover the coin toss at the beginning of the match and for the subsequent interviews with the two captains. The screen on the front of the vehicle allowed the players to interact with the interviewer. The audio was outputted from speakers onboard the system so they could converse openly.
The idea came from the experience of doing video conference calls, as Batcam founder and chief executive Jon Hurndall explains.
"In the height of lockdown with zero bookings in our diaries, we took the time to have a think about how the future of sporting events would look from a broadcast perspective in this new COVID-19 world. It quickly became apparent that the usual norms, even simple things like a player interview, could become problematic for broadcasters.
"So we started thinking about how people's habits have changed and a 2-way video chat was suddenly the norm. What better way to interview a player than using this type of technology but with a broadcast upgrade? We put down on paper how we thought we could achieve it and showed the team at Sky Cricket a mock-up of how it would look.
"In essence, it is a remote control vehicle with a riser to raise the level of the camera to eye level with a remote control camera gimbal onboard. They were immediately interested to learn more and it's a testament to Bryan and his team that they are always open to pushing boundaries and testing new ideas."
Flying cameras
While having no crowd inside the stadium takes away some of the magic of live sport, it does have its advantages from time-to-time. At the Ageas Bowl, for example, an aerial Batcam system is being used. This is a new version that can fly for longer periods, up to 20-minute continuous spells.
"The behind closed doors element has meant we have been able to push the boundaries of our usual flying zones," adds Hurndall.
"This has refreshed the shots we can offer, we have even been flying directly over the pitch when the teams go on and off the field of play. Something that we've always wanted to do but have been unable to do around large crowds."
A 100-metre long Batcam Wire system has also been installed that runs directly over the pitch, parallel to the wicket. This is offering a unique look at the empty stadium and fielding positions in and around the slips. It is fitted with a 3-axis stabilised gimbal, a Sony P50 camera and Canon 18x lens.
Player Zone
With close-up player interviews not possible, Sky Sports has introduced The Player Zone (pictured, below). Visually, acknowledges Henderson, it looks like the diary room from the reality TV show Big Brother but this small studio-like space provides a place for live remote access interviews and for players to do technique demonstrations.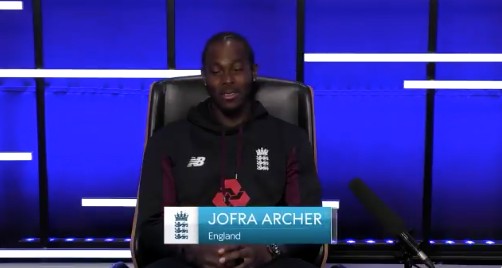 For Player Zone, Sky Sports' OB facilities provider CTV Outside Broadcasts has installed Panasonic AW-UE70 PTZ remote cameras which are always on. There is a small PA system for the audio. This means no crew are required in the room.
As well as for interviews, reveals Henderson, players will also be able to use The Player Zone to join in with the commentary and have conversations during play, similar to the 'watch along' shows that Sky Cricket did during lockdown with archive matches.
Preparation
Of course, making the production COVID-secure has taken a huge amount of preparation. Henderson estimates as many as 90 Zoom video calls in fact.
"It's been an exhaustive planning process, discussing everything from PPE and hand sanitiser to perspex screens in the trucks," says Henderson. "We even have an ioniser to make sure the microphones are sanitised [between commentary stints]."
He praises everyone involved for their work in getting Test cricket back on the air, including director of production Phil Marshall and CTV.
Read about CTV's preparations for the return of Test match cricket.
Even if government guidelines change, Henderson expects the production set-up for Test matches to stay this way throughout the summer, with the bio-secure bubbles remaining in place to ensure player safety.
England vs West Indies continues today (Friday 10 July) live on Sky Sports.
---
Every cloud has a silver lining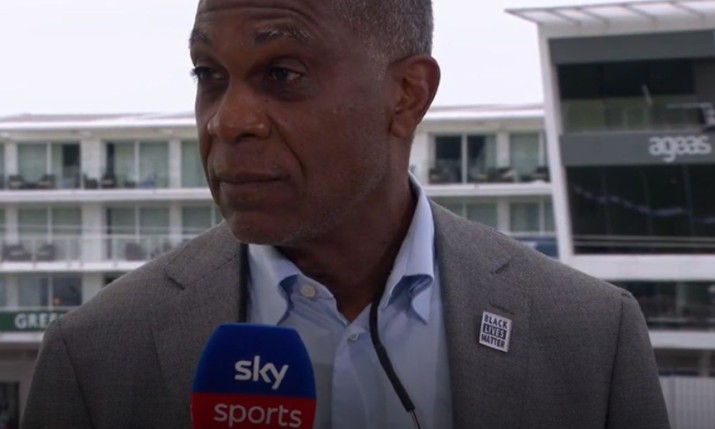 On a rain-affected first day of the Test, in which very little play was possible, big chunks of air time were left free to fill – which is often the case with a sport that is so reliant on dry weather. But while this might have been seen as a curse, it turned out to be something of a blessing as it gave the Sky Sports production team the chance to go big on a major global talking point: racism and racial injustice.
The broadcaster dedicated 30 minutes during one of the rain delays to Black Lives Matter with a film focusing on the experiences of cricket commentator and former West Indies fast bowler Michael Holding and Ebony Rainford-Brent, the first black woman to play for England. This was followed by a live interview with Holding, who delivered an emotional monologue, and Nasser Hussein, the former England captain.
"[The rain delay] gave us the opportunity to tell the story and more time to talk and react to it," says Henderson. "This magnified the impact. I am very proud of it, and the team: Michael and Ebony but also Nasser and Ian Ward [who conducted the interview]. One of the greatest skills of a presenter is when to keep quiet.
"The reaction from all over the world has been incredible. It's nice to know that the Sky voice can have an impact."
Watch the interview on the Sky News website
---
What is a bio-secure bubble?
According to ESPN's Cricinfo, the players, support staff, and all other personnel attending the games stay within the premises of the venue for the entire duration of the matches. No one is allowed in or out of the venue during the Test. Facilities have been set-up on-site for medical testing and screening as well as designated isolation areas at both venues where any person suspected of being infected can be isolated.