Premier League rights snagged by BSkyB, BT; latter plans football channel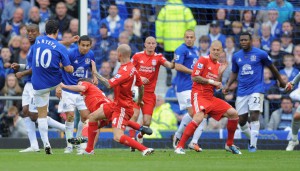 BSkyB and BT managed to outbid rivals for the rights to Premier League football yesterday, as Sky paid £2.28 billion to secure the rights to show 116 games a season and BT forked out £738 million to gain a 38-game-a-season foothold. But those rights represent an increase of 70 percent over the current partnership with Sky and ESPN. ESPN, which lost out, said its bid was made based on proper valuations, and, for now at least, the market is agreeing. In trading the day after the deal, BSkyB shares dropped on Thursday more than 7%, and BT was down 3%. The rights deals cover the three seasons that begin in 2013, 2014, and 2015.
Satellite broadcaster BSkyB has said it will offset the higher price through savings elsewhere in the business, although its reassurances failed to prevent the shares slide.
Investec analyst Steve Liechti said Sky's own price was 40% higher than last time and much higher than the 15% increase expected in the market. Lietchi told the Press Association that the cost is higher than expected and BT arguably looks a more potent competitor than ESPN, "even if we have some doubts over its content strategy and pay-TV-product performance to date." He added there were also long-term questions over "what happens next time" given the benchmark set by the latest rights contract.
BT will launch its own "football-focused channel" through BT Vision, which will offer new interactive features, but they will look to make it available on other platforms.
Sky's five packages cover matches on Saturday evenings, Sunday lunchtimes, Sunday afternoons, and Monday evenings. BT has bought the rights to matches that kick off at 12.45pm on a Saturday and for bank holiday and midweek games. ESPN has one more year remaining on the current deal before the new arrangement kicks in.