Register now for SportTech 2017 to find out more about HDR, POV and OTT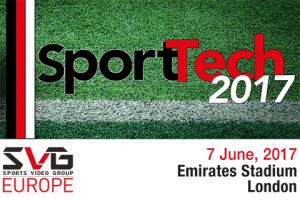 Now that NAB 2017 is done and dusted, it's time to ensure that you have registered for the 2017 edition of SVG Europe's SportTech summit. Taking place at Emirates Stadium, London, on 7 June, the event has traditionally been one of the most well-attended on the busy SVG Europe annual calendar.
The rise of HDR and HFR, the possibilities afforded by virtual camera technology, and the opportunities heralded by Intel's freeD 'Be The Player' technology will be among the topics covered during the busy one-day programme. There will also be a special insight into Timeline Television's new UHD2 truck – which will also be on-site at the Emirates, allowing delegates to take a look for themselves as part of site-wide technical tours – as well as an exploration of how social media and OTT are changing content creation.
Confirmed speakers include: Tim Felstead, Snell Advanced Media, Head of Product Marketing; Dan McDonnell, Timeline Television, Owner/Director; Mark Bowden, ChyronHego, Head of Product Management, Sports; Henk van Meerkerk, Fox Sports Netherlands, Head of Production; and Nicolaas Westerhof, Beyond Sports, Lead Development.
For a full programme, and to register, please visit https://www.svgeurope.org/sport-tech-europe-2017/full-programme/.