Sky content deal keeps F1 coverage on Channel 4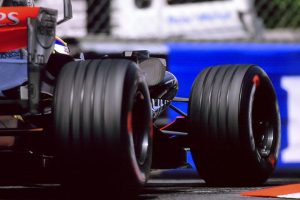 Channel 4 (C4) will broadcast live coverage of the Formula 1 (F1) British Grand Prix in 2019, and highlights of all the other races in the F1 calendar, after agreeing a content swap deal with Sky.
The tie-up will see various C4 commissioned drama series released on Sky as box sets and the Sky drama Tin Star shown on the terrestrial broadcaster's main channel.
C4 chief executive Alex Mahon said the partnership with Sky would "ensure that the British Grand Prix and highlights of the 2019 Formula 1 Championship remain available on free-to-air television for UK viewers."
Sky currently holds the rights to show live F1 races live in the UK in a deal lasts until 2024. For the current 2018 season, 10 live races including the British Grand Prix and the final round, plus highlights of all races, are being shown on C4.
The deal announced today consists of the following:
In the autumn of 2018, series 1 of Sky original production Tin Star will be shown on prime-time C4 ahead of the return of Series 2 on Sky Atlantic in early 2019
In 2019, C4 will show highlights of F1 races with the British Grand Prix shown live on both Sky Sports F1 and C4. Sky will show all other races exclusively live on its dedicated Sky Sports F1 channel
A selection of C4 and Walter Presents drama series will be available as upfront box set stacks on NOW TV and Sky platforms, including Sky Go. The first box set, the third series of No Offence, will be available from tomorrow (13 September)
Stephen van Rooyen, the chief executive Officer of Sky in the UK and Ireland, added: "Today's partnership is the start of a new era of collaboration between Sky, Channel 4 and, we hope, other British broadcasters. Not only will this innovative partnership benefit viewers, watching via Sky or free-to-air, but it will further strengthen the ecosystem of UK broadcasters and British originated content."