Sky Sport and SVG Europe Austria Summit: Innovation in a fast-changing market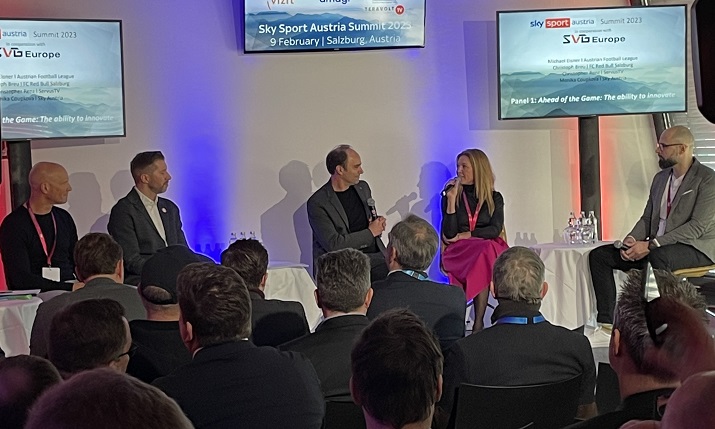 At the second edition of the Sky Sport and SVG Europe Summit Austria in Salzburg, broadcasters and manufacturers discussed the opportunities and challenges presented by new industry developments.
The panel discussions at this top-level industry event in February were moderated by Alessandro Reitano, senior vice president of sports production, Sky Germany and SVG Europe Chairman.
Innovation in front the camera as well as behind it is crucial in live sports production. "It has become part of our DNA to deal with the latest technical features", says Monika Coupkova, director of sports production, Sky Austria. "That is our daily business."
At top football games in Austria, Sky tested various technical innovations such as the Agito dolly on the pitch, the RocketCam, and a very small drone that delivered beautiful images despite the safety restrictions that prevent them from flying directly over people.
From players getting off their team coach at the stadium to celebrating a victorious match captured by a cameraman in the locker room, "we want to be close to the live action to offer viewers another perspective",  says Coupkova.
Different perspectives
Christoph Breu, head of marketing and communications, FC Red Bull Salzburg, sees catering to fans needs as necessary, which includes certain technologies and different camera perspectives that shed light on the players in the locker room.
"The locker room is holy. It is a decision based on trust when we give Sky or Servus TV permission to shoot there", says Breu.
The agreement includes the coach greenlighting the content. Even bodycams are not taboo for the club, but Michael Eisner, director of media rights and TV production, Austrian Football League, thinks a bodycam isn't an option at a live match.
Since summer of 2022, the Austrian Football League (ORF) has been strengthening its collaboration with Sky, NEP and analytics company Opta Sports. When the world feed is integrated into the system, it will be linked to the game data. "We already have several thousand games in the system which will go back to the 2004 season", says Eisnser. As far as footage of the football games from earlier periods is concerned, he will discuss that with broadcaster ORF.
Innovation isn't limited only to technique. "It's also about communication", emphasises Christopher Renz, head of sports production, Servus TV.
Thanks to the variety of sport rights the company has acquired, it became necessary to adopt new infrastructure that will address the requirements of staff members in different broadcast departments. "The upcoming World Cups will be a bigger challenge for us", says Renz. "We need to do more with IP, cloud and remote production."
Servus TV doesn't focus only on licensing for linear broadcasting. "In 2019/20, when we started acquiring sport rights, we also started thinking digitally", says David Morgenbesser, chief of sport rights and distribution, Servus TV.
"We spotted the trend towards moving images on platforms at an early stage, so we created various 24/7 channels that focus on culture, nature, and motorsports. Meanwhile, we are number one in Austria with more than 80 million views."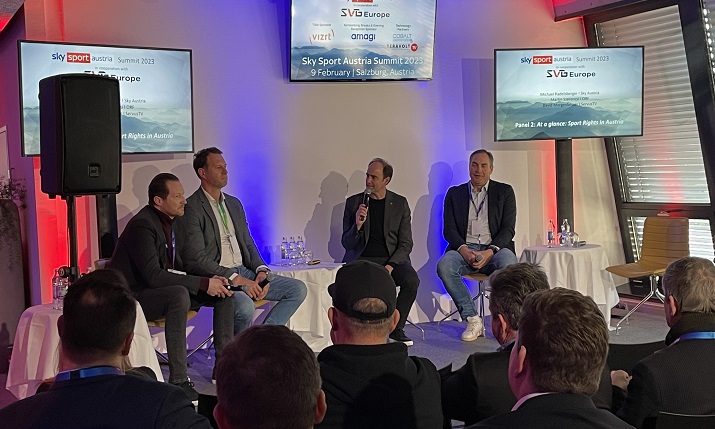 The idea of making everything easily accessible for viewers doesn't always pay off, explains Michael Radelsberger, deputy managing director, Sky Austria.
The cost of licensing, the editorial work, and production need to be taken into consideration. "There is a lot of traffic on social media, but we can't refinance the Champions League with that",  Radelsberger points out.
"It won't get easier to cope with licensing fees. Whenever we think we're reached the end of the line, another new player shows up."
Canal Plus' SVOD platform may not turn the market upside down, but it affects pricing in Austria.
"The question is how much are they going to spend", says Radelsberger. "The target audience that is willing to pay for live sport content keeps getting older, and it keeps shrinking."
According to Martin Szerencsi, legal advisor, ORF, the public broadcaster isn't under huge pressure yet. "We should have the guts to admit that there will be a gap in the next Champions League season. There will only be 90 seconds on the news."
On the other hand, special-interest channels also require an entire value added chain from camera acquisition and production to distribution. "Our sports channel ORF Sport Plus offers a huge variety of programming, but it doesn't have high ratings", says Szerencsi.
"These events require almost the same work as major ones, even if they only reach 5,000 viewers. Therefore, it is great that we can cooperate with large competitors like Sky or Servus TV, but we also work with small outlets like Streamster."
Video Sky Sport Austria Summit 2023: Watch on demand
Regardless of whether the rights are free TV or pay TV, the costs or the Champions League licences in Austria are so high that they cannot be refinanced by the revenue streams.
"That's why we focus on smaller products and have partners who are supporting this product", says Morgenbesser. "The best example is our motorsport channel that we also launched on MagentaTV in Germany."
Moreover, Servus TV is in the running with Formula One. "We are basically a startup within the broadcasting company", says Tanja Bauer, editor-in chief, Formula One, Servus TV.
"We got the chance together with the ORF to pile in Formula One." Her approach is to address younger target audiences by developing a TikTok-like style with music and fast-paced editing that doesn't have a clean look like the news. "Formua One gives us a first-class product that we improve each year with new graphics, features and technical details."
"We are thinking 24/7 of Formula One. The Netflix show 'Drive to Survive" didn't reinvent Formula One, but social media was the real game changer", emphasises Andreas Gröbl, presenter, Formula One, Servus TV.
"We sell sports with personalities. It is our core business to serve a product." Thanks to the technical setup, he moderates the races remotely. "I look at my monitor and have a live ticker so that I can analyse the technical data from external suppliers. The data is mainly a tool to explain the race."
Broadcasters are facing the challenge of meeting the needs of their audiences in a similar way as social media does. "That already starts with little snacks at the breakfast table and continues with short video clips over the course of the day", says Tobias Fröhlich, chief product officer, TeraVolt.
TeraVolt developed a technical product that provides users with a personalised activity stream. "If Instagram and YouTube are turning into broadcasting platforms, we won't get any ratings for our programs anymore", says Tobias Fröhlich. "We need to feature the same mechanisms, which make social media so attractive, on our platforms."
Gerhard Lang, chief technical officer, product management and technology, Vizrt, sees most of the innovations in the field of graphics. Vizrt developed Adaptive Graphics that help deliver the best possible display and legibility on different platforms. The concept behind Adaptive Graphics is that the graphic is produced only once but will automatically be adapted to various screens which range from 16:9 up to vertical video for TikTok.
"The goal is adaptive storytelling that offers the complete media compositing functionality for live signals", explains Lang. "Adaptive storytelling won't focus only on graphic elements. It can also include clips, panel discussions, or interviews with remote guests. Anything can be adapted to the format that we want to deliver."
Another trend in the multiscreen world is the increasing expansion of Fast (free ad-supported streaming) TV. "We create linear channels, manage VOD content on platforms, and help to monitise the content", says Johann Rückel, senior director of sales DACH, Amagi.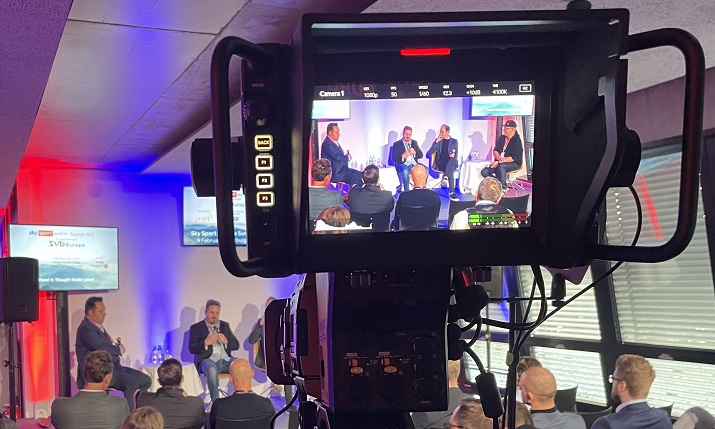 Founded in 2008, Amagi offers cloud-based solutions for playout and MCR on AWS and Google. "Production and distribution costs are relevant. A cloud solution offers the possibility of scaling Fast TV channels according to their needs. We support more than 100 platforms and host more than 2,000 channels on AWS."
In the US, there are platforms with more than 400 Fast TV channels. The trend is also coming to Europe, where some platforms already have 80 Fast channels.
"Content is king but there's a lot of competition", sums up Fröhlich, who is convinced that strong market penetration can be achieve with the product. "Product is queen. We have to invest in digital product quality and personalisation."