Sound for the Tokyo Olympics both 'a challenge and an opportunity'
Immersive audio debuts while some augmented crowd sounds help offset empty seats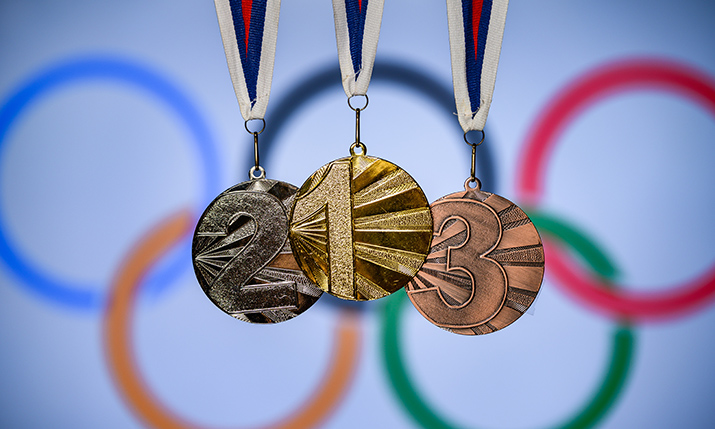 Listen closely to the sound of the Summer Olympics, because there will be a lot of firsts. For instance, it will be the first Olympics broadcast in 5.4.1 immersive audio, with four overhead channels adding an upper dimension to the indoor events. And, due to last-minute COVID restrictions imposed by the Japanese government that bar spectators from most venues, it will be the first-ever Olympics to utilise some form of artificial crowd noise.
"Immersive sound is our biggest challenge, because it's new for 99% of the A1s and broadcast engineers," Nuno Duarte, senior manager, audio, Olympic Broadcasting Services (OBS), told SVG during an interview from the International Broadcast Centre (IBC) in Tokyo.
Immersive workflow
The OBS production will encompass 42 Olympic competition venues, utilising customised production units and workflows. Overall, OBS will deploy a total of 31 outside broadcast (OB) vans and 22 flypack systems that have been specifically designed and outfitted to meet this Olympics' new and unique production and distribution requirements.
OBS will capture the sounds of the Tokyo 2020 Olympics through an immersive 5.1.4 audio configuration that will expand upon 5.1 surround sound by adding an overhead dimension with the addition of four hanging ceiling microphones whose heights will be adjustable, based on the venues, and with two new microphones – using 4.0 and 8.0 transducer configurations – specifically designed for immersive audio production.
In total, OBS will deploy 3,600 microphones, with 28 different models. Three immersive audio quality control rooms will support the venue production and guarantee sonic consistency and quality across all sports. Only the production for the seven outside tennis courts will remain in HD. There will also be 46 stereo channels of radio feeds.
Rightsholder broadcasters will take the immersive audio signals from the OBS as a generic, linear, immersive 5.1.4 feed. Those employing the Dolby Atmos codec in the US, UK and Europe will encode their broadcasts locally. South Korea's SDS will broadcast the games in UHDTV there using the MPEG-H format, which can support up to 64 loudspeaker channels and 128 codec core channels, confirmed by the Fraunhofer Institute, the codec's owner.
In addition, NHK, the main Japanese national broadcaster, was scheduled to do an additional transmission using 24 audio channels. This 22.2 configuration is the audio component of the 8K television standard Super Hi-Vision, developed by NHK Science & Technical Research Laboratories. It uses 24 speakers, including two subwoofers, arranged in three layers plus an LFE layer: upper layer – 9 channels; middle layer – 10 channels; lower layer – 3 channels, plus 2 LFE channels. Super Hi-Vision will be produced from a limited number of venues and for limited distribution.
As it did with its Olympics broadcasts from Rio and Sochi, NBC has announced that it will take live coverage from Tokyo and work with distribution partners, such as parent company Comcast/Xfinity, to deliver the games in Dolby Atmos to its viewers. Karl Malone, director of sound design, NBC Universal, confirmed that NBC is using Dolby's Atmos format, which will take the raw 5.1.4 PCM feed from the OBS and encode to Atmos at its Englewood Cliffs facility in New Jersey. The process, he says, will work similarly to the Atmos workflow NBC Sports developed over three seasons of Notre Dame American football broadcasts.
"This is an unprecedented achievement by OBS to make immersive audio available to every single UHD rights holder for every venue, every sport and every event"
"We will build on the OBS base layer and then add our own microphones to it," he explains.
"This is an unprecedented achievement by OBS to make immersive audio available to every single UHD rights holder for every venue, every sport and every event," states Roger Charlesworth, an independent Atmos audio production consultant. "This effort decisively brings premium sports audio up to the level of Hollywood episodic and feature content on Netflix, HBO, Disney, Apple and Amazon."
Mics everywhere
Duarte says the huge number and diversity of microphones is due to the wider range of events at this Olympiad, with new sports including skateboarding, sport climbing, karate and surfing included, all creating new challenges for Olympics audio.
"For example, [for] climbing, we're using a lot of microphones, as you can imagine," he says. "You have three walls that you have to fill with microphones. We have a lot of new microphones – small shotguns, boundary microphones, new models, instead of the usual long shotguns, and it's been very successful. A big part of the OBS philosophy is to capture the details of the sports. Effects microphones are great for that."
Some of these sports will benefit from the deployment of the two new immersive 4.0 and 8.0 microphones, developed with the Olympics' microphone partners. Divided into upper and lower layers of transducers, these custom microphones will allow the Games' audio technicians to capture conventional horizontal surround and the immersive vertical overhead channels from a single microphone.
"The lower layer is used for 5.1 surround; what the upper layer generates is the third dimension, used for events like the marathon or outside events, where it's more difficult to create these two layers in with several microphones," Duarte explains.
Sound design approach
Duarte, who has worked on Olympics broadcasts in various capacities since Beijing in 2008, says the approach to sound design this year is similar to how he's done it in the past, building with a foundation of venue ambience, including crowds, and then layering effects and finally direct sound atop that – the details, he calls it – keeping the focus (though not microphones; only some coaches and officials will be wired for sound) on the athletes and the microphones out of the cameras' way.
"Or at least to be discreet," he adds. "But I should say that more and more international federations are open to getting the sounds of the athletes or the coaches."
The Olympics isn't necessarily known for its low-frequency effects, but Duarte says effort is being made to look for and capture as much high-impact sound as possible, such as by placing contact microphones on the goalposts for water polo to catch the sound of the near misses.
A few sports, such as golf and cross-country races, will have submixers supporting the A1 mix, the better to gather the full spectrum of effects across distances, he says.
Crowd sound
The recent and abrupt barring of all spectators from indoor venues during the Olympics removed a major component of the foundational ambient sound from the Games' sonic design. That will be ameliorated to some degree artificially, however. Duarte says implementation of so-called augmented crowd noise will be minimal, limited to pre-recorded 'murmur' tracks whose content is derived from archived Olympics event sound tracks. These will play through the venue PA systems and are intended to provide the athletes with a semblance of a venue's sonic ambience under normal circumstance, but that sound will also be picked up by the broadcast microphones and heard by viewers.
"OBS prepared a bank of sounds from past games to make the athlete feel more comfortable," he says, adding that they have been testing the content and its levels ever since the announcements first reducing and then banning spectators. "It's not to be across all the venues, but we have to be consistent across all the venues and all the sports that it will be used for."
Ripple effect of delay
As if the first-ever loss of crowd noise and the first-time shift to a three-dimensional audio format wasn't challenging enough, Duarte and the OBS staff are also watching the calendar: the 2022 Winter Olympics in Beijing will begin just under six months after the delayed Summer Olympics conclude, creating a massive and unique logistics concern. In fact, the pandemic delay has also shaved a year off preparations for the 2024 Summer Olympics in Paris, which Duarte says he is also readying for, even as he put the finishing touches on the sound for this year's Games.
"You never stop preparing," he says, pointing out how the greater use during the pandemic of remote collaboration tools such as Zoom had significantly increased efficiency and productivity. "My colleagues from construction have already started the construction of the IBC in Beijing, so that means that everybody moves from here straight to 2022. We're already working in Beijing at the same time we are working for these games. It's a bit more difficult for us, but we can handle it.
"There are a lot of challenges this time – immersive audio is new to most of us, and now the situation of no crowds will make the challenge bigger," he continues. "We don't see problems, we see challenges and we also see opportunities. I think we're going to have a big opportunity here to do a very good exhibition of immersive sound and effects. Everybody's going to be out of their comfort zone. But it's going to be good."