Studio Berlin relies on Apantac KVM over IP system in Ü10 OB truck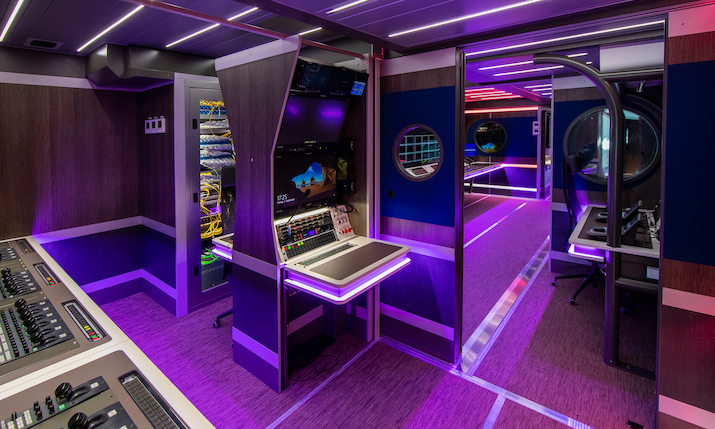 Studio Berlin's new 24-camera UHD/HDR OB van Ü10 has been begun operations complete with a KVM over IP system from Apantac. Broadcast Solutions Produkte & Service, the subsidiary of Broadcast Solutions, is the German distributor for Apantac's KVM and multiviewer solutions and supervised the implementation together with the Broadcast Solutions project team.
Flexibility of the workstations and control room in the new OB van is of upmost value to Studio Berlin. The Ü10 includes 26 workstations, and a total of 39 computers with 25 user workstations were connected via the Apantac KVM over IP system.
Matthias Alexandru, technical manager, Studio Berlin, said: "The Apantac KVM over IP system is still relatively new to us, but the flexibility, the range of functions and the scalability convinced us immediately. The different productions with the Ü10 and the resulting changing workflows demand a high degree of flexibility within the OB van. Apantac's KVM system provides us with enormous scope here and the configuration is easy and quick to manage."
Since Apantac's KVM over IP systems are IP-based, they work via a network switch that defines and interconnects computer modules or workstation modules as transmitters and receivers, rather than on the basis of a matrix with defined inputs and outputs. The different signal formats of input and output devices are converted in the extenders and are then available anywhere in the system.
The switching time between computers is only two seconds. In small installations, the KVM over IP transmitter and receiver units can be connected via point-to-point. For the Ü10, the modules are connected to two switches, which are separated in the OB van and the support van, which hosts all the racks of hardware, and connected via four redundant 10G trunks. In addition to the KVM functionalities, Apantac KVM over IP systems can also be used to create monitor walls and multiviewers.
"With its unique approach, this project represents excellent advancement in mobile production and broadcasting," commented Thomas Tang, president of Apantac. "Our KVM over IP solutions are contributing to this forward-looking model and we are proud to be providing solutions that can enhance agility and flexibility for our customers and their customers alike."