SVG Europe announces Sport Production & Technology Summit 2020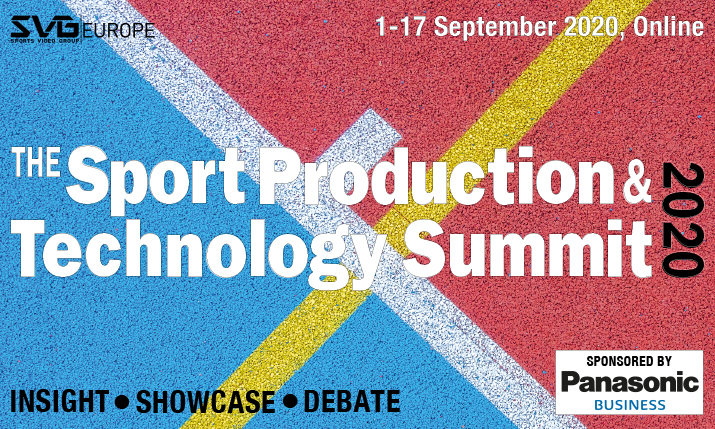 In support of this year's virtual IBC, and incorporating some of the elements of a real exhibition and conference, SVG Europe will be producing the Sport Production & Technology Summit 2020 between 1 and 17 September.
The specially convened virtual event, sponsored by Panasonic, will combine an online showcase of new products and services with expert analysis and insight from sports production and broadcasting leaders.
Spread over three weeks, the output will include online articles, email newsletters, video interviews and live online discussion sessions
The Summit will comprise of three distinct elements:
---
Platinum Roadmaps

– Future plans revealed by tech leaders (1 to 4 September)
SVG Europe's Platinum sponsors will provide an insight into their future plans for sports broadcasting and production technology and services in exclusive video interviews with an SVG editor. The videos will be published online and distributed to the industry via email.
---
New Technology Showcase

– All the latest releases in an easily accessible form (7 to 11 September)
A programme of email newsletters, curated by SVG editors and showcasing the latest sports broadcasting and production technology and services, will be distributed to the SVG Europe community. These newsletters will be divided into categories to make it easier to pinpoint your area of interest. A dedicated easy-to-navigate New Technology Showcase page will also be added to the SVG Europe website.
---
Sport Production Leaders Briefings

– Decision-makers discuss challenges, opportunities (15, 16 and 17 September)
In the week following the virtual IBC, key technology decision-makers from Europe's sports broadcasting and production community will come together in a series of live Zoom webinars to discuss the new products and services that have been announced during the IBC period, revealing 'what I saw' and then sharing intelligence about their challenges and future priorities. As the sessions will be delivered using video conferencing tools, delegates will be able to ask questions of speakers and take part in discussions.
Tuesday 15 September – Broadcasters and OTTs
Wednesday 16 September – Producers and host broadcasters
Thursday 17 September – OB providers
Speakers for the Leaders Briefings will be revealed in the coming days.
---
"In previous years, right about now, we'd be getting excited about our annual trip to IBC in Amsterdam," said SVG Europe general manager Joe Hosken.
"But, just because there's no physical IBC taking place in 2020, doesn't mean there won't be any excitement, or the chance to find out what is happening in the world of sports production and broadcasting technology. The SVG Europe Sport Production & Technology Summit will complement what is happening with the virtual IBC by providing our community with insight into new and future products and services and an opportunity to learn from one another. We think this is a great way of supporting the sports broadcasting sector."
The Sport Production & Technology Summit will run between 1 and 17 September 2020