SVG Europe Sit-Down: V-Nova's Fabio Murra on codec sector challenges and 360/VR potential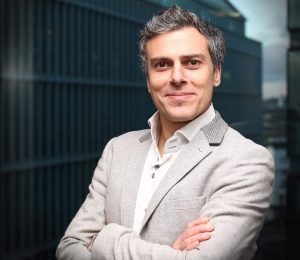 Utilising V-Nova's acclaimed PERSEUS technology, media companies can now monetise previously unmet consumer demand for higher definition video everywhere, on existing devices and infrastructure, using a simple software upgrade. PERSEUS is distributed by V-Nova as a software-development kit for integration into new and existing platforms or as a pre-integrated solution for partners which include encoder, middleware, chipset and media player vendors as well as some of the largest System Integrators in the industry. Designed to provide enhanced platform support, it has been deployed to enable operators to quickly benefit from the core efficiencies of high quality encoding.
Fabio Murra, SVP Product & Marketing (above) commenced his Sit-Down interview with SVG Europe by offering a helpful definition…
V-Nova Perseus is described as a family of codec formats. What do you mean by a 'family'?
V-Nova's PERSEUS is a new codec that delivers on the promises of next generation image and video codecs by compressing video at "bandwidth that matters" on available encoders and decoders. PERSEUS is unique in the way it was designed from the ground up for hierarchical processing – "multiscale", massively parallel processing and machine learning. This allows better compression and substantial processing power reductions without requiring dedicated hardware acceleration, hence maintaining compatibility with devices deployed and already in the field.
The unique paradigm of PERSEUS means that it's the only algorithm that can be implemented in its pure format or in conjunction with another codec, creating two variants, or codec formats.
PERSEUS Pro is for mathematically lossless and visually lossless professional production and contribution applications
PERSEUS Plus offers high compression efficiency in content distribution to end users, web publishing and peer-to-peer applications.
Towards the end of 2017 you published a White Paper entitled 'Mastering the challenge of "Studio-Quality" video contribution via satellite'. Can you summarise the conclusions?
In this paper we have shown how primary contribution feeds must adhere to strict quality requirements in order to maintain the best possible visual quality throughout the video delivery chain. Through Eutelsat and V-Nova's partnership, satellite can now transport Intra-only "Studio-Quality" contribution feeds with the required characteristics for premium content such as live sports. For the first time, combining PERSEUS Pro with Eutelsat's end-to-end satellite video transmission, broadcasters and video service providers have a true alternative or back-up to fibre in terms of quality and bandwidth-efficiency.
What do you see as the challenges ahead for the codec sector?
The codec sector has changed dramatically over the last few years. Whilst in the past it was an arms race to become the next standard, the market today shows that many different codecs can co-exist and thrive. It is about utilising the best tool for the job to solve real-life – that is, not purely theoretical – problems.
Specifically, in a sports context, Cloud Production is not just coming, but the journey has already started. Terms like 'Hybrid Cloud', 'Virtualisation', 'Edge Device' and 'MicroServices' are now part of our language. Codecs need to work in any of these situations to provide the best picture in any given situation. The ratification of ST-2110 is a huge step in enabling this new workflow freedom. You cannot virtualise coax.
In the world of software and IP, competition is the name of the game. There is no need for a single solution, because the same general-purpose devices will be able to support multiple alternatives via software.
In the future we will continue to see multiple codecs being used for video delivery over different mediums. The challenge is allowing our customers, the content owners, publishers and operators to remain ahead of the consumer demand curve and provide those services that people really want, unconstrained by the environment they sit in.
How do you see the OTT market developing over the next 2-3 years?
We expect the OTT market to continue booming. However, the increased popularity of streaming services and availability of content whenever we want, wherever we want, will put increasing pressure on content owners and service providers. Consumer expectations for 'TV-like' service on all devices will increase as will the congestion on already clogged networks. Research shows that consumers are unforgiving when it comes to buffering and load times, blaming irrespectively the App publisher and internet service provider. However, consumers value convenience immensely and there are great opportunities for those that can leverage technology to capitalise on it.
Same question about VR/360. How do think that sector will expand over the next few years?
There is no doubt that – good – VR and 360 video can deliver enriched experiences to consumers, complementary to those of traditional television. Every day better 360/VR content is being created and consumer appetite is growing. However, to be successful with 360/VR, publishers and operators will need to match consumer desire for great quality, convenience and low cost.
There is no doubt that the immersive experiences of 360 Video and VR demand high resolutions to maximise the experience and this is driving interest in 4K/UHD, 8K and beyond. However, high resolutions have until now required high bandwidth connections and high-end devices, and this has heavily restricted adoption over fixed and mobile networks. By reducing the bit rate needed for 4K/UHD video to below 5Mbps and massively increasing compatibility across the deployed set of devices, V-Nova's PERSEUS compression is a game-changer for high quality 360 Video and VR services, expanding the market reach by 10x, and making 360 Video and VR services much more commercially viable.
You have a number of partners in your development programme. What do you see as the benefits of such collaborations?
In the market today, we are experiencing faster and faster innovation cycles. In order to keep up effectively with an ever-evolving consumer demand, both service and solution providers need to leverage best-of-breed technologies and know-how.
We do believe in an open innovation approach, where we can contribute our innovative software compression product and leverage the experience and know-how of our partners in the areas where they excel. This has allowed us to launch a second generation of our compression technology within two years, productise it on for a number of different platforms, and have it available worldwide on a range of different third party and Open Source encoding and decoding platforms, including professional appliances, set-top-boxes and media players.
Nowadays, everyone is trying to do more with less resources. It is essential to fit into ecosystems that are already established, minimising the costs and risks of introducing new services for operators and service providers. For us, being able to integrate directly into an existing device or product that work in Automation and Network Management Systems is mandatory. In other words, we need to provide all the benefits with no impact on the user – just a small ask!
Have you an innovative European sports related case study you can share with us?
Over the past two years we have been involved in a number of different sporting events, providing higher quality coverage over existing connectivity. In particular, we have provided links for UHD coverage of El Clasico between Barcelona and Real Madrid and UEFA matches. Most recently, in partnership with Eutelsat, we've deployed a unique product which leverages PERSEUS compression performance to allow Intra-only high-quality contribution over a satellite link.
This is possible thanks to the performance of PERSEUS, capable of delivering visually lossless full HD Intra Contribution at 80 Mbps, and go down to 40 Mbps for lossy full HD Intra Contribution. UHDp60 can be encoded at 250 Mbps for visually lossless Intra Contribution and down to 100 Mbps for lossy UHDp60 Intra Contribution, that is, within a satellite transponder.
This combination of best-in-class compression performance, low-latency and ubiquity of satellite represents a true and cost-effective alternative to fibre in terms of quality and bandwidth-efficiency. It is the only solution that allows highest quality intra-only contribution regardless of location.