SVG Europe Women virtual event accentuates the positives of project re-start and the 'new normal'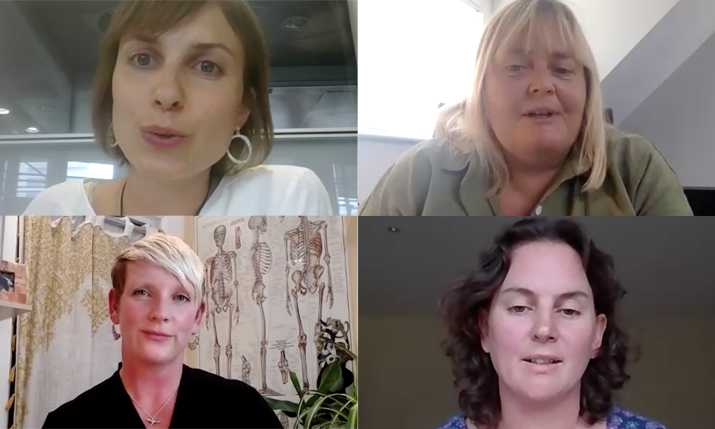 Health and safety, remote production and even pink gaffer tape were all on the agenda last night as SVG Europe Women got together for another hugely successful virtual event – but it was the overwhelming positivity in the room that had the most lasting impact.
The intimate Zoom gathering featured a strong line up of speakers all discussing what it is like being back at work in the 'new normal'. For the first time, it was followed by a virtual 'hangout' in which participants were able to chat openly about life and work during and post lockdown.
To kick things off, three guest speakers shared their experiences of what it is like to be back to work in sports TV production.
Sky Sports News production manager Victoria Rudling discussed how Sky has adopted cloud-based tools for the production of live programming such as The Football Show and for pre-recorded vodcasts.
MediaPro production coordinator Katarzyna Humska outlined how Mediapro had solved the problem of having no fans inside stadiums when LaLiga returned to action, before detailing the complicated health and safety regimes and their importance.
While Telegenic unit manager Chrissie Collins described the preparation that went into getting BT Sport, Amazon Prime and BBC Sport's coverage of Premier League matches on air, an experience she described as "manic".
"Getting people to wear masks and social distance [is a challenge]. I had to use a lot of pink gaffer tape to mark out the social distancing!"
The production technology and health and safety elements of the discussion were clearly integral to their respective projects, and to the virtual event itself, but the overall theme of the get-together was of positivity and pleasure at being back to work.
"Getting people to wear masks and social distance [is a challenge]. I had to use a lot of pink gaffer tape to mark out the social distancing!," said Rudling. "But the virtual working has brought everyone at Sky together. I get to see people I wouldn't normally see which is a real bonus."
Does it feel strange? "Yes, it does," acknowledged Collins.
"There is a lot of paperwork. Lots of COVID declarations. You have temperature checks every day. On TX day you have checks and need to wear wristbands. It is hard work to keep people socially distanced and ensure people clean their workstations. We can't even give people a cup of tea. But it is good to be back to work and good to see live sport back. It is only a matter of time before punters are allowed back in."
There are plus sides too, she said. "With having no public there, you can get home a lot quicker when the OB is finished!"
"It is very fulfilling," concluded Humska. "We've done very good work in these strange conditions."
The event concluded with a networking 'hangout' in which the discussion turned to the importance of freelancers to the industry, the role of remote production and the sometimes thorny issue of skills and training.
The SVG Europe Women virtual event and hangout took place on Thursday 16 July at 4pm (UK time).