Taking the plunge: British Diving Championships streamed live on YouTube
Every round of the British Diving Championships was shown live for the first time this weekend (26-28 January) when streamed coverage was made available via the British Swimming YouTube channel.
Action from the domestic diving competition was captured by production company Great Big Events on behalf of British Swimming and streamed live to the video-sharing website.
The BBC and the Olympic Channel also received a feed from the Championships and streamed coverage of each day's finals.
World Champion Tom Daley, World medallist Grace Reid and Olympic Champion Chris Mears were among the competitors.
British Swimming had been planning the live stream for two years as part of its ambitions to raise the sport's profile.
British Swimming marketing manager Ben Tarrant who spearheaded the move and oversaw the coverage, told SVG Europe: "It is great for the sport to get it out onto a digital platform. The hope is that we can get more people interested in diving."
The additional coverage will also help to raise the profile of the athletes ahead of this year's Gold Coast Commonwealth Games in Australia, he said.
Despite working with a relatively low budget in live sport terms, the production had high production values, including instant slo-mo replays and on-screen graphics and branding. "The better the quality of coverage we can produce the easier it will be to gather new fans, raise the sport's profile and, in turn, attract future sponsors," said Tarrant.
The four-camera flypack production included an RF camera, a balcony-level camera and a camera providing a wide shot. Two GoPros captured action from the diving board itself.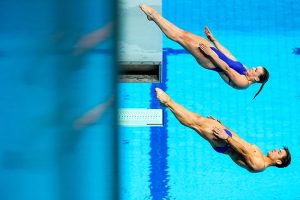 Interviews and behind-the-scenes footage were interspersed with the live competition coverage. To make the live stream as inclusive as possible for viewers, detailed information on what makes a good score, and what the divers are trying to achieve with each dive, was also included in the output.
Experienced broadcaster Bob Ballard provided commentary on the event, aided by Olympic champion Jack Laugher and Commonwealth bronze medallist Freddie Woodward.
The British Diving Championships take place at the Plymouth Life Centre from 26 to 28 January 2018. Coverage was also available via the BBC online and the Olympic Channel and live on the British Swimming YouTube channel.