The Road to Russia: How UK broadcasters will share resources for World Cup 2018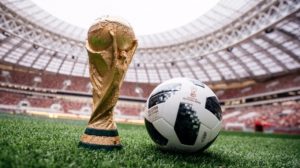 This year's FIFA World Cup finals will be the 14th consecutive tournament that both the BBC and ITV will cover jointly. But, for the first time, the two broadcasters will be sharing many resources in Russia.
In the past, the broadcasters have shared SNG facilities, but for this tournament both Charlie Cope, BBC's Technical Executive and Roger Pearce, ITV's Technical Director, Sport, thought it was time to push for a deeper partnership that would deliver lower costs and enhance capability and individual transmission resilience.
"We have always had a good operational and technical relationship during major events, but due to the joint ITV/BBC rights holding for FIFA World Cups and UEFA European Championship, our coverage is judged against each other. So, there is a lot of secrecy around each other's production plans," reveals Pearce.
"This has ruled out extensive sharing of facilities in the past because we both have complex workflows that were difficult to keep totally separate and still give us meaningful synergy. We have always booked totally separate Host Broadcaster facilities so moving to sharing, for example, World Feeds, required detailed negotiations. These involved both FIFA and the Host Broadcaster, HBS."
Charlie Cope, BBC Technical Executive, adds "As joint holders of the UK rights, and with ever-increasing pressures on finances and accreditations, we were keen to explore any overlaps or sharing we could achieve in our models. Clearly, we work side by side in a competitive editorial environment, but this should not stop us finding commonality in our underlying services and operations and building a relationship that allows us to manage any risks that come with this type of sharing."
This sharing does not change the allocation of match coverage which is defined in the rights agreement, so the BBC/ITV match pick process has remained the same, and, as on all past events under this arrangement, both parties will continue to show the final.
Putting plans together
The planning for this new approach began in late 2016 when both parties became aware of the similar workflows that would be utilised across the event.
Cope explains the thinking: "Initially we pulled together all the overlapping workflows and areas of potential collaboration, then we jointly approached FIFA and HBS who were very supportive of our proposition and fully understand what benefits this can bring to all parties in the long run. This sharing has not been purely technical, but also across many areas of production management where the challenges and lessons learned of working in Russia could be shared and which will provide ongoing benefits."
So, how did the process of collaboration start? Pearce provides the details: "First, we got together and sorted out the things we could share that worked technically and gave us enhanced resilience overall. We also had to be careful to keep our unilateral feeds and media apart. We then worked out who would 'Host' each item in the share. It was an extension of our usual planning for complex workflows, so I think we both enjoyed the chance to share thoughts and experience in a way we have not been able to do before."
It was agreed that both broadcasters would share evenly the ownership of the various technical collaborations — partly to balance cost outlay, but also to apportion risk between the parties.
Close proximity
Having decided that sharing resources was feasible, work began on how to decide who did what. "We have concentrated on the FIFA/HBS facilities and services that we would normally duplicate at both IBC and venues," states Pearce. "For this event, we are also in the unusual position to be able to plan our studio presentation in Moscow, as we are both using the HBS facilities in Red Square. We are also sharing feeds and SNG facilities."
There will be router and talkback connections between the broadcasters in the International Broadcast Centre (IBC) and the Red Square studio allowing the production teams to help each other with missed or lost host material. In fact, this is the first time both broadcasters have been able to utilise adjoining IBC facilities.
Cope goes on to emphasise that despite this proximity, the editorial and operational teams will remain independent. "The editorial output will still remain an area of competitive offering to the audience."
Although at the time of writing no names have been announced for the on-screen talent, both broadcasters confirm that with the distances involved and varying editorial significance of the games, a mix of at-stadia and off-the-tube commentaries will be employed.
Alongside the pool feed from HBS, broadcasters will be able to use their own cameras at some matches in order to personalise their output. "On specific high-profile games this will be the case," says Cope. "Only limited use of unilateral cameras is permitted during live play by HBS, so our cameras will primarily be used to enhance our match presentation pre-match, at halftime and post-match."
Pearce adds, "HBS has developed a very extensive range of options for rights holders. There is always an interesting balance of the stadium resources between broadcasters, stadium and governing body. Sometimes it's hard to remember that it is not all about us and that the whole point of being there is the game of football. FIFA has put a lot of effort into making the most of unilateral facilities for the broadcaster without upsetting the match officials and teams too much."
Remote reasoning
With the increasing use of remote production much in evidence during recent high profile events, will this technology feature in Russia?
"We had a remote studio in Brazil for the last World Cup, so we have had a good experience technically," says Pearce. "However, our production team did not think that being that far away from the talent was a benefit to this type of work. This time, we are planning to keep everyone together — if we can."
The BBC will adopt a different stance. Cope reveals that there will be some remote production, but not to the extent used for the Commonwealth Games and the Winter Olympics in South Korea. "All our core live TV output will be presented and produced in Moscow, but all simultaneous games, Multiplatform and Sport News will be produced by teams remotely in Salford. Within Moscow, all match-side production will be done remotely from our core studio in Red Square, so we will not have any local OB or SNG trucks in Russia."
The editing of content for ITV Sport will be carried out in Moscow but, as Cope explains, the BBC has different needs and will utilise facilities in both the UK and Russia. "We will have a split of editing operations in both Moscow — to service the feature making, and in Salford to cover the highlights, match re-runs, Multiplatform, Sport News, and so on."
These operations will be based on a traditional Avid/EVS core infrastructure, with Signiant-based file management between sites to handle all inter-site content exchange, archive and so on. "We aim to have all content archived in Salford before de-rig of our systems in Moscow at the end of the tournament."
Lessons learned
As with all such events, lessons can be learned from the previous tournament and both organisations are happy to praise the efforts of both the organisers and the Host Broadcaster. "FIFA and HBS offer a vast array of excellent services – for example, the FIFA Max server system and film crews — and we have learned to be more reliant on the additional content provided over time," comments Cope.
Pearce adds, "I would say that there is a bedrock of experience of working within a FIFA/HBS environment that we are able to plan the core coverage with confidence of high technical quality and production values. Outside of that, the individual plans for unilateral presentation are always a challenge and focused on the creative vision of the production and editorial needs. You need to be able to handle a challenge to do this job."
The 2018 FIFA World Cup in Russia starts on 14 June.