World RX launches RX+ live and on-demand streaming and video channel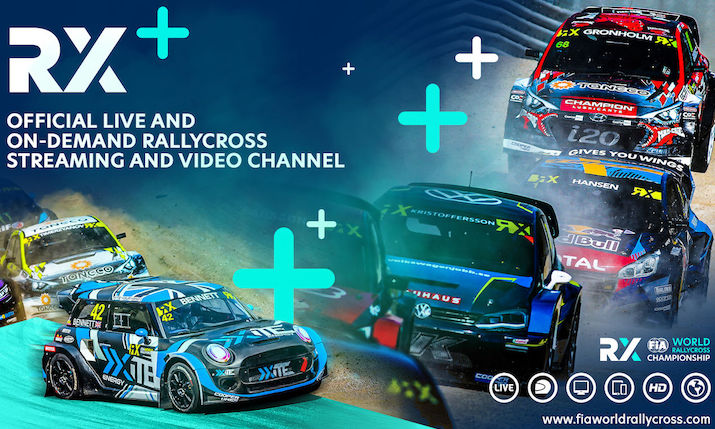 The FIA World Rallycross Championship (World RX) has introduced the RX+ broadcast platform, designed to take fans behind-the-scenes of the dual-surface discipline and right to the very heart of the action.
With the 2021 World RX season approaching apace, it can now be experienced in HD quality through RX+, where every race will be shown live – from the first Qualifying contest right the way through to the Final in the World Championship, the new FIA RX2e Championship, Euro RX1, Euro RX3 and visiting CrossCar series.
With hundreds of hours of content available to watch live or on-demand, the premium production will offer subscribers exclusive access, from a choice of viewing angles to in-depth expert analysis, special features and interviews with the stars of the show.
In addition to enjoying highlights, previews and replays, on-board cameras will enable fans to put themselves in the driving seat, while a high-profile presenting team, including lead commentators Martin Haven and Nick Fellows, will bring the on-track action and off-track stories to life like never before.
With no geographical restrictions and full access anytime, anywhere and on any device, subscribers can watch and re-watch at will.
Arne Dirks, executive director, Rallycross Promoter, said: "Rallycross was designed to be an engaging broadcast product when it was invented more than 50 years ago and that premise still rings true today, with short, sharp races and non-stop entertainment. But we wanted to really push the envelope and give our fans even more, and RX+ gives us the opportunity to do just that.
"We have worked very hard to put together a package offering unprecedented access to this wonderful sport, that will not only enable subscribers to watch all of the races whenever, wherever and however they wish, but will also allow them to delve deeper and feel like they are right there in the paddock, rubbing shoulders with their heroes and soaking up rallycross' unique and unmistakeable atmosphere.
"We will continue to innovate and shift the goalposts over the course of the campaign to ensure we are consistently delivering the very best broadcast experience possible."
Johan Kristoffersson, three-time FIA World Rallycross Champion, added: "This is a big day for rallycross fans. For me – and I think for many people – rallycross is the most exciting form of motorsport around. It's fast, it's fun, it's unpredictable and it's hugely entertaining. I get such a buzz from driving, and I know fans get such a buzz from watching it.
"RX+ really is a game-changer in terms of what viewers can look forward to now. Growing up and watching my father race, I really wanted to learn more about the discipline and get to know all the drivers, but this kind of exposure was always a bit of a pipe dream. Now it is a reality and rallycross finally has the kind of coverage and platform that it deserves. It's the start of a bright new era for our sport and it's going to be awesome!"