3ality Technica joins SVG Europe as Gold Sponsor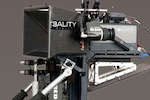 SVG Europe is please to announce that 3ality Technica has joined the SVGE organisation as its latest Gold- level sponsor. 3ality was already one of the main, established players in the 3D space, but with its acquisition of Element Technica in the run up to IBC, it took matters up to another level.
"With the acquisition of Element Technica, 3ality Technica now provides all of the control, accuracy, breadth, automation, modularity, accessories, and design of both existing product lines," said a statement at the time.
"Element Technica's product line has become synonymous with ease of use, great design, affordability, and durability. 3ality Digital's product line is known for quality, speed, incredible accuracy and advanced image processing. In acquiring Element Technica, – the Company gains an in house manufacturing and design capability, and the expansion of its already sizable R&D capabilities. Physically, the companies will combine in an expansion to the 3ality Digital headquarters in Burbank, CA.
"The combined engineering skills of the two companies will help push 3D production to levels of integration and refinement previously unmatched. Many of Hollywood's major theatrical releases which have been shot utilizing these two companies systems and technology include "Jack the Giant Killer," "The Amazing Spider-Man, "The Hobbit: An Unexpected Journey," "Prometheus," "Underworld 4," "Oz," and "The Great Gatsby." Also, companies like BSkyB, the world's leading 3D broadcaster, and the HBS feeds from the FIFA World Cup have based their productions of live events on the backbone of 3ality Technica's technology."