IBC 2019: Quantum helps customers create, share and preserve video content
At IBC2019, Quantum (stand 7.B07) will showcase its significantly expanded product portfolio designed for end-to-end media workflows. Visit Quantum's stand to see solutions for on-set production, processing and content transport, studio editing and finishing in 8K, and digital media archiving.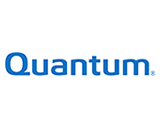 "We've dramatically accelerated our pace of innovation in the last year, introducing award-winning NVMe storage, distributed cloud services, and analytics, removable edge storage, video surveillance storage, and more. Quantum has undergone a significant transformation, and our customers have taken notice. At IBC, visitors will see a new Quantum with more focused attention on accelerating and enhancing media workflows," notes Eric Bassier, Head of Product and Technology Marketing.
Highlights include:
A Completely Refreshed StorNext Product Line
Quantum will demonstrate the latest version of its award-winning StorNext file system and the latest series of StorNext appliances. Quantum will show completely redesigned appliance hardware with 2x faster performance, editing and coloring of 8K content in real time, new predictive tiering and analytics capabilities, new ways to integrate with cloud, and a simplified user experience.
Quantum F-Series NVMe Storage
Making its European debut is the Quantum F-Series, an ultra-fast, highly available NVMe storage array for editing, rendering, and processing video content and other large unstructured datasets.
Designed for performance, availability, and reliability, F-Series uses NVMe flash drives for ultra-fast reads and writes – up to five times faster than traditional flash-storage/networking systems – to deliver real-time editing and rendering of 4K and 8K quicker than all other previous competitive solutions. By using cutting edge RDMA networking technology, the F-Series delivers consistent low-latency performance over IP networks, eliminating the need for expensive, complex fiber channel SANs.
Any studio, post-house, or broadcaster working with high-res content at high frame rates and looking to move from fiber channel to IP-based infrastructures will want to learn more about the F-Series.
R-Series Edge Storage
Quantum will also showcase its R-Series ruggedized removable storage solution. Designed for mobile and remote video storage, R-Series is ideal for transporting content between on-set production and studios.
Distributed Cloud Services and Cloud-Based Analytics Software
With Quantum's new Distributed Cloud Services suite, media customers can now redirect valuable IT and engineering resources to focus on meeting business goals, improving the overall user experience and maximizing return on investment for video storage.
Powered by Quantum's new Cloud-Based Analytics (CBA) software, the Distributed Cloud Services suite provides a central hub where Quantum products send product and environmental data. Quantum's global services team uses this data to proactively manage the customer's environment, either as an operational service or as a pay-per-use Storage-as-a-Service offering.