BNC gears up for 2018 sports challenge with XT4K servers and DYVI switchers
To provide the European and global rental markets with better access to the latest 4K-enabled production equipment, German broadcast service provider BNC has purchased eight XT4K servers and two DYVI live production switchers from EVS.
Following the deal, which will also see the delivery of several other live production tools, BNC will deploy the live production technology for global sporting events in 2018. The new XT4K live production servers will replace the six XT3s currently available from BNC and the DYVI switchers will be the first in its inventory.
"As the industry shifts to new, higher resolutions, we wanted to make sure our live production equipment supported this migration, so the decision to deploy XT4K servers was an easy one to make," said Enrico Ganassin, BNC GmbH's CEO. "At the same time, the XT4K provides our customers with more 1080p channels, giving them the capacity to do more with less because they can deploy just one XT4K instead of two XT3s."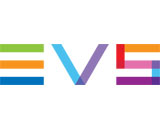 The XT4K allows users to deliver four flexible I/O channels of uncompressed UHD-4K and natively supports both SDI and IP connectivity. Users can deploy the servers in both HD configurations as well as UHD-4K, so they can use the server to bridge the gap when shifting to higher resolution workflows.
BNC new DYVI switchers have been put in place because their software-defined nature twins an easy-to-operate experience with a flexible technical architecture for better live video switching. The company's operators specifically requested DYVI switchers from EVS after using them at previous events.
"It's our team of operators who are the ones using our equipment in the field," added Ganassin on the deployment of the DYVI switchers. "It was on their recommendation that we purchased EVS' live video switchers, because they can direct live productions more easily and focus on more creative aspects of their roles. All of this while delivering the technical reliability we expect from EVS technology."
In addition to the XT4Ks and DYVI switchers, BNC has also taken delivery of two XFile3 systems, an Epsio Paint and an Epsio FX. The XFile3 transfer engines provide users with the fastest way to send files to archive workflows during live events. The Epsio Paint and Epsio FX live tools give operators the ability to enhance live replays and highlights with graphics and telestration effects on-the-fly in HD and UHD.
One of the largest European rental companies and complete broadcast service providers, BNC specialises in the provision of EVS technology to live productions. The company's employees are experts in EVS technology and have delivered broadcast facilities to German and Austrian broadcasters ARD, ZDF and ORF for the live coverage of some of the biggest sporting events in the world as well as music festivals and entertainment events. These include Red Bull's Wing for Life World Run, ESL One esports tournaments for Turtle Entertainment, the Salzburg festival and the 2015 Eurovision Song Contest.