CTV helps Input Media produce 21 live games for the FA Cup Third Round
CTV was contracted by Input Media to supply 21 OBs for coverage of the Third Round proper of the Emirates FA Cup for world feed and BBC Sport last weekend.
Under an agreement as the FA's broadcast production partner, which runs to 2021, Input Media provides a range of production and technical services, including live programming for international rights-holders, live match coverage and fast-turnaround highlights shows of each round of The Emirates FA Cup.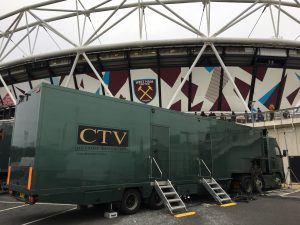 In addition, the company also produces its FA Cup Saturday Superfeed, featuring several live games for international takers, along with a substantial increase in social and promotional content to support the competition. In addition, a new digital clips service was introduced, racking up 46 million views on social media. One digital clip was viewed more than six million times on Twitter alons with several other clips chalking up more than a million views.
The picks for the Third Round were made on 3 December so there was not much time available to plan match coverage. Complex cable rig and de-rig plans were required for the non-Premier League and EFL Championship grounds in play last weekend around England.
"Input Media is contracted directly by the FA and the BBC to provide the world feed coverage of all 32 matches," John Williams, director of technical operations, told SVG Europe. "The FA element is all the world feeds plus 21 of the OBs for match coverage. We also have the contract for the BBC Goals Exchange so we take in all the matches and provide goal clips and match highlights of all the matches.
"Doing 21 OBs at the start of the year, with Christmas in the way, has been a challenge! You're going everywhere from Gillingham all the way up to more established clubs like Newcastle United. Doing it on this scale was certainly challenging, but overall it went very well and the team at CTV were instrumental in its success.
"This year, every single (Third Round) match had an OB on it, with at least four cameras. We did 21 of
the matches and BT Sport and BBC Sport handled the rest. Those matches were live domestically or for BBC highlights so we took clean feeds from those to produce our world feeds.  Clean match feeds were accessed from BT Tower or on satellite, we then added graphics, EVS highlights and commentary from our production centre in Chiswick," said Williams.
Match commentaries were added to all 32 ties, either off-tube from the Production Centre or from the 21 OBs contracted to provide the match coverage. A standalone FA Cup Superfeed – an eight-hour continuous programme showcasing the pick of the live games and the highlights of others – was also created, while all the goals and highlight edits were delivered on two rolling clip channels for the BBC to use on its Match of the Day show.
BT Sport handled four matches on its own, from existing facilities — Tranmere Rovers v Tottenham Hotspur, Manchester United v Reading, Blackpool v Arsenal, Woking v Watford and Blackburn Rovers v Newcastle United (replay). BBC Sport directly covered Newport County v Leicester City, Wolverhampton Wanderers v Liverpool and Southampton v Derby County (replay) as their live games.
The Third Round involved 64 teams. Due to a new FA overseas television deal which came into effect this season, only 10 of the 32 Third Round matches kicked off at the traditional slot of 15:00 GMT on Saturday. The new contract caused a number of matches to be moved to other time-slots to accommodate viewers outside the UK.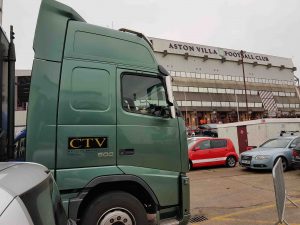 Each CTV-supplied match OB featured between four and seven cameras, with either one or two channels of EVS. The average game involved 18 OB crew with the total deployment being over 490 rigger, engineer, camera operator and third-party man-days across the 21 matches – 17 on Saturday and four last Sunday.
Telegenic supplied one of the PLP vans, which featured a Simplylive Vi Box. CTV also contracted and managed Telegenic, Video Europe, Prolink TV and Pro-Active for its coverage.
The locations for the CTV-provided OBs were Bournemouth, Sheffield Wednesday, Shrewsbury, West Brom, West Ham, Aston Villa, Bolton, Fleetwood, Brentford, Middlesbrough, Crystal Palace, Burnley, Norwich, Bristol City, Newcastle, Gillingham, Accrington, Preston, Millwall and QPR.
There are a total of 14 rounds in the competition – six qualifying rounds, followed by six 'Proper', plus the semi-finals and the final. From a starting point of 736 teams in August, 644 qualify for the initial competition, with 124 going through to the main competition. Teams from the Premier League and Football League Championship enter at the Third Round, at which point there were 64 teams remaining in the competition – 44 from the Premier League and the Championship and 20 winners from the second round.
The final will take place on 18 May, with the winner qualifying for the 2019-2020 UEFA Europa League group stage. Premier League side Chelsea are the defending champions.