IBC silent auction raising funds for Amsterdam's child athletes with disabilities; Donate Items to the cause!
Join IBC in celebrating it's 50th anniversary and take part in The IBC Big Match to raise money for the Friendship Sports Centre and the Edwin van der Sar Foundation. IBC are offering everyone the opportunity to play against a team of footballing legends, the Lucky Ajax. Places on the team are priced at €1,500, with all funds going to these charities. You will be playing against some of footballs greatest including Edwin van der Sar on Saturday 16 September 2017.  Why not take part and see if you can put the professionals through their paces whilst raising money for two very worthy causes? In addition IBC is offering a silent auction and those interested in donating items or experiences for auction should contact Nathalie Baker of IBC via email at [email protected] or telephone +44 20 7832 4103.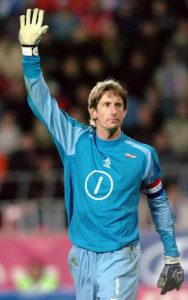 Both charities provide support and rehabilitation and improve the lives of children and adults faced with illness by giving them the opportunity to take part in activities that aren't usually available to them.
Our goal is to raise as much money as possible and historically these items have done the best in terms of raising funds:
-Autographed equipment or jerseys(if possible please have it certified authenticate)
-Experiences (tickets for an event, private behind-the-scenes tour of a stadium or venue)
-Certificates for services or dining experiences
-Professional video or audio equipment
The Friendship Sports Centre is a local charity in Amsterdam supporting children and young adults with physical or mental disability or chronic illness by offering them somewhere where they can become part of a team through sporting activities.
The Edwin van der Sar Foundation implements projects to support people with brain injuries through rehabilitation, participation and prevention.
So do you fancy taking part and competing against some of footballs greatest? With only 13 places up for grabs make sure you act fast and secure your place on the team. To confirm your place on the IBC Legends Team, you will be required to make a donation of €1,500 per place. This donation will cover two players to fill your place, which allows for a substitution.
Register your interest using this link and a member of the IBC team will be in touch to confirm your place.
It is guaranteed to be a great event, so to ensure you have maximum support bring along your friends, family and colleagues to watch from the side-lines as spectating is completely free!