Krasnodar Stadium project inspires new Funktion-One Evo configuration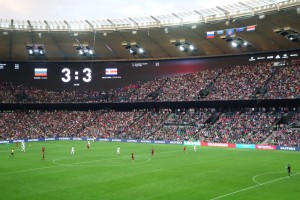 Funktion-One's distributor for Russia, Edelweiss Audio, has completed the sound installation at Krasnodar Stadium, which is the home venue of Russian Premier League club FC Krasnodar. The project led to the loudspeaker manufacturer innovating with a specially designed Evo enclosure.
Edelweiss Audio was initially invited to take part in a listening test alongside companies representing most of the pro audio manufacturers active in arena and stadium sound. This was the beginning of a detailed specification process. Having impressed the owners, Edelweiss and Funktion-One were shortlisted and invited back for a second round of listening tests.
"A number of factors, not least the geometry of the stands, meant that a horn-loaded solution would work best," explains Edelweiss Audio's Technical Director Andrei Kremenchugskiy. "We were looking at up to 90-degree coverage, which is very hard to achieve effectively using line-array."
The owners were sold on the Funktion-One sound, which at the time was demonstrated using Resolution 5s, and appointed Edelweiss as the audio contractor for the project.
Krasnodar Stadium's roof has two layers, which are split by a cavernous space. The architect originally wanted the loudspeakers to be positioned between these layers. Unsurprisingly, Edelweiss and Funktion-One had other ideas.
Kremenchugskiy worked closely with John Newsham and others at Funktion-One in the UK to come up with a solution. This resulted in the development of new customised product – the Evo 6EHQ. These specially designed enclosures house four Evo 6 waveguides, arrayed two wide and two deep.
Newsham recalls: "We spoke to Andrei and he explained that if we could get 90-degree vertical and 45-degree horizontal dispersion, then he could deliver a really good solution for the stadium. On paper, it looked like combining four Evo 6EHs would work the way we wanted but we needed to do some tests in order to find out exactly how to combine them. We didn't have the height available to just do a vertical hang."
Newsham led some field tests at Funktion-One HQ in the UK. He continues: "For the horizontal coverage of 45 degrees, we wanted to figure out whether coupling the mids or the high-frequencies would produce the smoothest result. In the end the best solution was to couple the mids and let the high frequencies separate. We then developed a special cabinet to house the four Evo 6 waveguides fixed at the correct angles."
A total of 18 Evo 6EHQ enclosures have been deployed around the stadium, approximately 20m apart. Funktion-One F215 Mk2 bass enclosures were paired with the new F124 24in bass enclosures and installed between the Evo 6EHQs. Six standard Evo 6EH loudspeakers were supplied for pitch coverage.