LaLiga becomes first league to use volumetric video for replays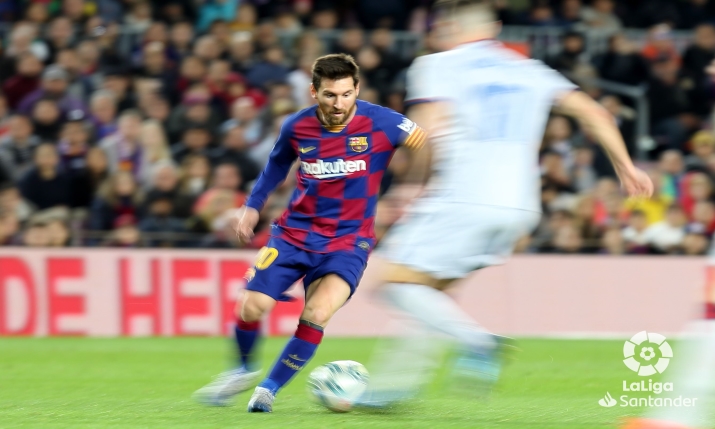 LaLiga immersed viewers in a technology fest for last weekend's El Clásico showpiece match between Real Madrid and Barcelona FC, becoming the first league to use volumetric video for replay during a live game.
On the volumetric video used in the game on Sunday 1 March which Real Madrid won 2-0, LaLiga went for replay 360º technology which allows, through 38 UHD cameras located around the stadium, 360º volumetric video clips that can be used in broadcasts. These recreate 3D replays of any play and offer viewers around the world a unique perspective from any angle of the pitch.
Roger Brosel, LaLiga's head of production, told SVG Europe: "During the match, we became the first football league to introduce a volumetric video replay, with one volumetric clip aired during the second half. We are testing this technology and are working towards introducing these replays in more games in the future."
However, the league has been using 360º technology for some time now, he added: "Replay 360º technology has been in place [at LaLiga] since the 2016/17 season, and this season has been made available in a further two LaLiga stadiums, taking the total to eight. LaLiga was the first football league in the world to use this technology."
Big broadcast
The game was broadcast through 33 simulcast 4K HDR HD production cameras located around the Santiago Bernabéu Stadium; LaLiga is one of the few sporting competitions in the world that is broadcast in HDR.
Brosel commented on the technology used in this particular game: "We regularly use HDR HD production for our highlight matches of any given game week. The presence of 33 cameras is higher than usual and reflects the huge global interest that a game like El Clásico receives."
It was seen by a viewership of around 650 million people in 182 countries. There are 23 accredited international TV stations from countries including France, Mena, US, French Africa, Poland, Greece, Germany, Italy, Argentina, Belgium, Portugal, Brazil, India, China, Finland, Korea, Denmark, Sweden, Japan and Holland. In addition, 210 broadcasters televised the match locally.
Brosel stated that, "the amount of broadcasters is not different [to the usual amount] but the level of promotion they give this particular match can be particularly high". He added: "For this reason the amount of people watching the match is higher than usual; El Clásico has a potential TV audience of 650 million globally."
Brosel went on: "We have partnered with Mediapro for many years to develop the best audio visual product, jointly developing new technologies to deliver a more immersive and memorable experience. These innovations are available in all of our match broadcasts but for a showcase match like El Clásico they are particularly noticed."
Technology fest
With Mediapro, the match was broadcast using tracking cameras for Mediacoach, a real time tracking tool that reveals detailed player movements allowing for unprecedented tactical analysis. The signal from these cameras can be analysed in real time in the stadiums, as well as by streaming from anywhere.
In addition, the sound boards of the tracking cameras are connected to modify the sound based on the images that are being transmitted, allowing the viewer to get closer to the experience.
Noted Brosel: "Mediacoach has been used by LaLiga for several years but new improvements are added each year. This season for example, the amount of perimeter cameras has increased to 16 in the stadium, capturing up to 25 frames per second to deliver real time analysis. It adds a new dimension and layer of detail for viewers about how teams are lined up, or how much ground players are covering for example."
An aerial camera was also used. At 21 metres above the pitch, this camera offers unique images to the spectator. Its height allows for a faster travel speed offering a unique perspective of the pitch. This camera broadcasts in high definition with 2/3 angular optics and a 14X zoom, and transmits images by optical fibre from the pitch to the mobile broadcasting unit. It can cover an area of ​​almost 7,000 metres squared.
Said Brosel: "Aerial cameras are in operation at 12 LaLiga stadiums, the most of any European league, and a range of technicians and pilots from Mediapro operate the cameras at every available match. Demand for compelling imagery is at its peak for a game like El Clásico, which places a particular spotlight on innovations like this."
'Be The Player' software, which premiered in the 2017/18 season, places the televised image in the same position as the player is occupying, giving the viewer the sensation of being on the pitch itself. 'Be The Player' software is used at eight LaLiga stadiums and is used throughout the season.
With 3D graphics used during the game, LaLiga is the only national competition in the world that uses live 3D graphics to generate virtual graphics in live broadcasts that complement the transmission itself, the league said. These could include heatmaps from Mediacoach or live statistics. This tool also allows broadcasters to visualise tactical and positioning changes during replays. These live 3D graphics are made using the tracking of three cameras.