One week to go until SVG Europe's SportTech 2016… have you registered?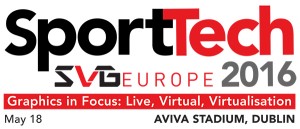 The next SVG Europe SportTech event will take place in Dublin next week – specifically, at the Aviva Stadium on 18 May – and will include extensive coverage of graphics production, as well as the transition from SDI to IP, the implications of virtual reality, and the challenges and threats to the OB community as we approach the big summer of sport 2016.
For this event – SVG Europe's first to take place in Ireland – we have assembled an impressive roll-call of panellists and presenters traversing the vendor, systems integrator, broadcaster and consultant communities. The latest list of speakers is as follows:
Adrian Back, Eurotek Ireland, Technical Sales Specialist
Daragh Bass, BT Sport, Innovation Producer
Alan Burns, OBS TV, NEP Worldwide Network, Managing Director
Neale Connell, Alston Elliot, Chief Commercial Officer
Adam Cox, Futuresource Consulting, Senior Analyst Broadcast & Professional Video Equipment
Kevin Dresser, Ross Video, Business Development Manager
Olivier Emery, Trimaran-Georacing, CEO
Tim Felstead, SAM, Head of Product Marketing
Hamish Greig, CTV OB, Technical Director
Mark Hilton, Grass Valley, VP of Infrastructure Products
Amir Hochfeld, Avid, Senior Product Manager Sports
Tim Hoddy, Tripleplay Services, Head of Sales UK and Ireland
Kjetil Horneland, Sixty, CEO
Timo Koch, NEP Belgium, Managing Director
Jason Landau, Sky Sports, Design Director
Kevin Moorhouse, Gearhouse Broadcast, Chief Operating Officer
John Murphy, BBC Sport, Design Director
Martin Murphy, Aviva Stadium, Director
Vincent Noyer, Ericsson, Piero Business Unit, Acting Head
Tony Page, deltatre, Head of Onstage (Graphics and Data Services)
Oliver Parker, ChyronHego, Regional Sales Manager
Simon Reed, Evertz UK, Managing Director
Johan Vounckx, EVS, SVP Innovation & Technology
Mike Ward, Reality Check Systems, Managing Director, EMEA
Kerry Wheeles, Imagine Communications, CTO Networking
Hiroshi Yamauchi, Sony Professional Solutions Europe, Senior Manager, New Technologies & Business Development Europe, 4K IP Production
Session moderators include: SVG Executive Director, Editorial Services, Ken Kerschbaumer; Fergal Ringrose, SVG Europe, Executive Editor; SVG Europe Managing Editor David Davies; and SVG Europe Contributor David Fox.
Don't miss your chance to attend what promises to be one of SVG Europe's best events to date – register now: https://www.svgeurope.org/sport-tech-europe-2016/.