Levelling up: Mediakind on how to balance scale, quality, and reach for live sports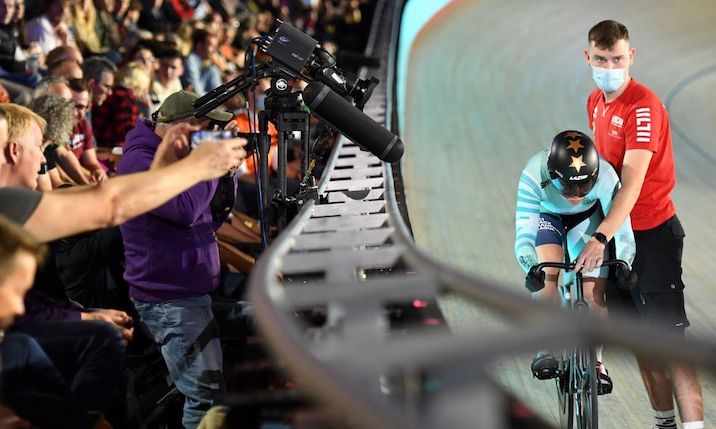 By Jean-Christophe Pineault, MediaKind sales manager, sports.
2022 has been an exciting year for the sports broadcasting industry. Thanks to the growth of cloud services, sports content is becoming increasingly dynamic, data-driven, personalised, and interactive.
It's great news for the average sports fan and how they experience watching their favourite players, teams or leagues via cable, broadcast, or over the top (OTT) streaming services in the future.
This year has seen streaming platforms increasingly look to acquire huge sports rights deals. One of the highest-profile announcements included Amazon's 11-year contract with the NFL to broadcast Thursday Night Football live.
Apple took a hybrid approach to its own 10-year $2.5 billion global streaming rights sports deal. The MLS acts as the branded rights-holder of its direct-to-consumer (D2C) offering, while Apple provides the aggregated service.
These types of deals could gain significant momentum in 2023 as streaming aggregators continue to purchase more digital rights and shift content away from traditional broadcast environments.
If this year's news had not confirmed that streaming platforms are ready to bet big on sporting entities, the recent rumours surrounding Apple's alleged interest in purchasing Manchester United are indicative of the value that is now attached to live sports by the largest tech giants and media organisations.
As OTT becomes a more standard means of delivery, we will likely see many other sports rights-holders opting for the D2C pathway as the next set of live rights deals come up for renewal. However, the way OTT platforms measure their performance has changed too.
Although subscriber numbers remain important, time consumed watching content gives a clearer indication of fan engagement on the platform. This benchmark is expected to be used more in 2023, as a vital key performance indicator for streaming services.
The journey of the digital fan
Next year, a big focus will be on enhancing the fan experience. That means forming direct relationships with sports fans and targeting them with relevant, meaningful fan-focused services. It's now possible to ensure the fan journey is highly relevant and personalised – anything from curating the user interface by spotlighting relevant content to tailoring camera feeds into the live stream and delivering targeted ads during commercial breaks.
As viewership on fan-focused platforms grows steadily, the challenge reverts to the streaming infrastructure that holds it together. Ultimately the platform must be able to achieve scale and growth. There are some crucial considerations to be made. How do you balance scale, quality, and reach? How do you make the platform accessible to the widest possible audience? What plans do you have for generating new use cases and revenue models in the future? And how do you measure success, particularly for players new to the D2C space?
With how today's media landscape is shaped, everything is being steered towards real-time interaction and bringing the action closer to the fan. Today's fans, especially younger audiences, are not interested in watching sports games in their entirety. The explosion of streaming services, instant highlights, and on-demand replays has instigated a much richer TV landscape.
Earlier this year, the NBA recognised these trends ahead of the launch of its reimagined app, powered by a new cloud-based technology platform developed with help from Microsoft and MediaKind. The app includes entirely new personalisation features, social-style vertical videos, and exclusive behind-the-scenes access to players and teams. Scale and growth were at the fore of the NBA's streaming infrastructure upgrade, delivering 300 streams per night to an enormous global audience, in pristine video quality.
Another trend is the growth of user-generated content that feed sports streaming platforms, such as the NBA's app, in which fans themselves play a huge role in driving overall engagement. The NBA app has a whole page dedicated to influencer's content, visible on a 'for you' style page, and this brings in engagement from multiple different fanbases.
Engaging today's fans requires a deep understanding of audience segments and a strong knowledge of local environments – from where the viewers watch their favourite content to what they're watching it on. In the coming year, expect to see more sports federations extending the reach of their fandom and bringing in revenue streams beyond the stadium by providing more flexible live and on-demand subscription options.
More content, more visibility
The director's cut is no longer enough for many live sports fans – that's the minimum standard. Today's fans also want to experience the view from the driver's seat and get real-time access to the event via new formats, immersive technologies, and any device. Through the growth of social media and user-generated content, fans can now engage and participate in the media of sports like never before.
Live content has the shortest lifespan of any other media type. But there are still opportunities to lengthen the lifespan of this content and create new points of engagement and access for fans. For instance, sports organisations can look to repurpose and re-package these live content clips into a bank of highlight reels, gaming assets, and player profiles.
The rise of Free Ad Supported Television (FAST) services such as Hulu, Pluto, and Peacock could also gradually increase their influence within the sports world in the coming year. These re-born linear services offer far more personalisation that traditional linear TV and are an incredibly valuable tool for broadcasters to maximise their content libraries and effectively utilise their assets.
The efficiency of cloud-based production tools and workflows has enabled rights-holders to accelerate the process of curating content and getting clips onto social, streaming, and other on-demand platforms in near real-time. The coming year may also show an increase in sports rights-holders segmenting different parts of the live feed and monetising individual streams that were previously difficult to do so.
Sport is a form of social activity, and with content segmentation, it makes it easier for a group of friends to share specific sections of the game with just a click. Social interaction is often now preferred to watching the full event, so technologies are emerging focusing on the gamification of content. This can include betting, quizzes, and commerce to enhance the consumer experience and bring new monetisation options for content owners.
Content coalition
The challenge of aggregation remains. It is hard to subscribe to loads of different platforms if you have interests in multiple sports. There are not enough super aggregators out there that satisfy the consumer entirely. For that reason, the bundling of content and services will be an increasing trend in 2023.
Consumers have always valued simplicity, but this is perhaps truer now than ever before in a time of so much content choice. The opportunity to pay for media services via a single bill holds a lot of attraction. This type of functionality also allows aggregators to curate an experience consumers crave that individual streaming services cannot deliver.
To survive in a world of giants and keep the sales engine turning, operators must embrace new technologies, partner with larger players, and develop new value propositions. It will be interesting to see the bundling of multiple streaming services and how operators look to embrace more sports and entertainment packages with other packages to increase consumer offerings.