Livewire Digital launches RazorLink for live IP news and sports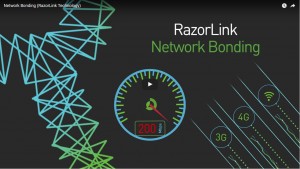 Unveiled at IBC 2016 earlier this month, Livewire Digital's RazorLink is billed as a flexible, scalable software solution designed to solve the problems that journalists and camera crews typically face when using public IP networks for news and sports transmissions. Developed to work transparently with news gathering applications, RazorLink offers network bonding for increased bandwidth, resilience, traffic prioritisation, increased network security, and network statistics.
3G, 4G, Wi-Fi, DSL and satellite can be bonded to increase available bandwidth or offer a backup network to critical applications. Its sophisticated protocols manage link aggregation, correct errors, and minimise latency. It can also be used to overcome the limitations of using UDP across Wide Area Networks for streaming applications using sophisticated error correction that offers the resilient delivery of UDP streams without the need for the high overheads associated with FEC. This can be combined with network bonding.
RazorLink is available as Bronze, Silver, Gold or Platinum client versions dependent on required feature sets and configuration. Where the objective is to provide a shared service or make use of equipment that cannot readily have software installed then a RazorLink hardware device can be deployed to provide transparent access for all systems and applications.
Commenting on the launch, Tristan Wood, managing director, Livewire Digital, said: "Twenty-five years of experience in communications and remote newsgathering has resulted in Livewire Digital designing a revolutionary solution to network problems. RazorLink is a highly cost effective software solution that works by enhancing existing applications and workflows not forcing users to adopt new expensive ones!"