Rai taps Movicom to deliver speciality cameras for European Aquatics in Rome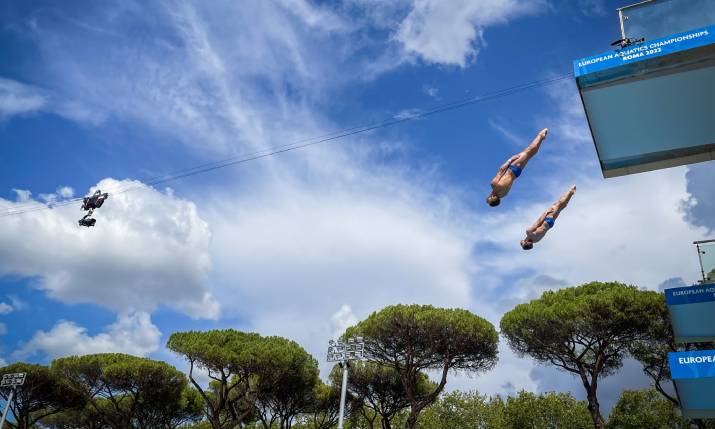 The European Aquatics Championships, the preeminent Aquatics competition for continental Europe, are held every two years by Ligue Européenne de Natation (LEN), the European governing body for aquatic sports. Movicom partnered with Rai, the host broadcaster, to deliver exciting shots from the heart of the competition from 11 to 21 August this year.
The games, which have been ongoing since 1926, normally run for two weeks and include five aquatics disciplines: swimming (long course/50m pool); diving; synchronized swimming; open water swimming; and high diving.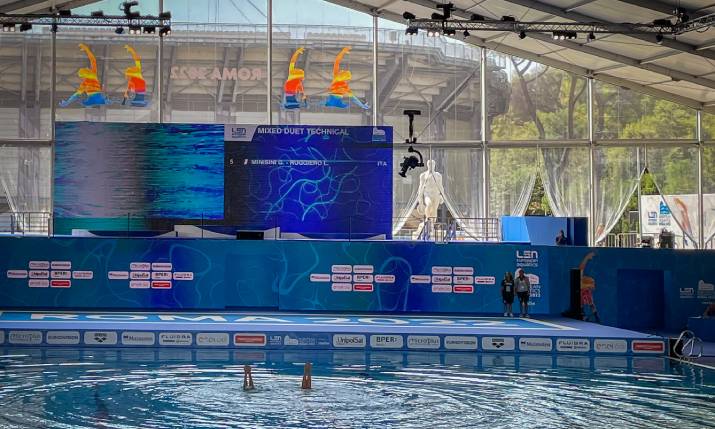 The 2022 competition took place in Rome in the Foro Italico, the legendary pool complex, which was the home of the 1983, 1994 and 2009 FINA World Championships. In total 951 athletes from 50 countries competed for 231 medals in 77 competitions. For the first time since 2010, pool events were staged outdoors.
Movicom provided a total of 11 speciality cameras for the event. One of the most unique was the Robycam 2D that used a single winch with double ropes to drive the camera head to cover the artistic swimming competition, a firm fan favorite. Along with the 2D Robycam a gyrostabilized Robyhead R3 head was used to augment the coverage of the artistic swimming pool. A separate point-to-point Robyline system was provided for the diving events as well as swimming races over a different pool in the complex.
Several mini-cameras were also placed at the starting blocks for the races.
"This was a great chance for us to showcase our best technology," said Simone de Lella, sales and operations director at Movicom. "With that many cameras in so many places it took a crew of 15 experienced international people from four countries to rig and operate everything. But it all worked very well, and the shots were fantastic. I also want to extend a special thanks to the managers at Rai and the venue managers; we really felt like all the production departments pulled together and we were more like partners than vendors."
Rai produced over 120 hours of live television coverage over the course of the games, at one point reaching a 19.9% share, some 1.5 million viewers. The event was also available pay-per-view on Sky where the viewership was also strong.