Realtime streaming: Lowering latency for live online streaming video
Video delivery experts from Limelight Networks will host a webinar on July 25 with the title, 'Overcoming the latency hurdle in delivering streaming video'.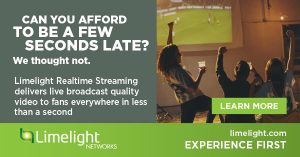 As viewers spend more time online watching live and on-demand video content, broadcasters and content distributors are under increasing pressure to deliver exceptionally low-latency live video streaming and on-demand experience, on any device.
While online streaming video once meant video-on-demand, today's organisations and their audiences are increasingly leveraging the excitement and engagement of live video in multiple ways. Yet, as organisations seek to adopt live video for time-critical use cases, latency has emerged as a significant challenge.
Limelight gives you a choice of latency reduction options — including ongoing support for Flash, small chunk streaming for HLS/DASH, and soon Limelight Realtime Streaming — allowing you to choose the solution that makes the most sense for your use case.
Join Limelight Networks' video delivery experts as they share strategies for implementing a cost-effective solution at global scale, without sacrificing the quality your audiences expect. The speakers are Charly Kraus, Senior Product Marketing Manager, and Assaf Sauer, Solution Engineer, both from Limelight Networks.
They will also discuss how to: deliver live video at 3 to 5 second latencies through HLS and DASH chunked streaming techniques or sub-second latencies through emerging WebRTC technology; reach the widest possible audience with multi-device streaming; and optimise all points in your video workflow to ensure broadcast-quality experiences.
The Limelight Networks webinar will take place at 3pm British Summer Time on Wednesday 25 July. Please register here to join the webinar.