sonoVTS announces completion of Nilesat Central Monitoring Center project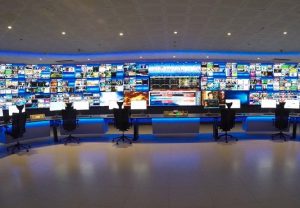 sonoVTS has confirmed the completion of a major integration project undertaken on behalf of Egyptian satellite company Nilesat. The project was initiated during 2017 when sonoVTS was contracted to deliver a new Central Monitoring Center (CMC) based around its HDQLINE display products and a purpose-designed video wall.
The HDQLINE displays provide colour calibration, a no-fan design to limit noise impact, central video wall control, and dynamic and static IMD (Internal Monitor Display) via ethernet connectivity. The video wall was purpose-designed and constructed by sonoVTS, which also integrated a receiving subsystem that is capable of decoding and carrying TV services in SD, HD and 4K, as well as radio services.
Designed to optimise the flexibility of the CMC, the multiviewer subsystem can process inputs from multiple sources – including IP, SDI and HDMI – according to various broadcast specifications. Meanwhile, the measurement and analysis sub-system is based on monitoring downlink transport streams.
Rounding out the new Nilesat Central Monitoring Center, the furniture incorporated into the new CMC was also designed and manufactured by sonoVTS.
Franz Olbert, Managing Director of sonoVTS, comments: "We are delighted to have worked on this major international project with Nilesat, which takes place during a period of many high-profile references for our services. Once again, the experience we can offer as a systems integrator and a manufacturer of high quality monitors and other equipment ensured that we were the right partner to deliver and integrate this significant new facility."