SVG Europe announces availability of app for iOS devices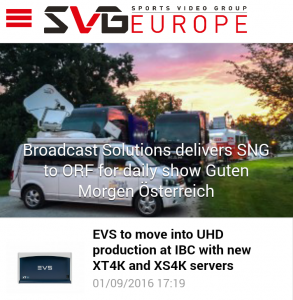 Following the introduction of its new dedicated app on the Android platform, SVG Europe is delighted to confirm that a version for iOS devices is also ready for download. Designed to boost accessibility to the wealth of new content being posted by the SVG Europe team every day, the app delivers news content, analysis, summit information and material relating to its ongoing education initiative.
In development for more than six months, the app has been designed for optimum ease of navigation. It is available separately from the existing SVG (US) app, which has proven to be hugely popular with SVG members and sponsors.
Both iOS and Android versions can now be downloaded by visiitng https://mobile.www.svgeurope.org or the individual Apple App and Google Play stores, respectively.
"We are delighted that SVG Europe members and sponsors will have another, easier way to access our editorial and conference-related content, guaranteeing that they remain up-to-date with everything that is happening in the fast-moving world of sports broadcast," says SVG Europe Managing Editor David Davies.