SVG Europe's Sports Venue Technology Summit taking place this Thursday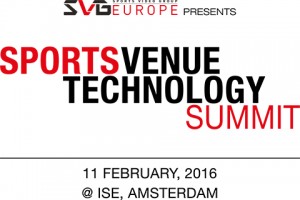 With the Integrated Systems Europe (ISE) exhibition now underway at Amsterdam's RAI centre, this is a timely moment to remind show visitors that there is still time to register for SVG Europe's Sports Venue Technology Summit, which is taking place in Room E102 of the RAI on Thursday morning (11 February).
Devised in conjunction with RH Consulting founder Roland Hemming, the day is built around a series of sessions looking at the collaborative processes involved in broadcasting a major sports tournament from an arena or stadium through the course of a single event day. Taking part in this strand of the conference will be: Scott Burges, Creative Technology, director of special projects; Luke Marler-Hausen, Blackmagic Design, EMEA business manager; Tim Oosterop, Amsterdam Arena, production manager; and Hemming, who will serve as moderator.
Deepening fan engagement through new technology is the name of the game as sports associations and venue operators seek to maintain the attention of an increasingly distracted populace. This requirement can find fruition in multiple forms – through greater integration of social media and bespoke video into the content relayed on stadium displays, to the ability for fans to access statistics, game highlights and more on their smart devices. Accordingly, many of these developments will come under scrutiny in 'Getting Even Closer to the Action: Interactivity and In-Stadium Innovation', wherein moderator and SVG Europe managing editor David Davies will be joined by two panels comprising: (session 1) Ofir Benovici, Avid, senior director – broadcast products; Marc Brunke, BroaMan, technical director; Lars-Olof Janflod, Genelec, marketing and PR director; John Smith, Media Links, head of EMEA; (session 2) Per Hansen, Aspera, senior technical specialist; Bastien Lacheny, deltatre, commercial director; Reinout Lempers, VidiGo, commercial director; and Chris Waddington, NewTek, director of sales east EMEA.
Temporary overlay and keynote conversation
Another key session will focus on 'Temporary overlay' – in other words, the elements that are added to permanent buildings to enable the staging of major sports fixtures or other events. Issues to be discussed include the circumstances when temporary overlay is absolutely essential; how the cost can be justified to venue operators; and which non-temporary elements are likely to be added to the mix as venues develop during the next decade. Moderator and SVG (US) senior editor Karen Hogan will be joined by Chris Dodds, The P.A. People, managing director; and Marc Kocks, Powersoft, business development manager – fixed install.
The busy half-day programme will also include a 'Keynote Conversation' with audio designer/director Scott Willsallen. As founder of Auditoria, Willsallen's projects over the last decade have encompassed sporting venues, performing arts facilities, educational facilities and houses of worship, as well as involvement in stadium events including multiple Summer Olympic, Winter Olympic, Commonwealth and Regional Games. In this conversation, he will reflect on some of his landmark projects, as well as the changing expectations of in-stadium audio.
Don't miss your chance to find out more about the technologies shaping the present and future of stadium design. Register now at https://www.svgeurope.org/svts-europe-2016/conference-program/.